As Aqua famously referenced in her song "Barbie Girl," life in plastic is surely fantastic, especially when you look like America's most coveted and beloved doll of all time — Barbie!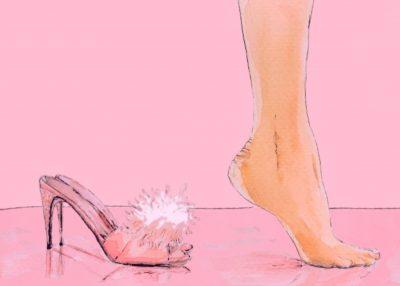 While she's normally making headlines for her controversial body stature, Barbie is now making news for another reason: coming to a theater near you on July 21 is Greta Gerwig's real-life adaptation of "Barbie." 
As we all anxiously await the release of this star-packed film, we would be remiss if we didn't discuss how this stereotypical casting contributes to the unrealistic beauty standard discourse.
The narrative of this successful female entrepreneur who has had about every occupation known to man, and has looked fabulous while doing it, has normally been relocated to books, animated films and TV series. Now though, real actors and actresses will attempt to emulate her plastic perfectionism on the big screen. 
But it's not just Barbie everyone is gushing about, it's her entire repertoire of friends and family as well.
Despite the facade created by Mattel that Barbie was a toy for "everyone," most men feel that they can't relate to idolizing Barbies. Gender segregation in toy aisles and the social stigma around Barbies being specifically for girls is likely what contributed to this rift.
Barbie may have been more oriented toward young girls, but that's not where the primary divide lies. The issue many find in this back-and-forth argument is whether or not Barbie is a good role model.
In one sense, Barbie embodies the independent, hard-working woman. There's no denying that a woman who was a pilot, doctor, teacher, veterinarian, artist, fashion designer, astronaut and even the president of the United States is a career-oriented role model.
Still, Barbie's blond-haired, blue-eyed traits that have been painted on and sewed into the head of the majority of these dolls throughout Mattel's history implies that  perhaps only this classic archetype can do it all, ignoring the diverse Barbies that have come out in recent years. 
Mattel's past attempts at increasing Barbie's diversity with different skin colors, sizes and shapes have fallen horrendously short. In their initial attempt to make Barbie more inclusive, Mattel introduced their first Black Barbie doll in 1969 known as Christie, but still, she existed only as Barbie's friend — with no plotline of her own.
Behind all the heels, lip gloss and frilly outfits, Barbie is very type A. She meets, if not exceeds, society's conventionality standards — she's skinny, blonde, has her dream job and a boyfriend.
This is unfortunate, as not everyone fits this Barbie standard, and it's easier to love yourself the more often you see people or toys that look like you.
However, there does seem to be change on the horizon with Mattel's new and improved "Fashionista line" that aims to include underrepresented body, skin and disability types. Some of the dolls will have a curvier shape to them and will be available in different height forms. Others will feature hearing aids, prosthetics and wheelchairs. 
While this is certainly a step in the right direction, one thing has remained unchanged: People are still complaining. Many are now rejecting the new line designed specifically to be more inclusive and representative — but why? 
Perhaps some people view it as an attack on their childhood innocence, or maybe it all comes back to the concept of imagination. The view of Barbie as a reflection of the "ideal woman" has been partly subconscious. No one really wants to look like Barbie, as much as they want to embody what she stands for: perfection. 
Still, having diversity amongst one of America's most popular toys for girls certainly helps all the different communities of girls out there feel seen, heard, represented and beautiful.
At the end of the day, Barbie is just a doll, and having set beauty standards is just a formality of the real world. In that same nasal-pitched tone, Aqua reminds us all that "life is your creation" so perhaps we should be focusing less on the hard plastic exterior of the doll, and more on the ideals of independence and possibility she promotes. 
This editorial was written by Opinion Editor Analise Bruno