The Boston University women's lacrosse team upset the No. 20 United States Naval Academy with a 12-11 win on Saturday afternoon.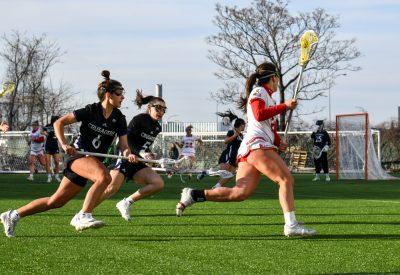 In their first win over a ranked opponent since 2014, the Terriers (7-6, 2-4 Patriot League) narrowly outscored the Midshipmen (10-3, 4-1 PL,) who came into the game undefeated in league play and on an eight-game winning streak.
The two teams entered the game in contrasting forms: Navy found itself at the top of the league table among the PL's other undefeated teams in the United States Military Academy and the University of Loyola Maryland, while the Terriers were on a four-game losing streak and tied for second-to-last in the standings.
Within the first minute of play, Navy senior attack Charlotte Ryan opened the scoring with her first goal of the game, giving the Midshipmen an early lead.
BU, however, quickly shifted the momentum, racking up four unanswered goals in the next seven minutes. From that point on, they never looked back.
When asked about the team's quick start, BU head coach Lauren Morton emphasized the importance of "coming out of the first quarter [feeling] good."
"We've been both up and down in the early parts of games this season, so for us to be able to manage the full game was incredibly important," she continued.
Not only did Morton's team manage the full game, they did so on both sides of the ball and with contributions from many players.  
Seven different Terriers found the back of the net, including multi-goal performances from three sophomores: midfielder Abby Cotraro, attack Hannah Tillier and attack Matty Spaeth, who scored four goals for her eighth multi-goal game of the season.
Morton noted that her sophomores are "a big part of [the team's] future."
The Terrier defense complemented BU's offensive performance, holding strong against a typically dominant Navy offense. Junior goalkeeper Reilly Agres' 10 saves added to the team's shutdown defensive play to hold the Midshipmen to their second-lowest goal total of the season.
The Midshipmen were persistent in their attempts to make a comeback, shrinking the Terrier lead to just one with under five minutes left to play. However, a man-up insurance goal from Cotraro and a decisive draw control by junior defender Ellen Monahan in the final play of the game solidified the narrow victory for BU.
For a youthful BU side that was struggling in recent games, Saturday's contest proved to be a positive shift.
"[Navy is] super strong, and they are ranked, but for us, just being able to ultimately get this conference win is the biggest deal," Morton said. "It helps to give the kids confidence in themselves."
The Terriers will complete their three-game homestand against another ranked opponent, hosting No. 7 Boston College in a non-league game at 4 p.m. on Tuesday, April 11.