Boston University's women's lacrosse team fell to No. 7 Boston College 19-8 in their final non-conference game of the season.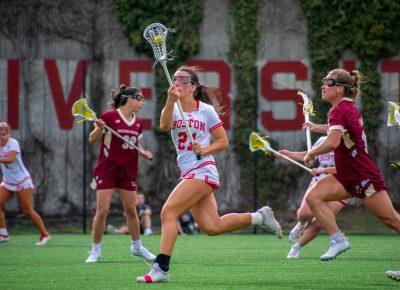 Coming off their first ranked win since 2014 on Saturday, the Terriers (7-7, 2-4 Patriot League) could not keep up with the Eagles' (11-3) high-powered offense and struggled with BC's quick transitions. 
"They're too good of a team to not be ready to go from the very beginning," BU head coach Lauren Morton said. "So, I think that that obviously put us a little bit in a hole."
Graduate student attack Jenn Medjid scored a hat trick in the first three minutes of the game to give BC an early lead, and the team tacked on another goal before Terrier graduate student midfielder Maddie MacMaster found the back of the net for BU's first score.
MacMaster led the scoring for the Terriers in the game with four goals, and senior midfielder Claire Gola scored two of her own to extend her team-high goals on the season to 27. 
"[MacMaster] really found her confidence, and I was really impressed," Morton said. "We had other opportunities we didn't necessarily execute on which I think would have made a difference just in that first quarter … We have to be able to come off with a big win and be ready to go."
After a six-goal run from the Eagles, the Terriers struggled to gain possession to generate offensive opportunities of their own in the remainder of the half. BU could not fight through the deep BC defense, despite having a couple solid opportunities.
BC worked quickly in transition and did not allow BU to set up on defense or even get a chance to defend, especially after turnovers or shot clock violations by the Terriers. 
"We needed to, especially in transition, one just our [midfielders] being able to respond and react a little bit faster," Morton said. "Defensively, I think we were a little too girl-focused and not necessarily playing as a unit."
In the final three minutes of the second quarter, BU and BC traded goals, but Medjid scored right before the quarter ended to extend the Eagles' lead to 11. 
Entering the third quarter down 14-3, the Terriers found a way to generate offense and run plays, scoring two in the third quarter — by MacMaster and senior midfielder and attack Jennifer Barry — and three in the fourth — by MacMaster, Gola and freshman midfielder Jayne Feeney.  
While junior goalkeeper Reilly Agres started the game in net and made three saves, senior goalkeeper Arielle Hammer took over in the second quarter and made six saves. 
"Hammer stepped in more defensively and did a really, really good job for us on that defensive end being able to make some stops," Morton said.
As the Terriers enter the final three games of the season, dreams of the Patriot League tournament are not out of reach. Currently seventh in league standings, the Terriers have yet to face Lehigh University, American University and Bucknell University, who are all on the cusp of the playoffs themselves as seeds four, five and nine, respectively. 
The top six teams in the Patriot League advance to the tournament, so with a couple wins, BU may find themselves able to play lacrosse in May.
"It starts with effort for us," Morton said. "As we head into three incredibly important games, we have to be able to do what we can to kind of play a better, complete game across the board."