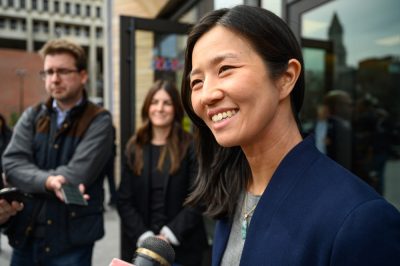 Mayor Michelle Wu announced last Tuesday that the city of Boston aims to reduce homicide rates by participating in a new program that is designed to create Boston-specific strategies to address gun violence in the city.
The program, designed by the Violence Reduction Center of the University of Maryland, brought together experts from across the country to examine gun violence, street outreach interventions and policing methods and customize the best strategy for reducing gun violence within the city of Boston. 
"Boston is one of the safest large cities in the country, and a national model, but even with historic lows of public safety incidents, we are committed to eradicating violence in every neighborhood," Wu said in a press release.
The experts called in by the program gave speeches as a part of a three-day workshop to representatives from the Mayor's Office, Boston Public Health Commission, Boston Police Department, Boston Public Schools and other entities.
Eric Piza, a professor of criminology and criminal justice at Northeastern University, was one of the experts that was asked to speak in the workshop to explain his research on problem-oriented policing to address gun violence "proactively."
"Problem-oriented policing is an innovation that tries to get police to focus, as the name suggests, on the situational factors that lead to crime," Piza said. "Too often, policing in the United States is very reactive."
Piza said the program will bridge the gap between research conducted by experts and the policies enacted by legislators.
"[The program] is an attempt to get the research evidence presented to decision makers in an actionable way," Piza said. "This is a way to help policymakers engage more directly with the research center. It also helps the community … provide voice and be able to give their perspective."
The Mayor's Office also announced that in the coming weeks, the City will be launching a healing tour, a platform that will bring together municipal leaders and residents most impacted by violence to further determine the root cause of the violence in Boston communities. 
Isaac Yablo, the city of Boston's senior advisor for Community Safety, said Boston's participation in the program brings attention to the data that reflects the ongoing situations in communities in a press conference.
"Violence in Boston is concentrated into micro-neighborhoods within the city," Yablo said. "It's important to reinvest into the communities most impacted."
Ruth Zakarin, executive director of Massachusetts Coalition to Prevent Gun Violence, said it is "critically important" to prioritize the voices of those impacted by violence during the healing process.
After hearing the other experts' speeches throughout the workshop, Piza said reducing the homicide rate by 20% by 2026 is attainable.
"All of the different practices that were presented have proven track records in the research of generating significant and, many times, pretty sizable crime reductions," Piza said. 
Zakarin said while the workshop is a good start, the City has to "sustain the work." 
"Violence tends to go up in the summer, so the building blocks that are being put together now, may not have as much of an impact this summer," Zakarin said. "If we're going to see long-term change, we need to put in the long-term work."
Adithya Iyer contributed to the reporting of this article