No Imperialist Recruitment, a movement of students against pro-militarist university outreach, protested in front of Frederick S. Pardee School of Global Studies on Wednesday afternoon, arguing the University should stop supporting U.S. imperialist interests.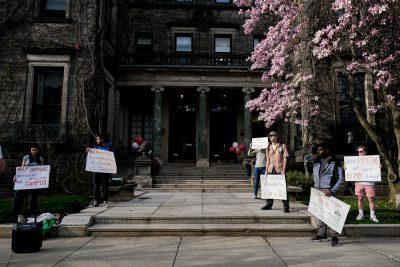 Protesters, which included BU Revolutionary Marxist Students, stood outside of Pardee holding signs and handing out educational materials to passersby as the "How to Outcompete Rising Powers" panel event was taking place.
"We … demand that Boston University refuse to allow any arms of the U.S. military, government intelligence, security, surveillance and foreign policy departments, weapons manufacturers and other military contractors, financial institutions or international relations and security think tanks, to continue their recruitment on our campus," the handout wrote.
The Pardee event was an outreach effort from the United States Army War College's Eisenhower Series College Program, featuring a panel discussion with three officers who are graduate students in the U.S. and Canadian armed forces credited as "national security experts."
Protesters outside were not quiet about their disapproval of the Eisenhower Program's campus presence, using a microphone to chant phrases such as "No more bombs, no more drones, U.S. imperialists leave us alone" and "No war in China."
Anna, a junior in the College of Arts and Sciences who helped promote the demonstration, said she wanted to fight against the University's support of imperialism.
"There was a group of us who have seen the need to go beyond just the petition that we're working on as well," Anna said. "[We thought we should] really stand against these specific events and examples of what University is trying to impose on us … with these pro-militarist speakers [and] professors."
No Imperialist Recruitment has an ongoing National Anti-Recruitment Petition, which asks the respective institutions to ban "war machine" recruitment practices on campus. As of April 10, the petition was signed by 239 students from six colleges across the nation, according to their website.
In spite of the protest, Colonel Leon Perkowski, director of the Eisenhower Series College Program, voiced no ill will for the countermovement.
"We absolutely support free speech, and we want a diversity of views," Perkowski said. "The protest outside really didn't impact the discussion here. We had a very respectful dialogue and open dialogue here, which is really the goal of this program."
Perkowski said the outreach initiative acts as a class elective for the college's students.
"This [is] an opportunity for us to engage in candid dialogue with university students and civic groups as well," Perkowski said. "We do this throughout the country, as I said … and we come here at no charge to the university or host to engage in dialogue."
Colonel Rachel Sullivan, signal support specialist for the U.S. Army and a BU alum, said she is glad the protestors expressed their perspective of the event.
"Our program was born out of a protest," Sullivan said. "Dickinson College students marching on the US Army War College after the Kent State incident that occurred back in the 70s."
The Kent State Shootings took place on May 4, 1970. Members of Ohio's National Guard killed four and wounded nine Kent State University students during a protest against the Vietnam War.
"It was students and faculty of the U.S. Army War College that said, 'Hey, rather than us, putting up the MPs between us and sealing off our campus, why don't we invite them onto the campus, have a discussion and listen to each other's perspectives,'" Sullivan said.
Emily Dewhurst, a junior in CAS who attended the discussion, said she hoped to get an understanding of both sides of the issue.
"Honestly I came into it not sure what to expect, especially with that protest outside," Dewhurst said. "I don't have any changed opinions necessarily, but I just think that fostering civilian-military dialogue is really important because I think we often feel our voices, us people of the United States and elsewhere, of course, feel like our voices aren't heard."
Alonso Espinoza, a resident in Boston, said he heard about the protest from friends and came out to show his support.
"It doesn't take being a Marxist to understand that nuclear war with Russia or China is bad for everybody," Espinoza said. "It is necessary for more and more people to kind of understand what's going on and to understand the need to oppose it."
CORRECTION: Anna's last name was removed to respect their privacy.