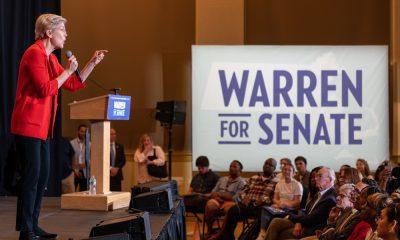 Elizabeth Warren hosted her first Senate re-election campaign event in Roxbury Wednesday night alongside Governor Maura Healey, Mayor Michelle Wu and Congresswoman Ayanna Pressley.
The four women discussed Massachusetts politics and expressed their support for Warren's campaign, followed by a question and answer session with the audience.
Warren, who is running for a third term, made her re-election announcement on March 27 in a video posted to social media. 
"I'm running for Senate again because there's a lot more we've got to do," Warren said in her campaign video, citing a wealth tax, universal childcare, climate protection, transportation and stricter bank rules as the key issues of her campaign. 
During the town hall, Warren continued to highlight these initiatives, as well as affordable schooling and housing, reproductive freedom, fighting gun violence and preserving democracy. She discussed her past accomplishments, including the 15% minimum corporate tax that was signed into law last summer and will generate $200 billion over the next decade.
Warren also focused on a theme of "partnership" with her fellow politicians on stage.
"If you really want to get something done, if you really want to be effective, you got to have partners," Warren said. "Nobody does this on their own." 
Wu was the first of those partners to speak at the event. During her speech, she shared her own experience of having Warren as her professor at Harvard Law School.
"I can tell you from my time in her classroom that she has never been one to settle for how things have always been," Wu said. 
Wu also spoke about the city budget she released earlier that day,  focusing on families, green improvements and housing. She said her vision for Boston is one that is "green and growing."
Wu then passed the microphone to Pressley who spoke about her own position as the representative of Massachusetts' 7th Congressional District, one of the most unequal in the congressional delegation. 
"From Cambridge to Nubian square, life expectancy drops by 30 years, and median household income by $50,000," Pressley said. "Together, we are working to change the legacy of Massachusetts' 7th [district] and improve those outcomes."
Healey, who began working with Warren in 2007 when she reached out to her for advice during the subprime lending crisis, spoke about female leadership.
"We are here tonight as women in positions of power who understand what animates policy," Healey said. "Behind the policy are people. We understand that, and no one understands that more than Senator Warren."
Warren was interrupted when she took to the stage by repeated calls from an audience member, which continued throughout the night. There were four "hecklers" who were removed for their outbursts, according to the Boston Globe.
"At the end of the day, I feel like for everybody to have a chance to speak, that's what it's about," Warren said in a press interview.
The audience featured a range of Massachusetts residents hopeful for Warren's re-election.  
Clifton Braithwaite, a Hyde Park resident running for Boston city councilor at-large, is a longtime supporter of Warren. 
"When I got a part of the campaign, it wasn't just like I was working for the next senator," Braithwaite said. "What she's brought to the table is humanity."
Roxbury resident Odige Jules said events like this one should be promoted more to the neighborhood's residents.
"I'm not saying the people here don't live in the community, but these aren't the people I see in my everyday life," Jules said.
Boston area resident Matthew Quill said he has not seen implementation of legislation, like wealth tax, from policymakers.
"I'd like to understand how she's going to form the coalitions necessary to take bills and make them into law," Quill said. "Her plans are wonderful. I'd love to see some execution."
Warren said her campaign will continue to give voice to Massachusetts residents.
"It'll be town halls mostly," Warren told The Daily Free Press. "I love town halls, and I always have. It's unscripted, it's a chance to be able to hear from people, no matter what it is they want to talk about."