Through the chamber doors of United Parish Church's sanctuary, smooth alternative music reverberates across the walls as models dressed in second-hand knit sweaters and clacking boots strut along a candlelit runway between the pews. Models enter from all entrances of the sanctuary, merging toward the audience.
August Ramos, a Boston University senior and graphic design major, produced this unorthodox fashion show, dubbed HAND-ME-DOWN, to celebrate community and fill a need for sustainable shopping.
Ramos began working on this project for her senior thesis in January after receiving a grant from the Brookline Commission for the Arts. She spontaneously found a flyer from the organization when passing by Coolidge Corner, drawing inspiration for her project from the "Patrick Kelly: Runway of Love" exhibit at the Peabody Essex Museum that she had watched that same week.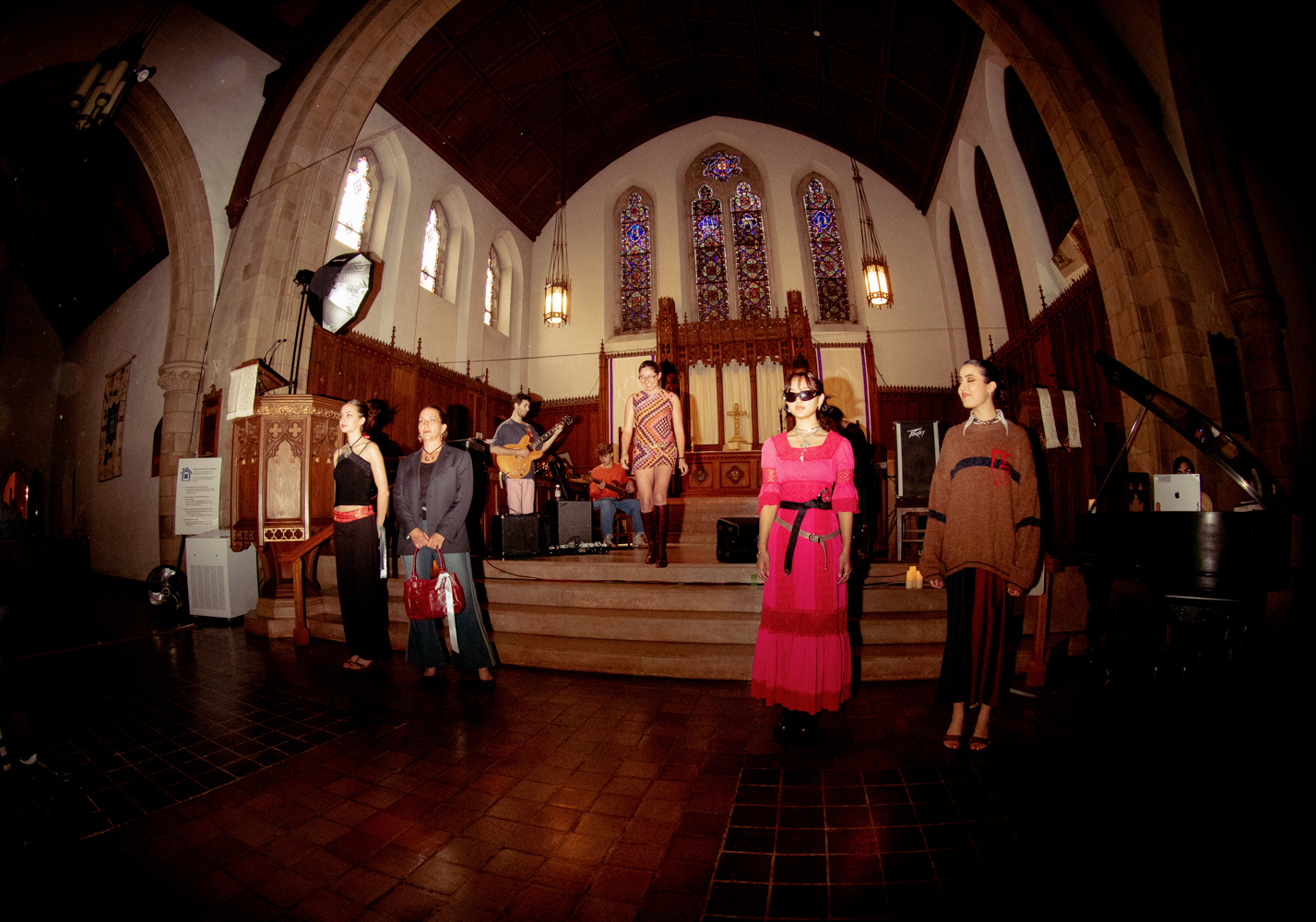 "It kind of revealed to me that the runway was this perfect intersection of all of these things that I love, which is fashion, music, visual art and also bringing it to the community," Ramos said.
She said she wanted to deviate away from the high-end culture of fashion shows and instead employ students as the focal point of the project.
She began meeting with the store's staff in February, recruiting volunteers and obtaining approval to use the sanctuary space from the building manager.
"Thrifty Threads is really run on volunteers with full time jobs that kind of like do this on the side, because they love helping people or they love fashion or they love thrifting," Ramos said. "I found that I am really lucky that all these volunteers kind of took on this project like their own."
Eric Tran, a BU sophomore studying costume design, assisted in directing and guiding Ramos in how to troubleshoot rehearsal for tech, sound and choreography. Tran is the founder and president of Fabrio Magazine, a sustainability-based magazine on campus.
Ramos said she approached Tran and then learned about Fabrio's fashion show that was held in March, a few weeks before HAND-ME-DOWN.
"Something August said when she first pitched the idea of me even being involved … It was just, 'Eric, I want it to be an extension for Fabrio Magazine. I want it to be an extension for you where it doesn't feel like you're working for me in any way,'" Tran said. "But it's more like this is your baby, your project too."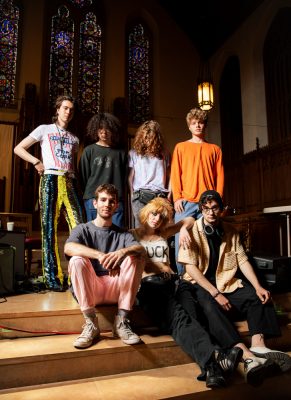 The runway experience kickstarted the event, featuring around 40 models and 12 stylists. An alternative, electronic R&B band from the Berklee College of Music called VVN performed at the front stage, contributing to the experimental culture of the show. As models traveled from the back of the sanctuary to the front stage, photographers patiently waited at the front seating to capture each model's final stricken pose.
The main runway was decorated with low lit candles, a small detail that Ramos purposefully set to emphasize the "spiritual" atmosphere. Rifting on the church's aesthetics, Ramos spent time scouting the premises of the building and taking photos of Gothic accents in architecture and stained glass.
After the performance, stylists and other local business owners tabled outside the church to sell their clothes that afternoon. Stylists sold pieces from their collections, many of which were showcased on the models.
Arianna Davis, a BU alumna from the class of 2018, was one of the volunteers from Thrifty Threads and a model featured in the show. She said she hoped the event would raise awareness for Thrifty Threads and allow more people to discover them.
Davis said she wanted to be involved in HAND-ME-DOWN, as she was highly involved in fashion during her time at BU, even being involved in Off the Cuff Magazine.
"I've always seen fashion as a really beautiful form of expression," she said. "It's something that has always been a part of me and a part of who I am."
Ramos said HAND-ME-DOWN not only uplifted the community, but it also allowed for people to gain experience in the fashion world.
"A lot of people have been responding and thanking me for this opportunity, so I think it's going to jumpstart a lot of things for them," Ramos said.