This article contains spoilers for "Honeymoon States," the fourth episode of the fourth season of "Succession."
In the aftermath of last week's gut-wrenching episode, "Honeymoon States" marks a breathless return to form for "Succession," offering up a new power struggle that is equally fun and frightening to watch.
Taking place the day after Logan's death, this episode wastes no time diving into major plot developments. Before the opening credits even roll, Shiv gets a call from her doctor confirming that she's pregnant — a revelation that might complicate her impending divorce from Tom.
The Roy siblings congregate at Logan's apartment to mourn the loss of their father, only to be shocked by the reappearance of Marcia (Hiam Abbass), Logan's third wife.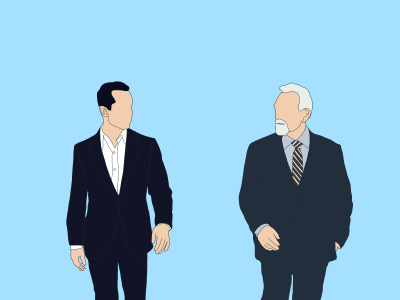 This character has been absent from the narrative since the show's third season, so her return is a surprise for Kendall, Roman and Shiv. The only person who is seemingly pleased to see her is Connor, who strikes a deal to purchase Logan's apartment from her for $63 million.
After three seasons of hinting towards it, Logan's death finally necessitates an answer to the show's most pressing question — who will succeed Logan as the CEO of Waystar RoyCo? With the GoJo deal hanging in the balance, this selection is now more crucial than ever.
"For some of us, it's a sad day," Shiv notes to her siblings. "But for others, it's Coronation Demolition Derby."
Besides the Roys, the other players in this fight consist of Tom and a group of long-serving company figures dubbed the "old guard" — Frank (Peter Friedman), Gerri (J. Smith-Cameron), and Karl (David Rasche). Tom makes his own bid for the CEO position, but Karl tears into him.
"You're a clumsy interloper, and no one trusts you," Karl affirms. "The only guy pulling for you is dead."
As one of the executors of Logan's will, Frank uncovers a piece of paper that outlines Logan's wishes after his death, one of which is that Kendall will inherit the CEO mantle. 
There's an issue, though. It is unclear when this document was created, and markings on the paper make it dubious as to whether Kendall's name is underlined or crossed out. 
With just a single pencil line, "Honeymoon States" creates a central point of uncertainty that should entertain lively debates among fans for years.
After an excruciatingly tense discussion, Kendall and Roman agree to operate Waystar RoyCo as co-CEOs, promising to keep Shiv in the loop about any business decisions they make moving forward. 
Besides Kerry, who is unceremoniously escorted out of Logan's apartment at Marcia's behest, Shiv finds herself in the worst standing by the end of this episode. Her role in the company is now subjected to the impulses of her brothers — if they decide to go against her, she does not have a lot of moves to make on her own.
In regards to the optics of this new leadership, Hugo (Fisher Stevens) and Karolina (Dagmara Domińczyk) propose burying Logan with bad press in order to sway the markets in Kendall and Roman's favor — a concept Roman is strongly opposed to.
However, Kendall secretly goes to Hugo and authorizes the idea, using an earlier confession that Hugo's daughter committed insider trading as leverage. In one swift move, Kendall blackmails Hugo and backstabs Roman with a chilling smile. 
Logan might be gone, but if the ending of this episode indicates what lies ahead, Kendall could very well become the "killer" his father wanted him to be all along. Or, as he has in the past, he could destroy everything.