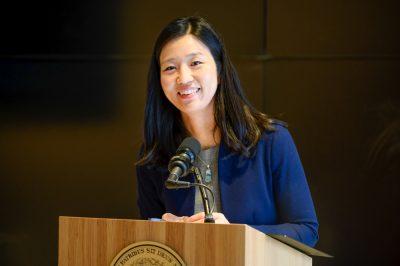 Mayor Michelle Wu revealed two new multi-billion dollar budget proposals for the 2024 fiscal year to the Boston City Council last Wednesday.
The 2024 operating budget, totaling $4.28 billion, details additional funding for city services, including schools, libraries and public safety as well as pay and benefits for city employees, according to the Mayor's website. 
The second proposal, the 2024-2028 capital plan, includes $4.2 billion to fund the City's infrastructure investments, including 433 new projects expected to be started or completed over the next five years.  
"Building on our commitment to make Boston the best place in the country to raise a family, this proposal invests in our communities and community centers — in the infrastructure, spaces, programs and services that support our people and keep our City running," Wu said in a press release. 
The budgets include a $1.2 million investment in violence prevention programming and public safety staffing at Boston Housing Authority project sites, according to the Mayor's website.
Joel Wool, chief of staff of the BHA, said the budget shows a commitment to taking a more proactive approach to public safety.
"The budgetary proposal is a mix of community and socially oriented interventions as well as some support for public safety staffing, which is something that we receive very little direct funding for," Wool said.
The proposals also include a $50 million increase to upgrade BHA systems to make them energy efficient by ending the use of fossil fuels, according to the Mayor's website. 
"It's a visionary investment … credit where it's due to Mayor Wu for putting that forward and for really setting the model for what cities can do to help low and extremely low-income people benefit from the green technologies that are defining our future," Wool said.
According to the Mayor's website, the budgets also include $84 million in funding for the creation, reconstruction and maintenance of city parks. Liz Sullivan, director of External Affairs and Marketing for the Department of Parks and Recreation, said the proposal would increase funding for the Parks and Recreations Department by 9%.
"[Mayor Wu] is a green new deal mayor, and this is a green new deal city," Sullivan said. "They say a budget document is a reflection of values, so I think you can see the Mayor's priorities and values in what the investments are." 
The budgets also include "$43 million for new libraries in Fields Corner, Egleston Square and Codman Square and $750,000 to expand weekly and Saturday hours at Boston Public Library branches," according to the Mayor's website. 
"These three have been in the works for a number of years. In this year's capital budget, however, they are fully funded," said David Leonard, president of the Boston Public Library. "As we look to build or renovate these branches, that we do so using all the principles of the Green New Deal."
Additional investments from the budgets include $4.5 million in renovations to the Central Library over the next five years as well as $22 million to begin construction of a new branch in Chinatown.
"We are basically building a new location with the developer, Asian Community Development Corporation, which will be a new branch library in Chinatown, with affordable housing above it," Leonard said.  "It will also be the first time since the 1950s that that neighborhood has had a permanent dedicated library in the neighborhood itself."
Leonard said the investments by Wu seek to celebrate the impact that city departments have on residents.
"This is certainly a mayor who wants to see us get things right for residents every day," Leonard said.