The Boston University women's lacrosse team fell to Lehigh University on the road last Saturday with a final score of 13-9 after another late comeback attempt fell short.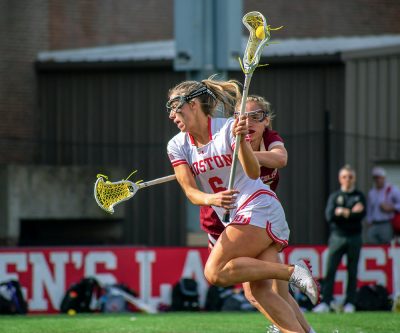 After a 60-minute weather delay, the Terriers (7-8, 2-5 Patriot League) struck first with an early free position goal from junior attack Tobey Tick, giving BU what would be their only lead of the game. 
Just over two minutes later, the Mountain Hawks (9-5, 4-3 PL) launched a four-goal run, thanks in large part to senior attack and midfielder Emma Eberhardt's first-quarter hat trick.
With one second remaining in the first quarter, BU converted on another free position shot, this time from sophomore midfielder Abby Cotraro. 
"We put ourselves in a position [to come back] in the second half, but just didn't take care of the ball enough, whether that's in the clear or offensively, finishing some of our shots," BU head coach Lauren Morton said.  
Fouls and turnovers plagued both teams, and despite four yellow cards against Lehigh, the physicality only seemed to shake BU. They went down by as many as five goals at multiple points in the game, and they continually tried to close the gap.
The Terriers' comeback effort was propelled by a hat-trick from graduate midfielder Maddie MacMaster, her second consecutive game reaching that feat. It also extended her multi-point game streak to four.
Morton was quick to praise the work MacMaster has done to elevate her level of play. 
"After two years of battling back from injury, she's really done a great job across the board," Morton said. "[She's] doing a good job of finishing our shots and doing some of the little things to be able to help us."  
Two-goal performances from Cotraro and senior midfielder Jennifer Barry complimented MacMaster's effort and helped shrink the Terrier's deficit to three midway through the final quarter.
The backs of both goals remained untouched for over seven minutes as the final whistle approached. However, with under 30 seconds to go, Lehigh senior attack Gabby Schneider notched her second goal of the game to solidify the Mountain Hawk's victory.
With two important conference games remaining in the season, Morton and her team are looking to improve.
The Terriers will have just under a week to get ready for their next contest against Bucknell University on Saturday at 4 p.m. for Lax-A-Palooza.
"It's good for us to be able to have some time to prepare," Morton said. "We have to continue to focus on getting better and putting ourselves in a position to now play four really strong quarters and to win these games."