I took so many things for granted growing up. 
Being able to go to the grocery store and buy any snack was normal for me. I didn't bat an eye about spending money on clothes or planning vacations to luxury places. It never seemed out of the ordinary. Not to mention, all my neighbors and friends were in the same boat as me. 
It was all I had ever known — going to a new country every year, hanging out with friends whenever I wanted or being able to take pictures of the gorgeous neighborhood I lived in. I thought everyone lived like this, but I was a naive, ignorant kid who didn't know any better.
Until, of course, I witnessed something else entirely.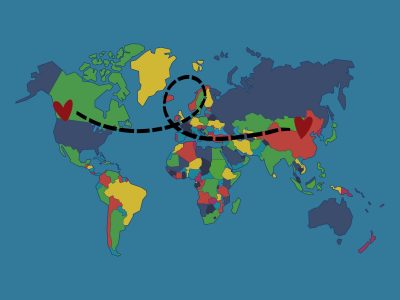 My parents grew up in Beijing, China, in a poor neighborhood. I was always aware of this, but every time I went back to China, I only visited the areas populated with towering skyscrapers and modern halls. When I saw my parents' childhood home with my own eyes — it hit me how different our lives were. 
My grandparents, my mom, and her four siblings all had to squeeze into a tiny little apartment where they'd have one common area to shower for the whole building. My dad's life was basically the same: he had three siblings, but the shower and bathroom had to be shared with everyone else in their building.
To say I was devastated when I found out would be an understatement. That was the moment when I realized how lucky I was to have grown up the way I had. They worked so hard and moved to Canada so that my brother and I could have a life they never did. It was something I hadn't thought twice about.
I can't even begin to imagine what it's like to leave home and move halfway across the world with nothing but a few bucks and countless hopes and dreams. That's exactly what my parents did, and they've built a life worth celebrating. 
"Thank you" falls short of all of the gratitude I have for the decision they made 24 years ago. I know they're proud of my brother and me, and I know they've found happiness in our apartment in the middle of Downtown Vancouver. Still, I don't want it to stop there.
I've always promised myself that I will keep chasing whatever that will bring me joy. My future plans involve moving to another big city where I can keep writing and set myself up for future success. My goal is to make my parents proud and ensure their sacrifice is worthwhile. 
I know there are people who believe they don't owe their parents anything. Maybe that's true sometimes, but I have to disagree. More than anything, I want to pay it back to them in the future. Soon, I'll be the one taking them to fancy restaurants and dream destinations. I'm already imagining it now.
My parents may not have grown up in ideal conditions, but I think that's what made them resilient. I can't wait to spoil them senseless — they deserve all that and more.