Daniele Piperno stands in front of a group of students on Boston University Beach. He tells them that the white object he's holding up between his fingers is called, in Italian, pallino, which translates to "small ball." He explains the word comprises two parts: palla, meaning ball, and ino, a diminutive.
Then, with a gentle swing of the arm, he rolls it across the patchy ground until it comes to a standstill. Under the unexpected April sun, the students follow suit, rolling larger red and yellow balls toward the pallino to get as close to it as possible. They're learning how to play bocce as a part of Global House's experiential learning programming.
BU introduced Global House in 2018, placing it on the fourth floor of the then-newly renovated Myles Standish Hall. It began as a community effort with input from Professor of the Practice in German Gisela Hoecherl-Alden, former Lecturer in French Mary Beth Raycraft and Associate Dean for Student Academic Life Steven Jarvi.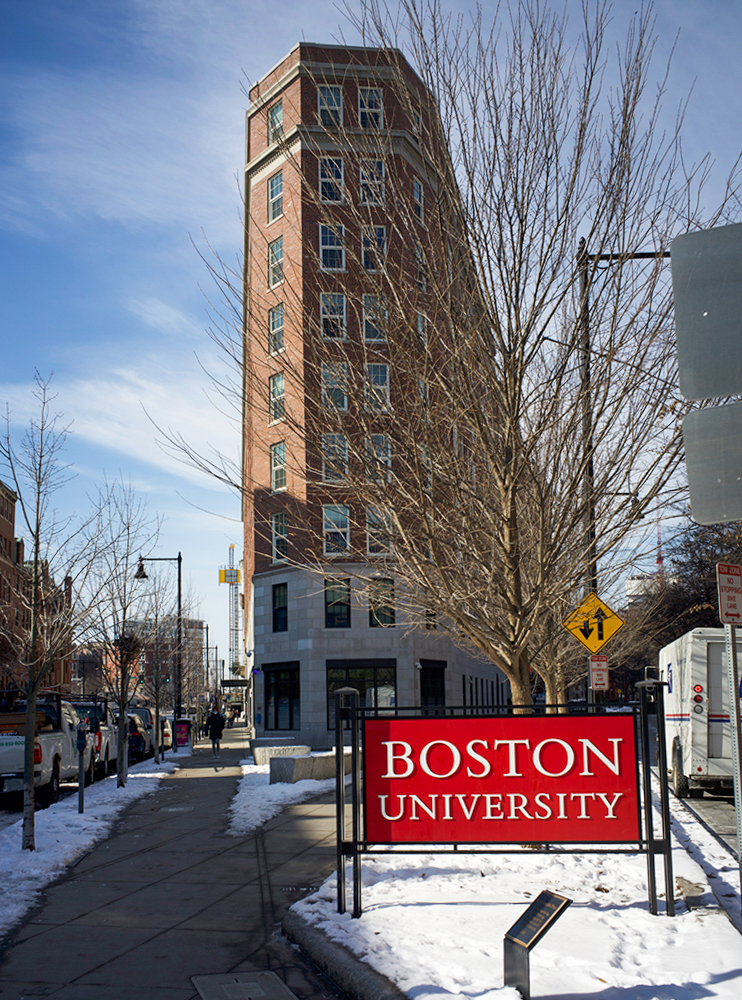 Created to help undergraduate students "explore what it means to be globally diverse," according to its website, the living-learning community is currently funded by the Office of the Provost.
Global House brings together, under one roof, students with a shared interest in language and culture by offering them the opportunity to join one of 10 Language Clusters: Arabic (Modern Standard), Chinese (Mandarin), French, German, Italian, Japanese, Korean, Portuguese, Russian, and Spanish.
Piperno, a junior in the Pardee School of Global Studies, is the Italian Language Cluster Leader, which requires him to lead one Single Cluster Event per semester. This semester, he chose bocce.
These gatherings allow attendees to learn about Italian culture and apply the language skills they've acquired in an interactive setting. Piperno, who was born and raised in Italy, said his involvement in Global House has allowed him to stay in touch with his roots.
"I enjoy promoting elements of Italian culture, especially being away from home," he said. "It's nice that I'm able to export some of them and relive them."
All 10 Language Cluster Leaders also host weekly Cluster meetings where they facilitate discussions exclusively for members of their clusters as a part of the living-learning community's educational infrastructure.
"Building language learning as a self-guided experience is very appealing to me, as is the idea of allowing students to develop programming that follows their own interests," said Lillie Webb, the inaugural director of Global House.
While Webb, who is also a lecturer in French in the Department of Romance Studies, wasn't involved in the initial proposal of the idea for this language-centric community, she has been the director since it launched. She said about 35% of students stay in the Global House year to year.
"When someone first finishes Global House, my hope is that they will have built some relationships with people that they would not have otherwise met, that they have deepened their sense of compassion and empathy and built their language and intercultural communication skills," she said.
Emma Loayza, a junior in the College of Arts and Sciences and a member of the Italian Language Cluster, said she appreciates the opportunity to be part of a community of individuals with varying experiences.
"I think [Global House] is incredibly diverse, which is super cool because there are some people who are coming as native speakers," she said. "My whole cluster next semester is going to be native Italian speakers."
She also said languages with different dialects, such as French, due to their wide geographical distribution, bring a greater diversity of perspectives to the living-learning community.
Tucked away on a lower level of Myles Standish Hall is the Global House lounge, a common area complete with a TV, chairs, tables and a couch that Loayza said is "surprisingly comfortable." Here is where members of the Living-Learning Community come to socialize and gather for their weekly Language Cluster meetings. Other than the rent they pay to live in the residence hall, students participate in all Global House events free of charge.
Socialization is built into the foundation of Global House, but Loayza said Global House members find it challenging to interact with one another outside of the required meetings. Most students are "academically focused," she said. To rectify this, they've started hosting community nights where they play video games without educational expectations.
Global House has been operating for five years now and Webb's goals for the next five include adding two more language clusters — one for African languages another for Hindi — and lowering the cost of living in the living-learning community to eliminate that barrier to entry.
In 2022, BU had over 36,000 students, which Webb said makes it harder to "find your community," especially for first year and international students. She said Global House is one of the solutions to this dilemma.
"Specialty housing, affinity housing, is a way of giving students a place to feel on solid ground," Webb said. "And once they feel that, that makes them much better able to engage in their work, to follow their curiosity, [and] to take educational risks."