The phone rings, but Greg Laemmle's eyes are glued to his wife Tish. He has been awaiting this phone call for months, losing sleep over the idea that his family's legacy in the theater business could face an end. Still, Laemmle answers his phone with steadfast confidence.
In the fall of 2019, President of Laemmle Theaters, Greg, announced he would be closing the business. This would mark the end of the company's 81-year run in the Los Angeles arthouse scene. Evidently, this news was received as a shock by cinephiles and LA residents alike.
Gregsoftly replies, "Okay, thanks," to the voice over the phone. He smiles at Tish. The Laemmles have an understanding that business and family go hand in hand, even if it's their last fall as a company.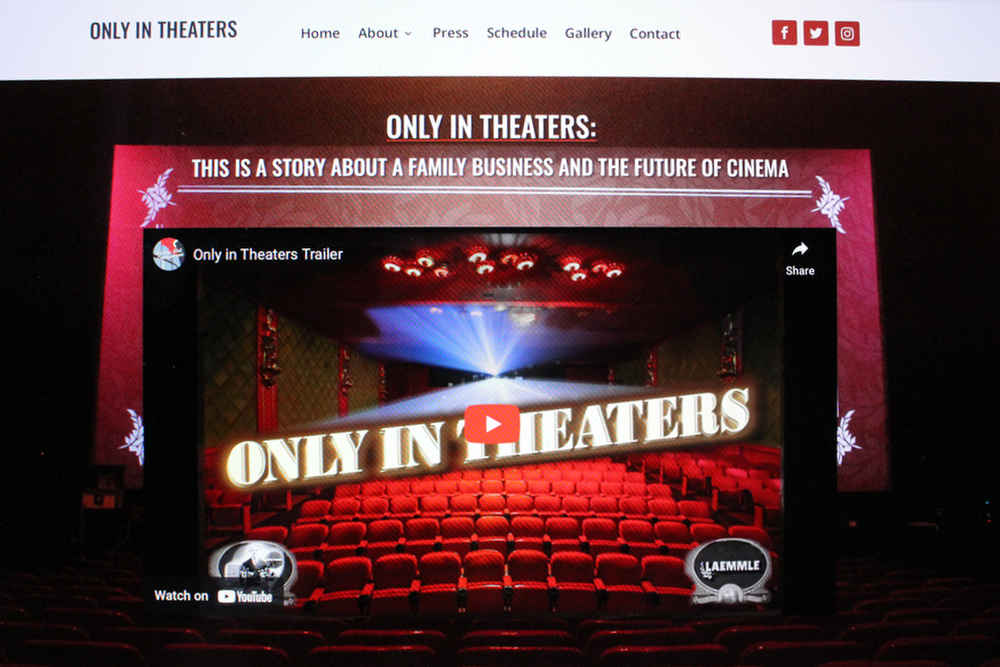 Greg's grandfather, Max Laemmle, opened the first Laemmle Theater in 1938. Eight decades later, there are now eight Laemmle Theaters located in the greater Los Angeles area. Greg considered selling the business when profits started to decrease and it became harder to keep his theaters open.
The call Greg answered in 2019 was ultimately an offer from a company to buy out the entire Laemmle Theater chain.
"There was a degree of relief," he said. "Providing financial security for various people and protecting their investment in equity and so on and so forth [had been weighing on me]."
After deliberating, Greg made the difficult decision to turn down the offer. Ultimately, Laemmle was not ready to let go of the business that persisted for three generations.
In Raphael Sbarge's "Only In Theatres," a documentary released this month about the small enterprise, Laemmle commented, "How do you feel when you reach the end of that path and you're not sure you wanted to be there? You aren't sure you wanted it to end."
Laemmle Theaters has been a cinematic sanctuary for Los Angeles residents for decades, posing a sharp contrast to the saturated artistry of Hollywood. Understandably, when Laemmle initially announced the sale of the theater chain, many residents were distraught. Thankfully, Laemmle got to deliver the final good news himself at one of his theaters.
"I got to be there and tell people we've taken the theater off the market," he said. "To hear from people and interact with them was just terrific."
Although historically underfunded, many of those involved in artistic production see the value in fine arts, including Boston University College of Arts and Sciences sophomore, Ruby Hawes.
"For the people who say that it's not worth keeping around or that it doesn't need the funding, I completely disagree. I think that's very close-minded," said Hawes. "We need different things going on. If everyone does the same thing, it's quite boring."
As depicted in "Only In Theatres," the arthouse audience is unique in its own right. Most art cinema films are independently directed and touch on experimental themes not intended for mass appeal.
What Laemmle did not expect was a global pandemic to hit just seven months after he decided to keep running Laemmle Theaters. Per Los Angeles federal mandates and CDC guidelines, every Laemmle Theater was forced to close. Laemmle says that 95% of his company was "furloughed."
Many arthouse lovers are older individuals who were greatly impacted by the COVID-19 pandemic. During this time, Laemmle set up a virtual cinema program to keep the business afloat. His intention was to ensure loyal patrons of Laemmle Theaters could have a seat waiting for them after the pandemic. Meanwhile, millions of Americans were opting to watch movies from streaming services instead.
As someone who grew up heavily influenced by the cinema, Laemmle explains the importance of watching films in a movie theater.
"It's a better and more meaningful experience," he said. "You're giving yourself over to the storyteller in a way that you don't when you're home."
Although going to the movies may not be as common of a pastime as of late, some young people are still opting for the buttery popcorn and velvet red seats of theaters.
"The movie theater curates a whole experience for the viewer to really be able to engage with the content," said College of Fine Arts junior Angela Pistilli. "As opposed to my phone, where I'm just sitting in my bed watching Netflix, I can't really connect as well."
A year after the start of the pandemic, Laemmle made the decision to reopen the chain of theaters. With the capacity restrictions, forced social distancing and mask mandates, Laemmle said it was "difficult to promote the potential safety, relative safety of movie-going versus other activities."
Still, his resilience shined through and Laemmle Theaters made its long-awaited return to Los Angeles in the spring of 2021.
In terms of ticket sales, Laemmle doesn't deny that the pandemic brought its own set of challenges, and there were plenty before.
"The arthouse audience is slower to return," he said. "At that point, it's about getting people back one at a time."
It has now been three years since the onslaught of the spread of COVID-19. Greg and Tish have since moved to Seattle, Washington where he plans to work remotely to manage the Laemmle Theaters.
Greg Laemmle isn't intending on ending his family legacy just yet.
"It's getting to a place of stability and then being able to understand where the opportunities are to grow again."