The Boston University women's lacrosse team defeated Bucknell University on Saturday afternoon with a final score of 13-9 in their last home game of the regular season.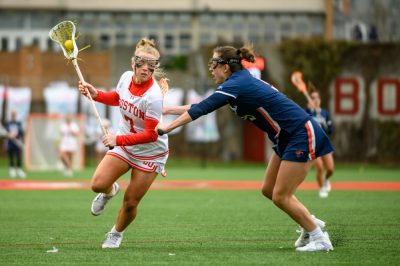 The contest between the Terriers (8-8, 3-5 Patriot League) and the Bison (6-9, 2-6 PL) was part of the Lax-A-Palooza men's and women's lacrosse doubleheader at Nickerson Field and followed a Senior Day celebration which recognized nine seniors and graduate students.
"This senior class has been a lot of fun. I think they've grown so much in their four years and really had to weather a lot," head coach Lauren Morton said. "I was excited for their class and for us as a team to be able to come out with a win. They've really put a lot of effort into this team and this culture." 
The spirit of Senior Day spread to the field in the first half as BU senior and graduate students dominated the stat sheet.
Graduate student midfielder Maddie MacMaster notched two goals by halftime while senior midfielder and attack Jennifer Barry found her own scoring opportunities, including a pair of assists to senior midfielder Claire Gola.
Gola had the most dominant offensive performance on the team, inflating the Terrier lead with a first-quarter hat trick and matched a career-high five goals on the day. On the other side of the field, she forced two turnovers.
"[Gola] did a great job just executing her shooting," Morton said. "Even defensively, she's continued to get better and better and grow each year." 
The Terriers' first-half performance was balanced and dominant across the board. The defense was able to block shooting lanes and use the pressure of the shot clock. Crucial saves from junior goalkeeper Reilly Agres kept Bucknell scoreless for 17 minutes.
Echoing some of its season's common woes, BU began to watch its lead shrink in the third quarter.
"[Bucknell] beat us in draws in the third quarter 5-2 which gave them more possessions," said Morton. "We just played a little bit safer defensively which I think gave them some opportunities."
With more Bison possessions, the Terriers found themselves giving up four free position shots, three of which snuck past the goalkeeper to lead a strong run by the Bucknell offense in the third.
Agres, who matched her career-best 16 saves, helped keep the BU lead intact, and a last-second goal for Barry secured the Terrier victory.
With the win, the Terriers kept themselves in playoff contention with one game left on the schedule.
Morton is focused on the upcoming contest and is hoping for a good week of practice to put the team in a position to play well on Thursday.
The Terriers will look to bounce back against American University on Thursday in their final game of the regular season. With a win, BU would clinch a spot in the Patriot League playoffs.