By Fiona Broadie and Geena Prestia
Ah, the opera. It is an otherworldly experience to sit in a hushed, dimly lit theater, gazing at the stage as a hidden orchestra strikes the first stirring chord. The drama is also a cathartic anecdote to end-of-semester anxiety.
This April 27 through April 28, BU School of Music's Opera Institute and their School of Theater exhibits "Alcina," an Italian opera by Georg Friedrich Handel reimagined with striking dress, startling props and dramatic lighting. If looks could kill, "Alcina" will be deadly.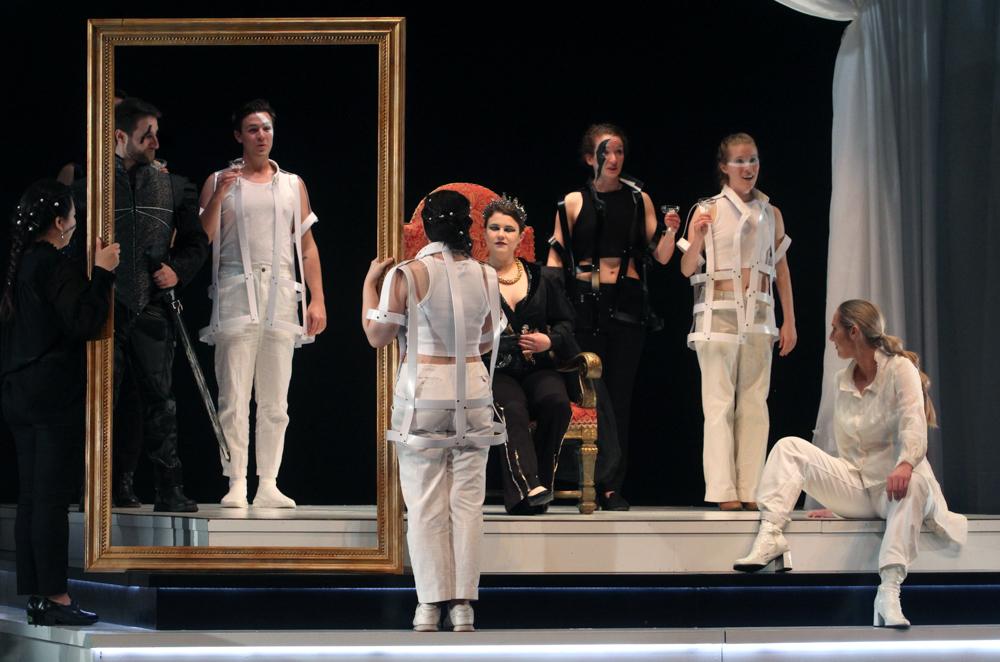 Oshin Gregorian, managing director of the BU Opera Institute, is in charge of the broad production of shows. In an interview in front of the theater, he said shows are picked based on how beneficial they will be to the artistic development of the widest possible array of students.
"Alcina" was chosen for production because "it's a very traditional piece, a style of music that serves the students to get to learn this kind of classical slash baroque music," Greogorian said.
Gregorian added that this music was particularly hard. However, when asked if he was worried that an all-Italian opera would challenge students, he shook his head.
"Twice a week [the Opera Institute students] have Italian conversation classes," he said. "Part of the package of being an opera singer … is to know all these different languages."
The Italian opera will be accompanied by English supertitles for audience translation.
Maestro William Lumpkin, an associate professor of music and artistic director in BU's OI will be conducting "Alcina." He has conducted over 40 operas at different theaters, including BU's Booth Theatre.
Visiting director Fenlon Lamb, the co-creator of Papermoon Opera Productions, has worked with students before coming to BU. She said she's looking to create a specific style of "Alcina," allowing for things to change in the rehearsal process yet aiming for a cohesive modus operandi.
"We have two great casts," Lamb said. "Everybody has their own way of processing into opera. They're doing a great job at working on Handel which is also super challenging. It's really emotional and sensual and has a lot of storytelling to accomplish."
Annie Kao, the production manager for "Alcina" and a graduate Theatre Production Management student at BU, managed the opera's budget and production schedule, among other responsibilities. To them, opera is "always interesting, always different, and out of my comfort zone for sure."
Kao said one of their specific challenges of working on a University-hosted production is the constraint on human resources, or having "the right amount of people to work on things."
Kao's job is partly to "balance expectations" when it comes to resources, they said.
"We're able to create a really nice production, but we don't really have the same resources as we do if we're doing the show somewhere else," they said.
Alexis Peart, a mezzo-soprano BU graduate student studying voice performance, is playing the part of Ruggiero, the heroic knight who succumbs to the sorceress Alcina's seductive charms, leaving his fiancée Bradamante with the desperate task of saving him — while disguised as her brother Ricciardo.
"Alcina" will be Peart's fifth opera in her time at BU.
"I really love Handel. I think Handel, as a composer, creates a lot of opportunities for musical expression," Peart said.
Nathaniel Bear, a tenor who got a Masters degree in Opera at Northwestern University, is playing the part of Oronte, the leader of Alcina's army. Bear's mom was an opera singer and he heard a lot of opera music growing up. He's done a lot of Italian singing, calling it his "jam."
"I'm certainly not fluent in Italian," he said. "I'm comfortable enough where I can certainly translate all my music on my own, which is helpful … we do get coached on diction to help us be really, really clear … so we're pronouncing everything 'just so.'"
"Alcina" will be performed at Tsai Performance Center, the theater within the College of Arts and Sciences at 685 Commonwealth Ave. Two performances will take place on April 27 and 28 at 7:30 p.m., and general admission tickets cost $15 plus a small convenience fee online. Tickets can also be purchased pre-show in front of the theater until they sell out.