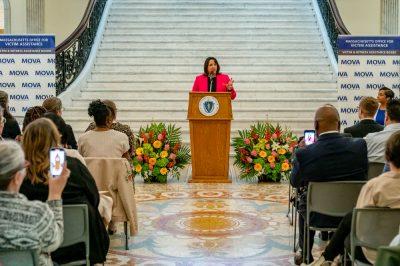 At the foot of the Grand Staircase at the Massachusetts State House, Gov. Maura Healey signed a proclamation to recognize April as Crime Victims Rights month on Monday, which preceded an awards ceremony to honor key figures who help crime victims across the state.
"I just want to say to each and every one of you, from the bottom of my heart, thank you for the work that you do day-in day-out, to look after the most vulnerable among us and to look after people in their very worst moments," Healey said.
According to Massachusetts Crime Statistics collected by the Executive Office of Public Safety and Security, homicide, aggravated assault and total violent crime all increased in 2022 from 2021.
Eight individuals and groups were given awards during the first in-person ceremony since 2019.
"It's important for us to show [survivors] to the door, but what happens once they come through that door and what you hear when you sit down with them, it's all up to you," said Liam Lowney, executive director of Massachusetts Office of Victim Assistance. "Having champions in this room with us this morning makes all the difference."
Among the awardees was Stephanie Brown, chief executive officer of Casa Myrna, the largest service provider for domestic violence survivors. Brown received the Gerard D. Downing Leadership Award.
"It's humbling, but [it also] gives me a lot of confidence in the work that we're doing," Brown said in an interview. "It makes me feel really appreciated."
Brown said while the work she does is not for fame, she appreciates the state recognizing crime victims during April, ensuring "nobody forgets" about those impacted.
Diane Coffey retired from her position as Western Massachusetts office head and director of Victims Services at MOVA after 34 years of work. Lowney said Coffey "changed individual lives of survivors person-by-person and impacted the entire victim survivor community by impacting policy change."
Coffey said she believes MOVA will continue to provide "quality services," especially with the younger generation beginning to go into advocacy work.
"I think that every day, all across the Commonwealth, people are working and advocating for crime survivors and victims and today is just a day when we get to honor people who have done extraordinary work," Coffey said in an interview.
Other awards were given to State Representative Natalie Higgins, LaToya Love, victim advocate for Parent Villages, and Ronald Odom Sr. and Kim Odom, founders of The SPOT for Life Foundation.
Lt. Gov. Kim Driscoll gave closing remarks at the ceremony, emphasizing the important work that the recipients did and the need to continue it.
"Now more than ever we need to pay attention to the issues surrounding victim rights advocacy," Driscoll said. "We need to bring more attention to those issues to help communities that are vulnerable and enable them to be comfortable coming forward, to create a safe space that allows folks to seek help when they need it, and break out of some of these cycles of violence."