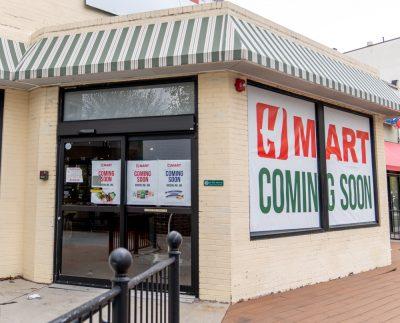 The new H Mart opening in Brookline, which will occupy the old Whole Foods building, has been well received by community members, mirroring other new restaurant and outdoor seating developments on Beacon street.
H Mart works to "provide quality Korean food and service to communities throughout the U.S.," and "encourage our fellow Koreans to have profound pride and dignity in the magnificent culture of our motherland, South Korea," according to their website.
The store also features a variety of food from other Asian and Western countries.
The Brookline H Mart will be the second location in the Boston area, joining the H Mart in Cambridge which opened in 2014.
The Cambridge H Mart, which shares their owner with the new H Mart in Brookline, wrote in an email that they feel "good," about the new H Mart opening up and confirmed the store will open in a matter of months.
Lisa Leger, executive director of the Brookline Chamber of Commerce, a non-profit which amplifies Brookline's businesses, said the organization is "thrilled" about H Mart coming to the neighborhood.
"When we are able to welcome in something new like H Mart, it certainly makes losing a large business like Whole Foods a little bit easier," Leger said. "We're super excited."
With Whole Foods gone, Wine Press, a shop next door to the new H Mart and a long-standing fixture in Brookline, did what they could to supplement what manager Colin Larkin called "a food desert."
Although Alexa Tomas, a resident of Allston, does not live close enough to regularly shop at the market, Tomas said she is excited to welcome more Asian cuisine to the area.
"I'm personally a big fan of H Mart. I'm also Filipino, so I feel like there's not a lot of Asian representation in probably the Brookline area compared to Allston," Tomas said. "I grew up with an H Mart back in Chicago, and there's a lot of them there. So I'm hoping that this H Mart has more options compared to the other ones."
Judy Kales, a 15-year resident of Coolidge Corner, cited a lack of variety for the community as the new H Mart's main con.
"I'm not sure why we need another Asian store when we have two on Harvard Street and Coolidge Corner," Kales said. "But I love not having empty space here."
The Maruichi Japanese Food & Deli on Harvard Street opened in 2020, followed by the Maruichi Select a few store fronts down just one year later. But H Mart, a self-named "Korean Tradition Made In America," does carry a variety of Japanese groceries.
"We've got two very large Asian stores right here, but they're different than H Mart," Kales said.
Bryan Parkin, the general manager of Bar 'Cino, the restaurant to the left of H Mart, spoke against concerns that H Mart may be unconventional.
"I don't think that it matters that it's not what some people would consider a traditional grocery store, and you'll be able to find everything that you want in there," Parkin said. "It's awesome for the community."
The H Mart will neighbor Gateway Brookline, a rejuvenation project for 1004-1016 Beacon St. that will add five new restaurants with heated pavilions and outdoor dining options.
Gateway's agent, Roy Papalia, principal at Papalia Commercial Real Estate, said he and the developers welcome the new market to the strip.
"We're very excited about it because it adds to the mix," Papalia said. "I believe that H Mart will generate significantly more business and foot traffic to the neighborhood."