Christy Chen lined up the putt. Donning a FootJoy bucket hat and a Boston University sticker on the left side of her face, the sophomore had just chipped the ball out of the rough, landing it within feet of the cup. The flag, which had been dancing in the 10.5 mph winds of Independence Golf Course in Midlothian, Virginia, sat off to the side of hole 18's green.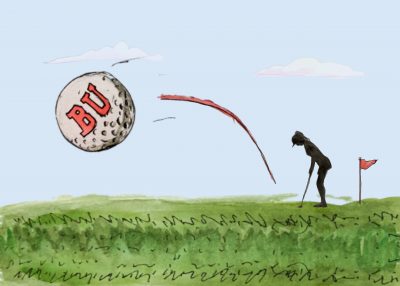 Chen, a native of Guangzhou, China, was highly decorated before joining BU's squad, with success at junior tournaments around China and the United States. Chen won Georgetown's Hoya Invitational in April of her freshman season, earning Patriot League Golfer of the Week, and eventually, All-Patriot League Second Team honors.
This season, she has been a "steady force," as head coach Bruce Chalas put it, with seven top-20 finishes and a low round of 68 — one shy of the program record.
The Patriot League Championship came with its obstacles for Chen. After the first day, she fell "quite sick," Chalas said. Despite it, Chen found herself on the road at 7:30 the following morning in good spirits, ready to go. Thunderstorms cut Saturday's activities short, but Chen took the tournament lead early into play on Sunday. Now, at the tail end of round three, she stood ready to putt.
It was a simple tap-in. Chen grabbed her ball out of the cup and gave a humble wave to the crowd. She then walked over to her team, who bombarded her with screams of celebration and a water bottle shower. Chen, the Patriot League individual champion, had just set a new tournament record by seven strokes.
"This weekend was a testament to her, the way she's been playing all year," Chalas said.
Despite scoring a season-best 890, the Terriers placed second in the conference championship this past weekend, 16 strokes behind the University of Richmond. While BU's season as a team is over, Chen will individually move on to the NCAA Regionals.
Senior Alice Fan, who finished fifth overall, also marked the history books this weekend, scoring a tournament record for strokes in a round with a 69 in the second round. Chen tied the record a few minutes later and matched it once again in the third round.
Chen and Fan earned All-Patriot League First Team distinctions. Defending PL Champion Junior Flair Kuan and Freshman Annika Manjunath rounded out the tournament's top-25 for BU.
"We played great," Chalas said. "All in all, our scores were very, very good."
The tournament as a whole was the most competitive it has ever been with four teams breaking 900 for the first time in history. Accompanying Richmond and BU, Lehigh University and the United States Naval Academy scored 895 and 896, respectively.
Chalas is not shy to say the Patriot League is getting better every year by "leaps and bounds." He cited the eight-year, 55-stroke difference between BU's Championship win in 2015 and Richmond's win this season.
"We continue to get top students in the [Patriot League], but a lot more highly skilled players," Chalas said. "It's really a phenomenal amount of progress."
Chalas gave a lot of credit to assistant coach Claire Edwards — the first assistant coach in BU golf history. Edwards, a former golfer and record holder at Butler University, is currently a Master's student at Boston University. She specializes in golf technique and swings, helping the players with "great communication."
"I know that she'll be back next year, and hopefully she'll be around even longer," Chalas said. "Having an additional staff member with such great skill was a big help for me this year."
Competing for a team that plays in a city — especially one as weather-temperamental as Boston — comes with its own set of challenges. The team struggles to find golf courses to play at, Chalas said, leading to more time spent at driving ranges at the expense of practicing the short game.
The courses the team regularly attends — Thorny Lea Golf Club and Norfolk Golf Club — don't open until late in the season and require a lengthy 45-minute commute.
"We have challenges playing golf in Boston in the springtime," Chalas said. "It's just the nature of being an inner-city school."
The team was able to get valuable time on the golf course to close out their season, with good weather at the Harvard Invitational in Florida and the SHU Spring Invitational in Connecticut. It was at the SHU tournament that Chalas said the team started clicking, placing runner-up to the host team in the final tournament before the Patriot League Championship.
Looking forward to next season, Chalas said "recruiting continues to be very strong" and the team will probably be one of the largest BU has ever had, adding incoming freshmen and a couple of transfers.
But first, the forefront of BU's mind is Chen in the NCAA Regionals. She will find out where she will compete during the NCAA Selection Show on the Golf Channel on Wednesday at 1 p.m.
"I've told her, 'Christy you can get to the finals.' Christy is good enough to get to the finals," Chalas said after the Championship. "It's challenging, but we got a real good player there representing us in the Regionals."