The 2023 NBA regular season is officially over. It was a season full of drama, highlights and some of the best basketball we have ever seen. Many players put up spectacular performances, but some had seasons too exceptional to be ignored. These elite hoopers were consistently dominant enough to lead their teams to a winning record, playoff spot or even a legitimate chance to win the NBA Championship. We celebrate these magnificent few players every year with the All-NBA Teams, the most prestigious roster in basketball, awarded only to the league's 15-best players.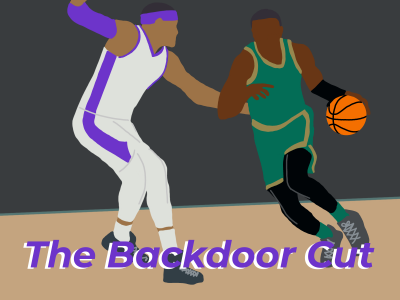 But who will receive these roster spots? Well, I don't know. There are more than 15 players who deserve such an honor. Making even an educated guess feels like an impossible task. And since I cannot see beyond the present, my predictions will almost certainly be wrong. In fact, nearly everyone's will. Human error stands in the way of even the most acclaimed basketball experts, making any predictions inherently unreliable. I would hate to give you unreliable information.
But not every predictor is human. With the ever-increasing reliability of artificial intelligence, we have nearly foolproof ways to foretell almost anything. They've even been used to predict sports, such as the time I asked them to predict this year's NBA All-Star reserves. Why not use these elite sports predictors to predict this year's All-NBA first, second and third teams?
That's exactly what I did. To answer this unanswerable question, I turned to Snapchat's new built-in AI software, My AI. I asked it to give me six guards, six forwards and three centers that it believes played better than anyone else this season. Here is what it told me.
The All-NBA first-team center is a familiar face: Denver's Nikola Jokic. As the recipient of the previous two Most Valuable Player awards, Jokic's spot on the first team is all but guaranteed, according to AI. 
Surrounding Jokic at the forward spots are Phoenix's Kevin Durant and LeBron James of the Los Angeles Lakers. Both Durant and James proved that time is not an obstacle for them, as Durant led two different teams to the NBA playoffs in his 16th NBA season, and James led the Lakers' late-season playoff push despite him pushing 40 years old. 
But while the AI's frontcourt selections are fairly safe, it has some bold predictions for the backcourt. Portland's Damian Lillard takes the first guard spot after recording the best statistical season of his career, which included a 71-point outburst against a high school junior varsity team. What Lillard did was certainly impressive, even if his team was the fifth-worst in basketball. Joining Lillard will be Atlanta's Trae Young, who finished top-10 this season in several statistical categories, including points per game, assists per game and coaches fired. 
The All-NBA second team also starts off without any surprise, with Philadelphia's Joel Embiid earning the center spot. The only surprise here is that Embiid is on the second team, as he is the current favorite to win this year's MVP award. Maybe there truly is a difference between "best" and "valuable," or maybe My AI knows something that we don't.
Joining Embiid in the frontcourt is Milwaukee's Giannis Antetokounmpo and Boston's Jayson Tatum. Both Antetokounmpo and Tatum led the two best teams in the Eastern Conference — a season-long fight for first place that fueled one of basketball's most entertaining new rivalries. Both All-Star starters were impressive individually as well, as both players finished top-10 in points per game, while Tatum led the league in most consecutive seasons as a 19-year-old and Antetokounmpo in dad jokes per 48 (DJ/48).
The first guard on the second team will be Chicago's Zach LaVine — the first true hot take of this voting process. LaVine had a good season, even if his team needed a 9-year-old to defeat the pitiful Toronto Raptors for the right to lose to the Miami Heat in the Play-In Tournament. Speaking of Miami, Kyle Lowry takes the second spot. With this honor, he will become the first All-NBA player to back up Gabe Vincent on an NBA Depth Chart.
The All-NBA third team kicks off with Minnesota's Rudy Gobert taking the center spot. This may seem like a puzzling selection since it's unclear as to whether or not Gobert was the best or even second-best player on his own team this season. But Gobert and the Timberwolves punched their ticket to the NBA playoffs this year, and his defensive leadership spread like an infectious disease to his team this season. And even if the Timberwolves traded their entire depth and future for an All-NBA third-team selection, it's still a huge feat for the team. They haven't had many of those in their history.
Two teammates take the forward spots on the third team: Kawhi Leonard and Paul George. The two led their team to the fifth seed in the Western Conference this year and helped foster a fighting spirit in the locker room. Surely, these two All-NBA players will stay healthy and help their team advance in this year's NBA playoffs. Surely.
The first of two guard spots goes to Brooklyn's Ben Simmons. The Nets made the playoffs despite losing two superstars midway through the season, and Simmons contributed to this hard-fought journey with 6.7 points per game and 40 games missed. In other words, an average Simmons season, and one worthy of an All-NBA selection, according to My AI. The final All-NBA spot will go to free agent John Wall, who leads the league in irony after being traded to the team he disrespected on a podcast. If taking shots at Justin Patton was a sport, Wall would be the MVP. But to Snapchat's My AI, he's only on the third team.