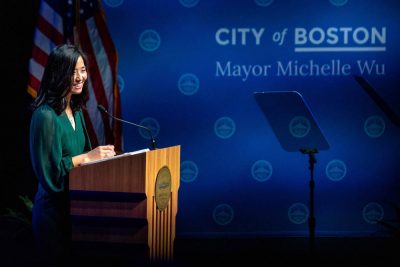 Mayor Michelle Wu announced the approval of 56 affordable housing, historic site and recreational projects last Friday, funded by $40 million from the Community Preservation Act.
The CPA, approved in 2016, sets aside money for projects that prioritize affordable housing, historic sites or open space and recreation through a 1% increase on "residential and business property tax bills," according to the City of Boston website.
About $20 million of these funds will be used to create more affordable housing through 10 projects in the Chinatown, Jamaica Plain, Mattapan, Roxbury and South Boston neighborhoods.
"The need for affordable housing is huge, and it's great that Boston is so focused on increasing the supply of affordable housing and looking to secure new sources," said Donna Brown, the executive director at the South Boston Neighborhood Development Corporation. "[The] Community Preservation Act is a great new tool that's providing significant funding for developments across the city."
The South Boston housing project received $2.5 million in partial funds for the conversion of a St. Augustine convent into affordable housing for senior citizens.
The Mattapan neighborhood is another area receiving partial funding from the Act through the conversion of city-owned parcels into livable units and the construction of a new "mixed-use" building.
"There's been a need for affordable housing in various neighborhoods, and so I think that's where the impact will be," said Kenya Beaman, a community engagement manager at the Boston Planning and Development Agency. "Folks who have been waiting for affordable housing for some years, who may be in shelters or transitional housing or something like that can actually get into a stable housing situation."
Jesse Kanson-Benanav, executive director at Abundant Housing Massachusetts, a statewide advocacy group, warned about the potential issues that arise with the CPA.
"The Community Preservation Act is a really important step towards providing more local resources, but by adopting it, we shouldn't assume [that] our community has done everything we can," Kanson-Benanav said.
Kanson-Benanav said zoning issues can prevent the buildings promised in the CPA from happening and suggested higher property tax rates in areas with low property tax rates as another way to create affordable housing.
"We need to make affordable housing development allowed under zoning as a right without special approvals like zoning variances that will make the CPA much more effective in the city of Boston," Kanson-Benanav said. 
CPA funding is also going toward open space and recreation with over $10 million provided for 19 projects. The John J. Ryan Park in Charlestown is one of these projects, receiving $1 million in funding.
The project includes the installation of a berm, a raised earth mound, along the border the park has with the Mystic River to avoid flooding in this location, said Abigail "B" Chatfield, project manager for the Boston Parks and Recreation Department. In addition to the berm, a splash pad, playground, bike path and seating areas will be added.
"I feel like while it's not going to be a profound change, I think it will provide meaningful small changes as far as providing gathering spaces for the community in addition to what it already provides, which is plenty of space for active recreation," Chatfield said.
Historic preservation, also covered by the CPA, totals $10,182,600 in funds for 27 projects.
Humphreys Street Studios, a property "housing working artists and creative small businesses," according to their website, received $611,518 for building repairs.
"This Community Preservation Act money that we received allowed us to plan for some much needed, much neglected spaces," said Cristina Todesco, an artist tenant and member of the Steering Committee at the studio.
The Charlestown Boys and Girls Club, an organization receiving historic preservation funding, plans to "preserve the masonry exterior of the historic 60 High Street building" with the $50,000 it received from the CPA.
"I look at something like this, which is going to shore up our building and make these beautiful buildings look gorgeous, but also shore up safety-wise and make sure we don't have any long-term problems," Executive Director Derek Gallagher said. "[This] just means that we can spend that money where it should go, to programs that our kids and families need."