In 2016, Boston University introduced an "experiment." Students would engage in daily sustainable practices, and their living-learning community would become the focal point of the corresponding course in the College of Arts and Sciences.
Seven years and a global pandemic later, the Earth House living-learning community has deviated from its original framework.
The four-story historic brownstone on Buswell Street was created to be a home to students with a "strong interest in the environment and environmental issues," according to the BU Housing website.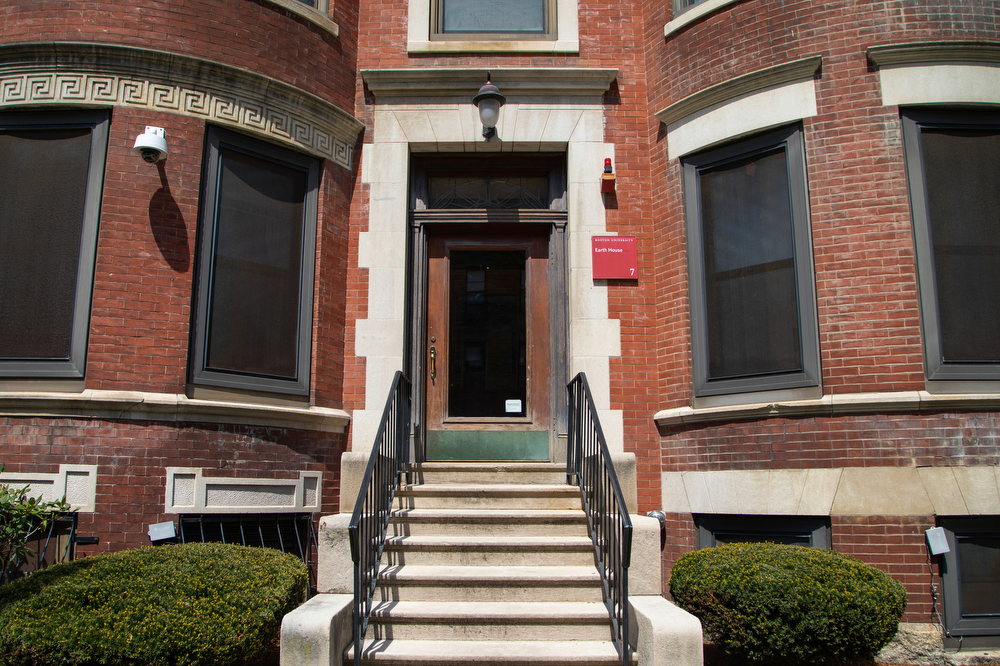 The interior of the brick rowhouse has all the charm of an old Boston building, featuring creaky hardwood floors, signature curved walls and eccentric-patterned fabrics. In the common area, on April 15, 2023, there are boxes of clothes set aside for a clothing swap that Anabelle Palumbo, a sophomore in CAS, has organized with other residents and her resident assistant.
Palumbo said she was excited to live in Earth House until she discovered that out of 18 residents, she was one of only three who had applied to be in the living-learning community — the others had randomly been placed there.
"This year, we've been trying to focus more on outreach to the community because I don't think a lot of people know about [Earth House] in general," Palumbo said. "That's definitely made it difficult to have more of a community when there's only three people that were actually interested in living here."
When Earth House launched seven years ago, the residents collaborated on sustainability projects, including installing shower timers and replacing one of the dryers with a drying rack to reduce water and energy consumption. Now, such initiatives fall on the shoulders of the few residents with a demonstrable interest in sustainable living.
"I think that the people that got placed in here now are happy to live here, but there definitely are some people that live here that don't practice sustainable practices [and] that just have a ton of trash accumulating and take two-hour long showers," she said.
Initially, residents of Earth House were required to enroll in the accompanying Earth House course led by Professor of Earth and Environment Nathan Phillips, with assistance from BU Sustainability Director Lisa Tornatore and a graduate teaching fellow. The onset of the global pandemic changed things.
To adhere to COVID-19 safety protocols, students could not live in the Buswell Street residence and the class could no longer meet in the Earth House common room due to poor ventilation. So, in the spring of 2020, Phillips and his colleagues decided to "turn Earth House inside-out."
"The Earth House [program] was always intended to connect this facility with the systems that support it and undergird it, like the water, the electricity [and] the gas," Phillips said. "A house is not an island, so we turned our focus outdoors and really looked at the systems that support Earth House because we weren't sure that it was safe to meet within Earth House during the pandemic."
Buswell Street residents are no longer required to enroll in the course. Today, less than half of the 14 students who are taking the course also live in Earth House.
Now, the Earth House residence hall and course are detached. Residence Life manages the former while CAS faculty runs the latter, with little overlap between the two.
Sarah Knotts, a junior in the Sargent College of Health and Rehabilitation Sciences and the Earth House RA, said even if the Earth House faculty wants residents "who are engaged in sustainability," she doesn't think it's the faculty's decision.
"I know [BU Housing] tries to place students where there's vacancies," she said. "My guess is maybe that takes priority sometimes over matching students up perfectly with their interests."
Knotts said she fields the usual concerns that arise in a college residence hall, but she also works to address issues around unsustainable practices such as students leaving lights on. Even though she wasn't handpicked by the Earth House faculty, she said she recognizes the need to "take some initiative regarding being a leader in sustainability."
In the past, Phillips and his colleagues would interview and select an RA to live in Earth House, but now the position is filled without the faculty's involvement — a process they hope to change. While Phillips wasn't aware of residents taking "two-hour long showers" — which he was "astounded to hear" — he considers himself "a guest" in the residence hall and would not overstep by regulating shower times.
He also acknowledged the disconnect between what were originally the two core components of the Earth House living-learning community. He said he and his colleagues are working to bridge that separation.
"One way to do that is to revamp our two-semester, two-credit Hub course as a Hub co-curricular instead, which may make it easier for residents including the [resident assistant] to participate in the curriculum/class," he wrote in an email to The Daily Free Press.
The pandemic disrupted the course, but Phillips said "students responded favorably" to modifications. They've visited the Center for Computing and Data Sciences to learn about its sustainable heating-cooling system, they've sat along the Muddy River to examine the relationship between nature and urban life and they've undertaken an ambitious project to revive the rooftop garden on the third floor of the 150 Riverway residence hall, which they plan to "soft-launch" in the first week of May.
Maria De Urioste, a first-year student in CAS, doesn't live in the community, but is enrolled in the Earth House course. Urioste said she was "blown away" by the unconventional nature of the class. She said she believes the experience of living in Earth House is very different from taking the course, but both are "amazing" opportunities, each with their own merits.
"When you're living [in Earth House] and you take the class," she said, "I feel like it makes the dorms a more enhanced and tailored experience."