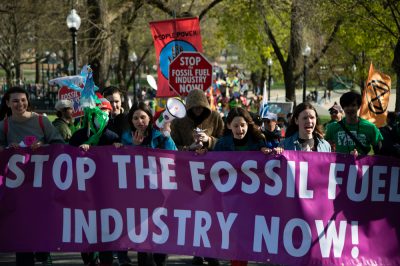 Extinction Rebellion, an international movement to protest climate change, gathered 300 people for their Earth Day Protest on Friday to protest the building of new fossil fuel infrastructure in Massachusetts.
This Earth Day Protest was spearheaded by the Boston chapter of XR, where some participants dressed as their favorite endangered species as they rallied beginning at Boston City Hall Plaza, moving into Boston Common and finally going outside the Massachusetts State House.
"Fossil fuels are the main propagator of climate change, and I'm really concerned about, in the future, if the world is going to collapse, basically, because of climate change," said Lauren McNair, a high school senior and member of XR Youth.
Since 1970, Earth Day has been celebrated to raise awareness of environmental conservation, which is why XR chose to hold their annual rally around that day, said Jamie McGonagill, media and messaging director with XR.
"It's a movement about hope," McGonagill said. "It's a movement about belief in the power of humanity, belief in the power of a group coming together [and] belief in the power of our planet."
Haley McHatton, a member of XR Boston, began the rally advocating for a ban on new fossil fuel infrastructure by listing out XR's four demands: tell the truth, act now, to go beyond politics and a just transition.
"We are demanding that our government take urgent action on climate change and ban all new fossil fuel projects," McHatton said during the protest. "We will not be silent. We will not be ignored. We will keep showing up with all of our love for the world around us, and all of our rage at its destruction and the blatant inaction of our leaders until government listens."
Christopher Hinds, a social worker from southern Vermont, said climate change's main contributor is capitalism.
"Capitalism is about exploitation. It's about using up as many resources as possible in the name of surplus profit," Hinds said. "Anybody that doesn't understand that that's the way our system is set up is pretty ignorant."
McGonagill said fossil fuel companies give money directly to politicians, like Gov. Maura Healey, who accepted money from National Grid, NRG Energy and Dominion Energy — which are natural gas suppliers — to pay for her inaugural party.
"Even if politicians aren't openly corrupt, [they're] going to support the people who support [them]," McGonagill said. "[Oil companies are] paying the people who make the laws that keep them safe."
McGonagill said although she thinks individual protests have no large-scale impact, they can create a chain reaction that can influence politicians over time.
"I think the best impact our protests can have is simply to add another drop in the bucket," she said. "We're just going to keep showing up, and I think that consistent acts of civil disobedience are possibly the most effective tool for change that anyone has."
Eileen Ryan, leader of Beyond Plastics, a group working to reduce single-use plastic pollution in Massachusetts, said she hopes the protest will inspire others to take action and hold politicians and large businesses accountable for the pollution they create.
"No matter what happens in the climate crisis, that at least in this moment … this many people put themselves at some inconvenience … because they cared so much about our species," McGonagill said. "That gives me hope that at least in some kind of arc of justice … that all of us tried to do something."
Cathy Armer, a Dorchester resident and self-employed editor, said although she was disappointed the rally was not as large as she would have liked, seeing so many people advocating for the environment gave her more hope.
"I thought we had taken care of a lot of environmental issues when I was a teenager like cleaning up rivers, pollution … and then we've slid backward so much," Armer said. "We can turn this around, but we got to act."
Both McNair and another XR Youth member, Jo Almond, said they encouraged young people to get involved in the climate movement, so they can grow up in a world where their voices are heard and prioritized.
"To the kids out there, don't accept less than a liveable future," Almond said. "The earth is not just here for us to use her."