For Boston University men's basketball player Walter Whyte, Terrier basketball isn't a team, it's a brotherhood.
"I love every guy on this team, and it was a family atmosphere each and every day," Whyte said. "The big brothers, they always pass it down to the younger brothers and the younger ones always end up being better."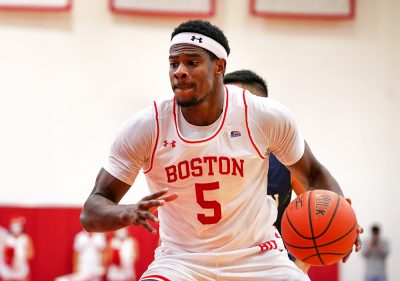 After Boston University men's basketball's 60-54 win over American University on Feb. 8, head coach Joe Jones didn't want to talk about basketball — he was locked in on his team instead.
"Before every practice, [Caelan Jones], Daman [Tate] and Walt get together in a huddle and just start screaming," Jones said. "Every time I turn around, they're doing something new with what we do."
In an otherwise unremarkable 2022-23 season, Jones reserved one superlative for his squad. 
"They are probably the loosest group I've ever had," Jones said.
Whyte, a graduate student wing who played five seasons at BU, reflected on his final ride with the Terriers.
"We knew a lot of stuff was going to be thrown at us this year," Whyte said. "We were just trying to have fun each and every day."
His sixth year in the program was exceptional. As the team's eldest player, he led the team in scoring, minutes per game and, of course, in pre-practice screaming sessions.
Whyte's final year didn't go as he, or anyone in the Terriers' seniors class potentially playing their last season at Case Gym, had hoped. For an experienced team, a 15-16 regular season record, an 8-10 mark in conference play and a fifth-place finish in the Patriot League failed to meet preseason expectations.
In one particularly harsh stretch of games in January, BU lost six of seven. A 12-point home defeat to the College of the Holy Cross to open February knocked the Terriers to a 3-8 record in league play.
"Just finishing games … that's where we were lacking," Whyte said. "You gotta start strong and finish strong."
Jones preached defensive improvement at the end of games after each loss, and Whyte reaffirmed that sentiment over a month after BU's season ended.
"Getting stops on command, that's a big thing," Whyte said. "You can control the game on the defensive end a lot more than you can on the offensive end."
When asked what part of the team's season he was most proud of, Whyte said their reserve in fighting through adversity. Their mid-season slump to open Patriot League play was the prime example.
Whyte credits his team's resilience to the "looseness" that his coach described after their win over American, the second of five bounce-back wins in February. Jones was notably lukewarm on his team's antics that night, saying he didn't know "if any of that stuff helps." 
But Jones' longest tenured player, and one-third of the pre-practice screaming choir, was all-in.
"The purest form to play is with pure happiness," Whyte said. "It's easy to just give up and just sulk in practice… and make this game a lot harder than it has to be. The joy of the game is really the purest form, and the best results come out of that."
For Whyte, playing with pure happiness meant huddling up with Caelan, known to his team as CJ, and Tate before every practice and yelling. That's it, just screaming.
"Right after we stretched, we huddled up, pushed each other a little bit and then gave it one good yell and then we're done, we feel good," Whyte said. "That's how we started every practice."
The screaming and jumping around started with CJ and Tate before Whyte joined the madness. It then became a pre-practice ritual to boost morale and give the players a way to release any frustration from their lives as student-athletes. 
"Anything that you had before the day, [like if] you had a tough class or you didn't get a good grade, or you just need to let out a scream before you get to business, that's kind of what we did," Whyte said. "It's just to loosen up and let it all out before we lock in on our game or on practice."
Whyte said he wishes the team could've won more games, but as he reflected on his last season at BU, Whyte expressed content and pride with the way the team stayed together throughout the season.
Whyte said those bonds allowed him to complete his legacy within the program — which includes a Patriot League Championship in 2020 — by teaching the younger players how to "carry [themselves] as a BU basketball player."
Transitioning to the next generation of BU basketball became perhaps the most important task at hand in a disappointing season. The top-four Terriers in minutes per game are all leaving the program, and there is an uncertainty surrounding the team heading into the 2023-24 season.
Whyte, the most experienced of those that are leaving the program this year, was at the center of that transition. A mentee himself just a few years ago, Whyte noted the importance of being a mentor for both the program and the players. 
"Late night talks at the hotel, sharing memories and answering questions and asking [the younger players] questions about what they think or how they're doing, keeping an open dialogue," Whyte said. "That's something that we always talk about."
After BU's season-ending loss in the Patriot League Quarterfinals, Jones, normally so critical in his post-game press conferences, couldn't withhold the pride he feels for his eldest players.
"[We] could win a championship one day because of the way that Jonas [Harper] and Walt and Fletcher [Tynen] and Nevin [Zink] handled themselves this year," Jones said.
For Whyte, who said he is now pursuing a career in professional basketball after hiring an agent, passing down his wealth of experience to the next generation of BU basketball players was a storyline of his final season, wins and losses aside.
"Just pass it down to [the younger players] for them to learn from my mistakes and what I've done, and they'll be able to embody that and be better than I was," Whyte said. "It was more than just hoops."