I've written 29 articles for The Daily Free Press, and not one has stumped me more than this letter. Summing up this semester feels like an impossible ask.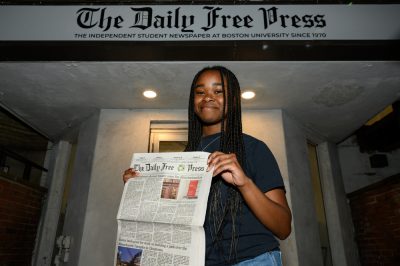 Last spring, I walked into the FreeP for the first time to train to be the opinion section editor. I remember being confused as to why a college newspaper had an office and why that office was located beneath Insomnia Cookies. The space was busy and lit up with string lights.
This fall working with Molly Farrar as editor-in-chief and Tanisha Bhat as managing editor, along with the former E-Board, fostered my appreciation for the paper and the work the FreeP does.
Now, as editor-in-chief, working alongside our Managing Co-Editors Casey Choung and Brendan Nordstrom, leading the FreeP has been a highlight of my college experience.
Four days a week the Editorial Board sits in the office writing and editing to deliver Boston University its news and opinions and photos and podcasts. Keeping the DFP machine fed is no easy task. Luckily the 18 amazing, dedicated, genius editors that make up our editorial board have not only sustained the paper but helped it to flourish.
More than anything this semester I wanted us to be new, to encourage ideas and consistent dialogue with editors. Instead of a simple yes or no, conversation throughout the semester enabled the pooled creativity of e-board all contributing to a tangible progress — something firm a section could point to as their mark on the paper. Each section has done just that.
City Editor, and incoming Managing Co-Editor, Emilia Wisniewski kicked off our semester before it even began. A story about Los Angeles tenants getting ownership of their homes from BU set a precedent for strong and expansive coverage from the section, which continued throughout the semester.
Our Campus section, led by co-editors Jennifer Small and Sangmin Song, dealt with calamity head on. With a new push for investigative pieces, such as the story highlighting the alleged discrimination of Professor Rodrigo Lopes de Barros and an in-depth look into mental health at BU, the section reminded me and hopefully the BU community at large how integral college newspapers can be as University watchdogs.
My features favs and the dynamic duo of the century Stella Tannenbaum, who is also a managing co-editor for next semester, and Emily Wyrwa made sure their section's stories went beyond event coverage and PR profiles. Their 'Humans of BU' series not only offers an opportunity for the BU community to read about the people they know and care about, but allows writers to experiment with the flowery flow and narrative structure which separates featz from news.
It's easy to churn out content without regard for whether people are interested in reading it, but our Opinion Co-Editors Analise Bruno and Caroline McCord curated a section full of hot takes and even hotter editorials, all while managing more Op-Ed submissions than we've had in the past two years.
As Aristotle once said "Pleasure in the job puts perfection in the work," and considering the consistently solid articles from Sports Co-Editors Brett Abrams and Monet Ota, they indeed have a love of their craft. It's hard to do something new with a classic like sports, but by increasing their output of features articles, the section managed to do just that.
Avid "Succession" enjoyer and Lifestyle Editor Kendall O'Brien not only regularly published three stories a night, but helped to see out the section's newest addition — a dating advice column entitled "Ask Abby," which you should all read when relationship woes grow too much for your friends to bear.
Payton Renegar's soon to be launched lifestyle podcast ends her time as the podcast editor the same way it began, with a thirst to learn, progress and offer new ways to get people invested in the FreeP's content. BU should listen out for what's to come.
Working alongside the talent of Andrew Burke-Stevenson and Hui-En Lin, the photo editors, has been amazing. I know little about composition or what makes a good picture but I do know that when I'm finaling photo captions and scrolling through all the day's art I'm proud to say they were taken by FreeP photographers.
Multimedia Editor Samantha Sanders created a new design for the newsletter, drawing from designs of newsletters past. With that and social media in general being such a front-facing section of the paper, I've greatly appreciated the multimedia team's commitment to upholding the FreeP's reputation.
Layout and Graphics editor and former Sports Editor Chloe Patel has maintained her high energy even through stress-filled print nights that go till 7 a.m. To be a part of the top 3 I think you have to be a little bit crazy in the best possible way, and I don't doubt Chloe's insanity as she steps into the role of editor-in-chief.
I could say my experience as editor-in-chief of The Daily Free Press was a roller coaster of emotions, but that would do it a cliche disservice. It was more like a Dunkin iced coffee. Every time you go back to order, it's a little different. Sometimes awful, often okay, but when you get your Goldilocks "just right" batch you're sipping gold.
There will always be regrets and what ifs and things that in retrospect could've been done differently, but we did our best. I'm incredibly proud of what we as an E-Board have accomplished.
But the news never stops. The FreeP will continue until the sun dies, and the fact that I could play a part in its forever is all I need to know to comfortably say goodbye.