Thirty-five years ago, six Black kids from Los Angeles, California put out the groundbreaking concept album "Truth and Soul." The record amplifies stories previously untold by mainstream rock music. Decades later, Fishbone's music still rings true.
Fishbone is recognized for their electric live performance, catchy melodies and blaring horns. Their emblem, that of a fish skeleton, is a saw-it-from-a-mile-away kind of logo, found everywhere from John Cusack's shirt in "Say Anything" to a viral Instagram post of a woman being told to cover up a shirt reading, "F— Racism."
Last Thursday, Fishbone set off on their latest tour, supporting new single "All We Have is Now," making stops in Baltimore, New York and Boston.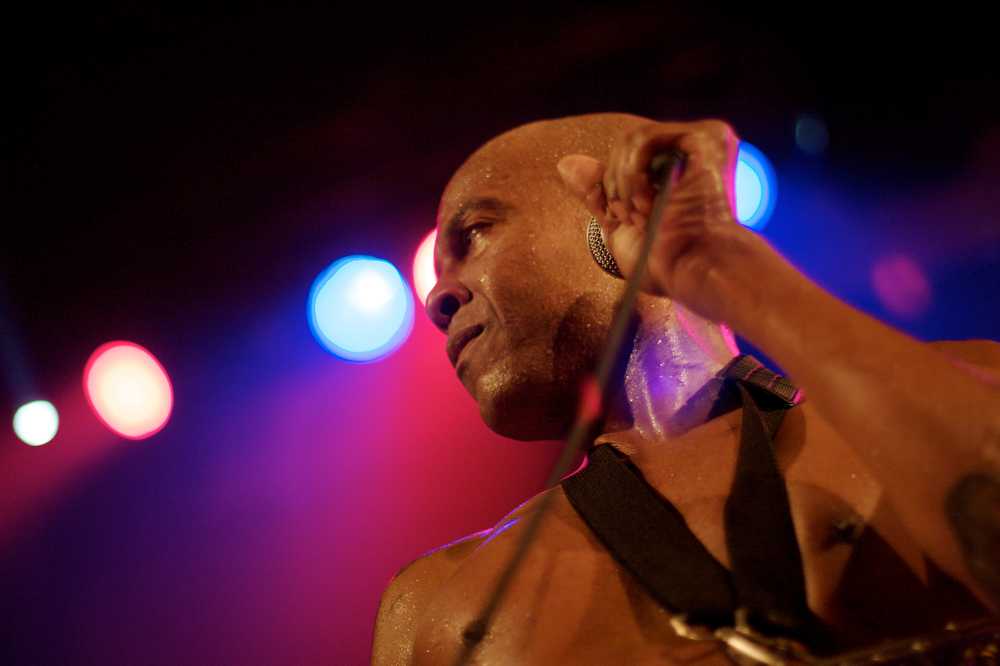 Gareth Smith, assistant professor of music at Boston University, said Fishbone has more of a "cult following," and that the "youthful exuberance" and "over-the-top, lunatic" performance is still incredibly musical.
"Being in a rock band … and Black is unusual," he said. "You don't get Black rock bands very much."
"Believe me when I say / Me and my friends, we go a mighty long way"
Bassist Norwood Fisher, alongside brother Phillip "Fish," formed the band in 1979, when the guys were still in junior high school.
"We were playing music together since I was six and he was four," Fisher said. He became infatuated with the likes of Funkadelic and Sly and the Family Stone.
They all found each other, with the final addition of radical frontman Angelo Moore in ninth grade, because they were "like-minded people," Fisher said.
The bulk of the band being born in 1965, Chris Dowd joined up and became the band's keyboardist, trombone and synth player.
"Traditionally, maybe you would have assumed that we would have, at that time, been rappers or really MCs," Dowd said.
Growing up in a household with his uncle, Dowd took to whatever musical influences he could find.
"The obligation I had to myself [was] to be in my own shoes about what I wanted to accomplish and what I wanted to represent creatively," Dowd said.
Then came Fishbone, a group of childhood friends who somehow became a band. That band somehow became their livelihood, passion and overwhelming legacy.
"Sound has influenced everything," Dowd said. "Emotionally, spiritually, intellectually, soulfully."
"For we all dance for freedom's sake / Shake, shake, shake"
Now over 60 years old, each member gets up on stage almost every night for a couple of months to do what they love: live performance.
"It's been a privilege, and it's also been insane," Dowd said. "A friend of mine said to me that it's not the hour and a half on stage. It's the other 22 and a half hours."
The six LA veterans have spent the past week all thrown together, driving along the eastern seaboard, making their way from Virginia to New England.
"Coming to the East Coast is always amazing … I'm blessed to say we have such die-hard fans," Dowd said. "They kind of get what it is."
Boston holds a special place in the band's heart, Fisher said. He reminisced of "a young Fishbone" playing gigs with ska brothers and hometown heroes The Mighty Mighty Bosstones.
"Partying our asses off [in Boston]," Fisher said, is an integral memory in the band's repertoire of outstanding live performances.
In '92, as Fisher recalls, Fishbone played Foxboro Stadium on Earth Day, when it was 17 degrees below zero. Fisher said he was "prone to going on stage with nothing but a towel on."
"Like, no underwear," Fisher said. "Epic moment."
"Make it plain to my eyes / We can cry out for change / Ooh, change"
In a world of reunion tours and geezer rock, Fishbone stands apart, with their music, content and attitude remaining more relevant today than ever before.
"It saddens me to think that we got this far away from when we wrote those songs," Fisher said. "The unfortunate thing is that the lyrics apply to today."
Norwood said he was very supportive of the people who took to the streets during the rise of the Black Lives Matter movement in 2020. No one should be confused by such a concept, he said.
"Things change. It wasn't enough," he said. "We need transformation."
Thousands of shows later, Fishbone still boasts that same energy, and hunger for equality and justice.
"Just be," Dowd said. "Exist, love, live, f—, cry, bleed."
Their legacy is survived by numerous critical nods, as well as a 2010 documentary film, "Everyday Sunshine: The Story of Fishbone," narrated by Laurence Fishburne.
Despite their massive cult following and cultural impact, Fisher said the band members are "not prophets."
"We're all born with different purposes," Fisher said. "I'm glad to be in a band called Fishbone … I really hope that, as a society, we learn how to have the conversations."
Their decades-long career combines an irreverent and infectious onstage party with lyrics as impactful as they come. Tracks like "Subliminal Fascism," "Fight the Youth" and "Ghetto Soundwave" gave the band their platform to not only climb the charts but cry for justice and inspire future generations.
"It's amazing if you can touch a person in your life, but then to be able to go and do that with something that takes you around the world a few times," Dowd said. "It's a blessing."