Chris Gray snapped from his left hand to his right, delivering a dart to Timmy Ley. With only 12 meters and a defender between him and the goal, the then-freshman spun over his left shoulder and flung the ball sidearm into the back left of the net. 13-9.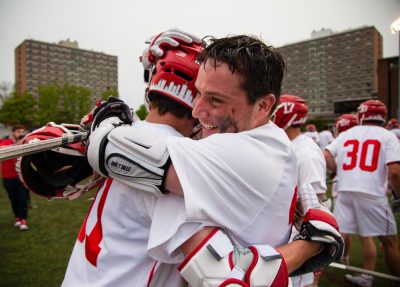 The goal — Timmy's fourth in a season-high five-goal game — proved key in separating the Terriers from the No. 2 team in the nation: Loyola University Maryland.
In its 10-year history, Boston University's lacrosse program has adopted an underdog mentality. No game in 2019 exemplified this better. The team was counted out before the game even began, but as Timmy put it, the Terriers "smacked them around."
The Terriers defeated the Greyhounds 18-11 — the highest ranked win to date in program history. 
"We had a ton of people at the game and to do it at our home field and play as well as we did," BU head coach Ryan Polley said. "Our team was really peaking at the right time."
Thinking back to that game four years later, Timmy, now a graduate student, recounts it as an "underrated" moment of his BU career. His name is plastered across the program's record book, most impressively with the most points in BU history. However, it isn't these accolades that make Timmy love playing on Nickerson Field.
"As cliche as it sounds, it's the teammates," Timmy said. "The fact you're able to bond over one goal and being in the locker room with everyone … I wouldn't trade that."
Timmy was born and raised in Long Island — the "hot bed of lacrosse" — as the middle child between his older brother John and younger brother Dylan. The Ley brothers were competitive in everything, from video games to basketball to wrestling — sometimes leading to a broken window.
The Ley brothers, of course, also competed in lacrosse. While Timmy "didn't like getting hit by the ball," luckily for him, both of his brothers did. 
"Two goalies in the family for me to shoot on," Timmy, who ranks second in BU all-time goals, said.
Massapequa is a "lacrosse town," and Timmy took advantage, joining the youth program in kindergarten, and hasn't looked back since. 
There isn't one moment Timmy could point to when he realized his talent, but he noticed a difference in mentality in middle school. When others went to the beach on weekends or dreaded practice, Timmy wanted to hit the fields "as fast as possible." 
"His motor never stopped. He's a true competitor. He hated to lose. You know he hated to lose," Tim Radomski, Timmy's high school coach, said. "He's just that bubbly personality, just had that smile [that] was contagious." 
Despite his abilities as a point guard on the court and a cornerback on the gridiron, Timmy quit basketball and football in high school to focus on lacrosse. He "waited his turn," as Radomski said, but took full advantage of his time as a starter junior and senior year. Timmy was a part of two county championship teams and earned all-county distinction in his senior season.
Timmy verbally committed to BU during his freshman year of high school, only a couple years into the program's existence. Radomski said coaches called "every night" about him and would travel to watch him play. With guidance from his parents, he was sold on the academics of BU as well as the idea of developing the program. 
"[To] be part of building something, Timmy bought into that and was a big piece of it," Polley said. "We're thankful that Timmy … decided to take a chance on us when [he] could've gone to some more established institutions."
Timmy, one of the best incoming freshmen in the nation, became a starter upon arrival. Yet, he felt no added pressure and came "ready to work." His 40 freshman-year points is tied for first in the program's record books.
While Timmy's freshman-year statsheet was glowing, his transition to college came with speed bumps. Homesickness, time management and difficulty deciding a major all led to growing pains.
"I was pretty shell-shocked," Timmy said. "I didn't fully understand what I was getting myself into with the time commitment and how much to be good you had to do extra."
With experience, Timmy began to figure it out. His day starts like anyone else's — wake-up at 8:30 a.m. with breakfast, lift weights and do homework. Timmy spends his free time seeing Sammy Adams perform at House of Blues, watching his New York Giants or hanging out in Allston with friends.
After a COVID-19-shortened sophomore season, Timmy was ready for a big junior year campaign. Yet, his team-high 27-goal season was cut short due to a foot injury, causing him to miss the final four games of the year. He felt as if everything was "coming [down] on top of" him. 
"My biggest thing was just trying to keep a happy attitude for everyone else," Timmy said. "When they're out there grinding everyday, they don't want to look over and see me moping."
Timmy was hungry to compete, rehabbing his foot throughout the summer. If junior year left a "bad taste" in his mouth, senior year brought a new mentality. The team as a whole felt disrespected: The Terriers were predicted to finish fifth in the Patriot League in the preseason rankings, which only fed their signature underdog mentality.
Timmy answered the call. He scored career highs in goals and assists entering the NCAA tournament, having scored in every game since March 16, 2019. The team did the same. Going 12-5 on the season with a nearly perfect in-conference record, the Terriers entered the Patriot League playoffs as the No. 1 seed. A 14-10 win over the United States Military Academy in the finals gifted the Terriers the prize the program had been dreaming of since its inception in 2014. 
"People talk about stuff, but we talked about it and then did it," Timmy said. "Lifting [the Patriot League trophy] up was one of the best moments of my life so far."
Why did Timmy come back for a fifth year? "Why not?"
BU, 9-3 on the season and second in the Patriot League behind Army, plays the Black Knights  for the regular-season championship this Friday. Then, it's on to the conference playoffs for a chance to repeat history.
When asked what comes after BU lacrosse, Timmy laughed and said, "that's a good question." He plans to golf with Dylan this summer to lower his handicap and seek out a job in sales. Playing in the National Lacrosse League is a dream, and while Timmy is now "well-known" in Massapequa, he hopes to one day raise a family there. 
But for now, his name is forever imprinted on BU history.
"I've always said we want to leave [the program] better than we found it," Timmy said. "A legacy I want to leave is to go out there and have fun at practice every day. If you're not having fun on the field, then you should probably make a mature decision and not play anymore. It should be the best part of your day."