Comic books helped Dan Palomares learn to read.
"I was having a hard time in school, my mom just wanted to find me something that I would read," Palomares said. "At her job, they had random Spider-Man comics laying around, so she would give that to me and I would be reading them cover to cover."
Today, Palomares is the store manager at Comicopia, a Kenmore Square comic book store just a short walk from the Kenmore T Station.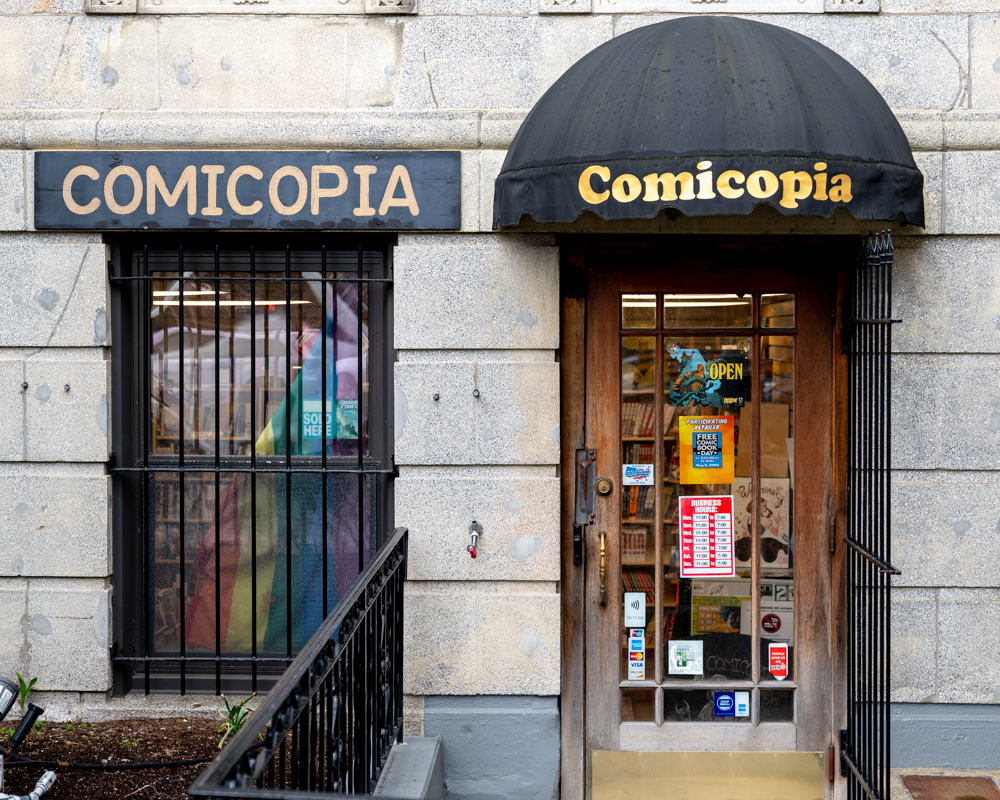 Comicopia started out in Brookline in the late 80s. While he founded the store with a business partner, Matt Lehman said he's been the sole owner since 1999.
Lehman said the Brookline store was "nowhere near anything," so it moved to its current location in 1991.
"We didn't have a good location because we couldn't afford to have a good location, but we needed to move because we didn't have a good location," Lehman said. "You need money to make money. It's always hard to get started."
Now that they've gotten started, one of Comicopia's big ticket items is manga. Lehman said it might make up 40-50% of the store's sales.
While the store has always carried manga, its popularity has been on the rise.
"Really, with the pandemic, and a lot of people starting to watch anime, manga took off, like really took off," Assistant Manager Samantha Lee said. "You get a wider audience in general."
From a business perspective, Lehman said "manga has got a much longer shelf life" than monthly issues.
"The shelf life for single issues is very limited, if it doesn't sell pretty much right away in the first week or two, it hardly ever sells," Lehman said.
In keeping with the popularity of manga, Comicopia had quite a showing at the Anime Boston convention. Lehman said they had 10 booths there, making them the largest vendor.
"It was kind of a big deal," Lehman said.
Taking their wares to the expo in a 26-foot truck, Lehman said the Comicopia crew did "very good business," but that a project of that scale has after-effects.
"It's a huge undertaking that takes months of planning, and it takes weeks of recovery," Lehman said. "We're in the recovery phase now."
Another business concern for any bookstore is the rise of e-readers because it pushes out the middleman, not selling the comic books in stores.
Still, despite that possibility, Palomares is not overly concerned.
"I don't feel any stress or fear about it currently," Palomares said. "There's always those people who are like 'no, I need to hold it, I need to read it,' there's also those people who feel there's value in the printed version."
Outside of Anime Boston, Comicopia is involved with the community in other ways. Palomares said they've marched in the pride parade many times, where people dressed in "superhero outfits."
In popular media like "The Simpsons" or "Young Sheldon," there can be a stereotypical depiction of comic book stores and their clientele, which Lee said is an "old view."
"It's full of older guys, and they're super gatekeep-y, you still have people like that, but that's not really the majority," Lee said.
While Lehman said that stereotype can be rooted in reality, he doesn't think it makes the store less inclusive.
"We just treat everybody equally, fairly, we don't come out as a boys club, we embrace all nerds," Lehman said.