An infinite cosmos of hobbies exist: shooting hoops at FitRec, slaying Fortnite enemies online, crocheting patterned scarves, you name it.
So when someone asks what your favorite pastime is, not many would expect this fiery, red-hot, tongue-burning answer: spice-tasting.
The tight-knit community of Boston spice enthusiasts can't seem to get enough of the heat, as they gathered for the second annual Boston hot sauce festival from April 29-30. The event, co-hosted by John Kasper and Jerk Fest organizer Nicola Williams, featured 24 vendors and an award show.
Kasper decided to hold the event in Boston because it is his "favorite city in the whole world," and he loves everything about it. Kasper wants the festival's attendees to have fun, no matter what their "heat tolerance" is.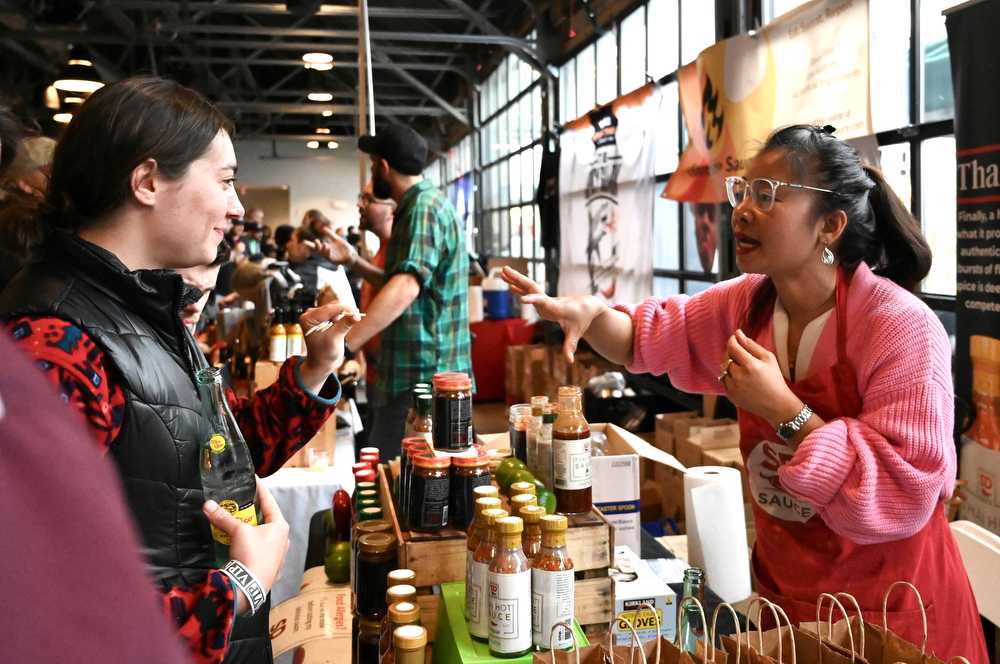 "I want those who come here to know that there are options for everybody," Kasper said. "But if you really want to get that intense burn, there are sauces here that will light you up."
Kasper is the founder of Whitehouse Station, a hot sauce company he founded nearly 10 years ago after his cousin pulled out a homemade bottle of hot sauce when visiting him. Kasper's cousin claimed the hot sauce cured him of acid reflux.
With a couple of tips from his son, a chef, Kasper's own hot sauce attempts became a success, and their first line of hot sauces were ready to set the hot sauce industry ablaze. Now, Whitehouse Station features a wide variety of sauces, from the original, goes-with-everything "Table Sauce" to the tear-inducing "Carolina Reaper Sauce."
Kasper was also in charge of crowning the hot sauce champions, since this is the first year the festival held the annual Boston's Spice Awards contest.
Husband and wife Phil and Melissa Pelletier took home the Green Monster award for best verde sauce for their "Green Monstah Sauce," the second time they've won an award since founding hot sauce company Smokin' Tin Roof in 2017.
"It's great to be with like-minded folks. We do a lot of craft fairs and people are like, 'Oh, I don't do spicy,'" Melissa Pelletier said. "But at this type of an event, everybody loves spicy."
From blueberry-flavored hot sauce to spicy maple syrup, there's no shortage of variety at the festival. Sutta Saraphum, founder of SDSauce, lined up hot sauce bottles with Thai-inspired flavors at her table.
After moving to the United States, Saraphum was disappointed at how difficult it was to find Thai flavors that combined "spicy, salty [and] sour" all in one bottle. Since spicy flavors are so important to Thai culture, Saraphum set out to bring "unique" combinations of Thai spice to the New England scene.
"I know everyone loves spicy, they gotta try my experience of Thailand in a bottle," Saraphum said.
For the seafood fanatics in Boston, Saraphum recommends her "Original" hot sauce as a dipping sauce for oysters. Saraphum herself always carries the "Original" around in her purse, just in case.
Stephen Lucas, owner of Hot Sauce Holsters, is a spice connoisseur that creates one-of-a-kind holsters for different hot sauce companies. His close friend Anthony Merenda, who is a judge for the festival's hot sauce competition, loves testing his tastebud limits — he competed in the Spicy Wing Challenge at 6 p.m., one of the "most brutal challenges on the market."
Lucas' spice journey began in 1995, New Orleans Mardi Gras, with a crawfish boil. Though his "lips were on fire," he realized, "'Yeah, I like this.'" Over the years, Merenda and Lucas have encouraged each other to take on numerous spice challenges all around the country, forming a network of friends that equally love burning their tongues all the way up to 16 million Socville units — all in the name of spice.
"It's just a big spicy community. We all just love each other. It's not always about the heat stuff. The flavor, the friends, the time, the festival," Merenda said. "Amazing experience."
There have been times when Lucas and Merenda have sat there with tears streaming down their faces, but if the burn gets too much, the best cure — from their judging experience — is a mixture of sour cream, whipped cream and sugar.
Seriously — water just won't cut it.
Brothers Sam and Henry Dziekan are the co-owners and founders of Hook and Arrow, an award winning condiment company. For the Dziekans, dabbling in spices isn't just about building a spice tolerance, but rather curating an elevated flavor profile. They recommend spice-enthusiasts to support small batch hot sauce makers.
"A lot of these are small businesses. People are really creative and coming out with really amazing new flavors and combinations. It's not just the same things you can find in the supermarket," Henry said.
With last year's Boston hot sauce festival being the first time the brothers took their company public, the festival holds a special meaning for them. They look forward to returning next year.
"We don't view [the other vendors] as competition," Sam said. "We're all friendly with each other. It's just a good community to be a part of."