Sahir Doshi, president of BU Blockchain and a junior in the Faculty of Computing and Data Science, is no stranger to addressing an audience. To share his ideas and gain insight from others has always been a valuable experience.
"I love speaking publicly," he said. "It's an excuse to dress up a little bit."
Doshi did just that at this weekend's ETH Boston 2023 Conference and Hackathon at Boston University. With two stages, 89 individual speakers, and a number of panels, workshops and lightning talks, ETH Boston and the Boston DAO held their first in-person conference in four years. Its mission was uniting students, developers, investors and companies in understanding and planning for the evolution of the decentralized web.
Doshi said he was excited to have the conference on-campus.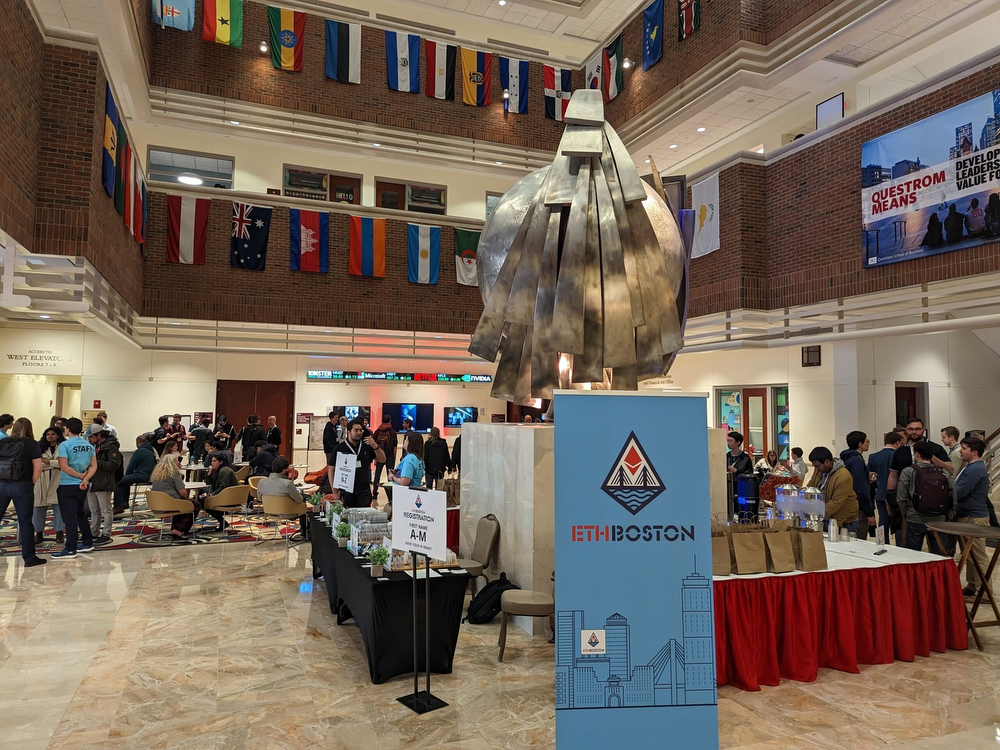 "I'm super pumped that it's on-campus because, first of all, our home is BU, and second of all, there are a lot of students coming from Northeastern, [Boston College], Suffolk, even Harvard and MIT," he said. "I think it's great that because we're in a university setting and city, that there are so many young people coming together."
A team of 10-15 industry professionals worked independently and with city leaders to complete legal work and obtain sponsorships and book venues to bring the conference to life, Doshi said. He worked with a developer to create wireframes for the website, and then in a group of students to plan the hackathon.
"It feels like [an] all-hands-on-deck kind of thing," Doshi said. "Everyone is helping out wherever they possibly can."
Doshi spoke at two panels over the weekend: the first, a discussion on working in crypto and getting paid to do what you love and the second, a conversation with other local college blockchain group leaders on how they work to connect undergraduate students to the industry. But it's not just the conversations on-stage that matter to him.
"I am always looking forward to hearing the natural conversations that happen outside the speaking rooms," Doshi said. "For me, people will meet other people they've never met or known before and they will spark fantastic conversations and connect."
Pooja Ranjan is the herder-in-chief of Ethereum Cat Herders, an open-source group of people who support the Ethereum Network through project management. She said that even folks who aren't well-versed in the world of blockchain can learn from events like the conference.
"It's an opportunity for people to weigh in," Ranjan said. "We do have a lot more opportunity to contribute to the blockchain ecosystem."
According to Ranjan, it's more than the learning that matters at an event like this – it's the building of community.
"I think blockchain is trying to create an ecosystem, and not one chain can do that," Ranjan said. "We need to be interoperable and we need to be connecting with each other."
HairDAO co-founder Andrew Verbinnen said that while blockchain is known for having a tech-mystified and "codey" reputation, the community fostered at conferences like ETH Boston is more important.
"Creating our communities," he said, is going to be "way harder to replicate than any piece of code."
Verbinnen added that community is vital in making sure fair conversations happen.
"I don't want to say something in a closed room and not have somebody else who might know that I'm wrong not be able to fact-check me," he said. "It's just easier to figure out what works and what doesn't if you have people sharing their own experiences, giving their own ideas … the more minds the better."
Verbinnen spoke on Saturday about the work that HairDAO is doing and said that, despite delivering these presentations often, doing so in this kind of setting was particularly meaningful.
"It's just really inspiring to talk to people in real life and have them tell you that they're inspired by your mission or that they're really impressed with what you're doing," he said. "It's a lift when you're working really hard on something to hear that people are appreciative of it."
Tim Carstens, principal engineer at RISC Zero, has been involved in the blockchain community for 12 years. He was invited to speak by a colleague and said he was impressed with all the event had to offer.
"This event here at Boston University has really reinforced Boston's brand for being world-class thinking and super down-to-earth," he said. "[This was] probably the best blockchain event I've been to in my career, honestly."
Upon attending the conference, Carstens met with folks who acknowledged the criticisms of blockchain technology – such as energy efficiency and online scamming – and were focused on pursuing healthier business models. For him, this experience was both exciting and refreshing.
"A lot of the builders and founders that I've talked to… they're very real, their eyes are open and they are equally frustrated as I am about how long it's taken for the exciting stuff to become real and they are working on making it happen," Carstens said.
That pursuit is important to Doshi, who said that younger folks will soon play a significant role in blockchain technology.
"We've seen companies fighting things and trying to prove that blockchain is not just a fraud, it's got potential," he said. "The reality is that our generation is going to be the one that really solidifies it as a regular part of our everyday ecosystem."
Ranjan said that the opportunity to learn more should not be overlooked.
"Blockchain is going to change the world," she said. "It's the right time to step in."