Low and behold, it's Met Gala season. The annual fundraising gala for New York City's Metropolitan Museum of Art. Every first Monday of May, Hollywood's elite flock to NYC, reminding us once again how out-of-touch with reality celebrities are. To some, the Met Ball is a decadent celebration of fashion and creativity. To others, a gross display of wealth. Cue "The Hunger Games" theme.
Do I know anything about fashion, as I write this from the comfort of my couch, decked out in Amazon essentials pajamas? The answer is unequivocally no, but I'll judge their outfits nonetheless.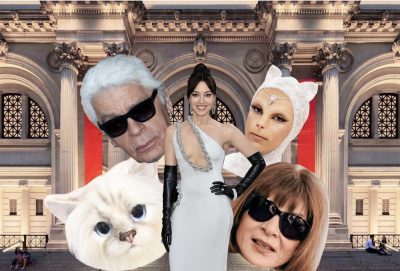 First, let's talk about the gala's theme. Here's what I can relay from a brief Google search. This year's theme honors Karl Lagerfeld, a German designer who has worked at some of the biggest fashion houses in the world — Chloé, Balmain, Patou and most notably, Chanel. He's a pretty big deal. He's also said some pretty controversial things. 
Lagerfeld has criticized marginalized groups, bad mouthed the MeToo movement and body-shamed far and wide. He's a celebrity though, so can you really expect any less? Also, he had a cat. (Remember that, it'll come in handy later)
A common theme amongst the outfits was a black-and-white preppy vibe, with collars galore. If that seems random, Lagerfeld's signature look was a white collar and black tie.
Kendall Jenner popped out in a bedazzled bodysuit, complete with a crystal collar and cape. I half expected her to turn to the paparazzi and ask them if they wanted to see a magic trick.
As usual, while women on the carpet seemed to step out in outfits that took unimaginable amounts of time and effort to plan, many of the men seemed to get away with the bare minimum. Bradley Cooper was there, wearing the same black-and-white suit he's worn to every movie premiere he's ever attended. 
I had to do a double-take when Rami Malek stepped onto the carpet — for a second I thought one of the gala waiters got lost. I mean seriously, Florence Pugh had an entire peacock glued to her head and Janelle Monáe probably had to be airlifted to the venue. Do better men. 
A slew of celebrities arrived semi-naked, leaving little to the imagination. Though every inch of Lil Nas X's skin was covered, I'm not sure crystals necessarily count as clothes. Do I hate it? Absolutely not. I'm a bit of a sucker for the over-the-top, gonna look back at this in 20 years and think "WTF?" type of look. 
Doja Cat, our lord and savior, did just that in an Oscar De La Renta gown and matching cat-ears. The look is an homage to Choupette, Lagerfeld's blue-cream tortie Birman cat, who he has notably said he would marry if he could. If the prosthetic snout didn't seal the deal for you, the pop star can be heard meowing in her red carpet interviews. 
Jared Leto also channeled Choupette in the form of a life-size furry costume and a subsequent outfit change. It was amazing. Every year Leto steps out in the most high-maintenance yet unserious getup. It's truly a highlight of rich people's shenanigans.
A part of me was amused by the painfully literal adaptations of the theme. Teyana Taylor literally dressed up as Lagerfeld. Lily Collins' dress had "KARL" spelled out in all caps on her train, in case anyone forgot the theme. Stephanie Hsu also jumped aboard the Karl-cosplay bandwagon. I don't know much, but I know these outfits hurt to look at. A little on the nose, don't you think? 
I promise I'm not all cynical though! Here are some outfits I didn't expect to like, but did. Timothee Chalamet, oh shoot I mean Kristen Stewart looked stunning in Chanel. Finneas O'Connell served hungover-realness and Ke Huy Quan looked dapper as can be in Dior and Fred Leighton and Kwiat jewelry. Though I couldn't stop thinking about how much Jack Harlow resembles Mr. Tumnus from Narnia, I have to give him some points for his outfit. 
Last but not least, this article wouldn't be complete if I didn't spend any words thirsting over Audrey Plaza. She can do no wrong in my eyes. She could arrive covered in soot, wearing a literal trash bag and my stance would not change. 
Met Gala season has come and gone. As we anticipate next year's antics, I can't help but wonder, how much more controversial can Anna Wintour make the theme? Only time will tell.