Last night, the coveted annual charity event known as The Met Gala, held and hosted by Vogue's editor-in-chief Miss Anna Wintour, took place at the Metropolitan Museum of Art. Each year prompts a new theme for celebrities and their stylists to adhere to — this year's exhibition happened to be titled: "Karl Lagerfeld: A Line of Beauty."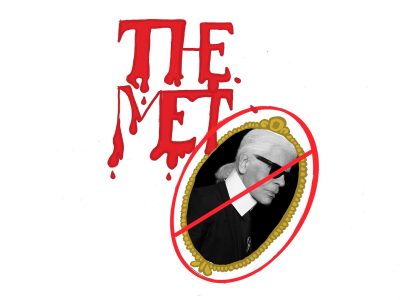 Rather than a concept, Wintour went with a person to model the dress code after — a drastic difference from last year's near-disastrous "In America: An Anthology of Fashion" theme. 
The man of the night, Karl Lagerfeld, is known as the long-time creative director for major fashion houses like Chanel, Fendi and his own namesake brand. His many innovations include the inclusion of fur pelts and linings into everyday clothing, the pioneering of ready-to-wear lines and the start-up of multiple fragrance outlets. 
Lagerfeld died in early 2019, and the theme was intended to pay homage to the late designer through the only logical outlet — clothing! 
His staple aesthetic was imbued with various historical reference points — and this was certainly mirrored in some of the many outfits shown last night. But hold your applause, and sustain your reviews — Karl Lagerfeld is not someone we should be putting on a pedestal.
Apart from his additions to the realm of fashion, he has also invested a little bit too much of his stake in being notoriously fatphobic, anti-immigrant and misogynistic, among many other things.
Where is one to start when it comes to writing an expose on a man who has been controversial on practically every front?
Perhaps we can start with his cruel fixation on women's bodies. 
Supermodel Heidi Klum is practically known for her killer looks and divine figure — although her perception seemingly differed in the eyes of one man: Lagerfeld
"Heidi Klum is no runway model," Lagerfeld said about Klum back in 2009. "She is simply too heavy and has too big a bust. And she always grins so stupidly. That is not avant-garde — that is commercial!"
On Adele, his sentiments were no different.
"She is a little too fat, but she has a beautiful face and a divine voice."
Many speculate that Lagerfeld's lifelong unease with his own body often prompted such criticism. The celeb did lose 100 pounds between 2000-2001 — but that is still nary an excuse to make such disgusting comments. 
I mean, he once equated TV and junkfood with being as bad, if not worse, than anorexia. How uneducated can one be to put out such an ignorant statement? Given his major platform and level of influence in the modeling industry, I can imagine his words weren't lightly brushed off by many. 
There is, of course, also his rather xenophobic comments he's made over the course of multiple different interviews to consider. 
Take what he said during an appearance on a French talk show in 2017. Lagerfeld issued a pretty puzzling criticism of his country's welcoming of refugees from nations with a majority of Muslims.
"You cannot kill millions of Jews and then take in millions of their worst enemies afterwards, even if there are decades [between the two events]," he said. 
Alluding to this week's past editorial on opinions, this is a prime example of a time when we should normalize not giving your take on things you clearly know nothing about. Lagerfeld clearly knew more about haute couture than immigration policies — so perhaps it would've been in his best interest to keep his nose out of politics, and put it back into fashion.  
Yet, this isn't even the tip of the iceberg. Lagerfeld has a known history of supporting those accused of sexual assault. One such was stylist, Karl Templer, who was accused by models of inappropriate touching and of pulling off their underwear without consent. Rather than defending him as a credible designer, Lagerfeld instead opted to justify his actions. 
"If you don't want your pants pulled about, don't become a model!" he said in an interview with the fashion magazine Numéro. "Join a nunnery, there'll always be a place for you in the convent."
If all of this evidence isn't enough to convince that Lagerfeld is a bad person, you should also know that in 2010 he shamelessly put supermodel Claudia Schiffer in blackface and yellowface for an editorial photoshoot for the German magazine "Stern Fotografie." 
Despite how it may read, my main point is not to just focus solely on why Karl Lagerfeld is a despicable human being, but rather why we continue to praise and dedicate whole events to the least deserving people. 
I can count on two hands a list of more diverse and impactful designers who easily deserved to be honored at the Met Gala rather than Lagerfeld — Virgil Abloh, André Leon Talley, Eunice W. Johnson — just to name a few. 
Perhaps Wintour chose Lagerfeld to be the man of the evening because of his ties to a big-name brand like Chanel — but I wonder, shouldn't morals come above prestidge? Do we really want to conflate Lagerfeld's controversial legacy with that of the renowned Met? 
As a lover of all things fashion — I think it's strange we're centering a whole ball around a man who has actively made industry more exclusive.