Boston University is a hockey school — regardless if it is being played on ice or tile. 
After a dominant regular season run, BU's Division III roller hockey team punched their ticket to the National Collegiate Roller Hockey Association National Championships.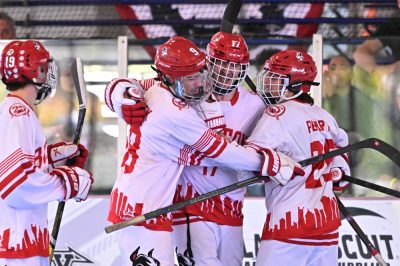 The Terriers strung together an impressive 11-4-1 record to earn its eighth national bid in team history.
BU fell short of bringing home their first national title, losing 4-3 to Quinnipiac University in the National Quarterfinal on April 22.
However, the program came a long way this season. 
Since walking onto the team last year, senior forward Owen Gund has seen how much the club has grown in size and competitiveness. The team had so many people express interest in joining that they had to make cuts this season. 
"I don't think we'd ever done that before," Gund said on making cuts. "This is probably the strongest the team has ever been competitively." 
Gund transferred to BU from Elon University ahead of his sophomore year in 2020. Having entered a new school amid the COVID-19 pandemic, Gund joined the roller hockey team his junior year hoping to connect with more people.
Sophomore forward Miranda Lemus, who played ice hockey her entire life, was in a similar position when she joined the team freshman year. 
"I really itched to get back on the ice as much as possible," Lemus said. "Club ice was only offering two days of practice a week, and roller was offering three. For me, it was really easy to choose to play roller."
Having now played both ice and roller hockey, Lemus understands how different the two games are. 
Compared to ice hockey's five skaters per team, roller hockey consists of four players each and is played on a smaller rink. This creates a slower game, where Lemus says athletes can be more "creative."
Lemus is one of three girls on the roster, but she wants to break the stereotype about how women are typically treated when  playing on male-dominated teams. 
"They're like my family. I love the guys," Lemus said. "I felt very fortunate to find this so early on in my college career because they were so welcoming."
While the team brings a competitive edge to their weekly practices, Gund explained that the club is an "outlet and escape from the grind of BU."   
"We do practice systems and stuff every now and then, but a lot of stuff is free-flowing and having fun," Gund said. "That's a big appeal to the team. People just want to forget about their classwork."
The joy of playing is a prime reason the team found so much success during the regular season, but BU lost its momentum heading into the postseason. 
In their regular-season finale, the Terriers lost 6-2 to Neumann University, and the slump carried over into their regional weekend. 
The Eastern Collegiate Roller Hockey Association (ECRHA) Conference Championship took place on the weekend of March 3-4 in Broomall, Pa.
In Game 1 of the double-elimination regional tournament, BU fell 7-2 in disappointing fashion to Hofstra University, a team they had beaten earlier in the season. 
Knowing they had to win every game there on out to make it to the title game, the Terriers regrouped and banded together to turn things around. 
"It was one of the freshmen on our team that stood up and said, 'Guys, I'm noticing we're stressed. We're not out there having fun,'" Gund said. "After that, we made an effort to just enjoy being out there above all else."
After the loss, BU rattled off four-straight wins to make it to the championship game. In their third game of the weekend, the Terriers defeated Oswego State University in a comeback effort. 
The Lakers held a 4-2 edge at the halfway point of the game, but BU rallied four-straight goals to see another day. Senior defenseman Aidan Cliff recorded a hat trick, and freshman forward Jack Perry notched the game-winner midway through the final period. 
Gund declared Perry the "unsung hero" of the season. Perry had been a goalie his entire life but excelled on the offensive end for the Terriers this season. 
"His stickhandling skills are unbelievable, and it's even more impressive that he's a goalie," Gund said.
On their way to the title game, the Terriers had to rematch Hofstra, but this time they came out on top. 
Sophomore defenseman Ben Olson came up big in the 9-4 win, picking up a hat trick and the game winner. 
"You do not want to go on a one-on-one puck battle with him," Lemus said. "He is so strong on the puck, and he can bury it."
On March 4, the Terriers played in their first ECRHA title game in 20 years but were defeated 11-5 by Neumann. Freshman forward Justin Davids recorded a hat trick, but it wasn't enough to take down the No. 1 seed.
Heading into nationals, spirits were high. The Terriers opened the tournament with a three-game round-robin and won two of the three games going into the single-elimination bracket. 
In the first round, they defeated San Jose State University 8-4. Davids posted 4 points (2 goals, 2 assists) — including the game-winner. 
Davids was voted "best newcomer" by Gund and Lemus. The freshman ranked second on the team in points with 29 (16 goals, 13 assists) in 16 games played. 
The Terriers' season came to an end with a 4-3 loss to Quinnipiac University in the National Quarterfinal.
"The team was pulling together really well, but we had a couple of bounces that were unfortunate," Gund said. "Everyone was so dialed in."
Quinnipiac made it to the championship game, but Neumann took care of them with a 9-1 victory to capture their third national title. 
"[Neumann] played like the best team all year long," Gund said. "We showed we could play with them at times … but they are certainly deserving winners."
Looking ahead, Gund is optimistic this group has the skills required to be successful.
"When this team comes together, they're as good as anybody," Gund said. "It's all about the team. Those are the lessons that I'm going to carry forward into my life."