Boston University Student Government voted on an omnibus bill that would remove inactive senators, discussed issues with the BU HUB relating to each college and confirmed judicial members and cabinet directors in a meeting on Monday night.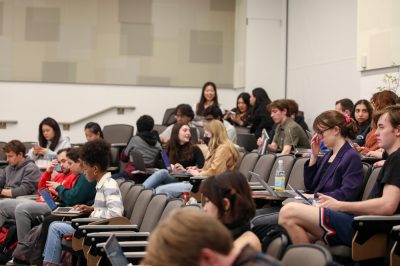 Last week, Chairs of the Rules Committee Tommie Lee and Nick Kulda presented an omnibus bill of constitutional amendments that would "improve Senator accountability, dissolve obsolete committees and create Senate Chair election rules," according to the bill. Most notably, this would dissolve the Election Oversight Committee. 
"The big contentious thing we discussed was the language surrounding senate chair pertaining the right to choose to keep the senator should they go over their allotted absences," Lee said. "But, we did make an amendment on the floor to that."  
The senate voted to pass the bill.
Senators from every college presented feedback on the BU HUB based on student surveys in an initiative led by Senate Chair Hanna Dworkin, a junior in the College of Arts and Sciences. One common complaint brought forth by representatives from the School of Hospitality Administration and the Questrom School of Business was that HUB classes have prevented students from taking internships and gaining necessary experience.
"The best way to climb up the industry ladder is by experience," Senator Makayla Surette, a sophomore in SHA, said. "The biggest finding we found was that the HUB deters students from going out there and taking advantage of such real-world experiences."
Another complaint brought forth by representatives from the College of Communication, Sargent School of Rehabilitation Sciences and Wheelock School of Education was that HUB classes complicate students' ability to acquire a second major or minor. For example, about 30% of COM students are double major, dual degree or have a minor. Other complaints included a disconnect between HUB classes and the major and a lack of student interest in those classes. 
Senators then brought forward recommendations for fixing the HUB's curriculum. This includes the creation of 1-2 credit HUB classes, a HUB academic advising office with mandatory appointments for freshmen, a lower requirement for Writing Intensive Courses and an easier process to petition for HUB credits — including through "experiential learning opportunities," according to the presentation.
"The HUB office was very receptive and they want to meet with us again," Dworkin said. "Hopefully this report will make some changes that benefit all of us."
The bill passed and will be sent to the BU HUB office by the student government. 
Two associate justice judicial confirmations took place with Andrew Taylor, a freshman in the College of Engineering, and Navia Scroggins, a freshman in CAS, confirmed by 33 votes and 31 votes, respectively.
Additionally, seven cabinet directors were confirmed, including two directors of communications, a director of events, social advocacy and city affairs and two Boston Intercollegiate Government representatives. 
"There's definitely a lot to be seen over the next year," Alex Brumfield, a junior in CAS who was confirmed as social advocacy director with 25 votes, said. "I'm really excited to show you all."
The recently re-elected executive board, Fight 2 BU, reviewed their year. Running on the platform of environment, empowerment and engagement, the slate highlighted their initiatives of city affairs, Earth Day clean-up, community outreach town halls and Boston Public School outreach.
Student Body President Dhruv Kapadia, a junior in CAS, also highlighted other initiatives the slate "didn't expect to take on" but were still "large-scale structural changes." These include expanding the menstrual product initiative, addressing safety concerns following the hoax shooting, a successful spring concert featuring Polo G and more.
With 33 votes in the affirmative, Boston University Student Government adjourned for the final time of the 2022-23 academic year.
"This year has been incredibly fruitful and productive," President Kapadia said. "The work that we do in the executive branch is nothing without everything [we do] in the senate."