Boston University students can donate used clothing and other goods to Goodwill bins located in residence halls from April 27 until the end of May as part of an initiative called "Goodwill, Not Landfill." Materials collected will be given to Morgan Memorial Goodwill Industries to be sold at their stores.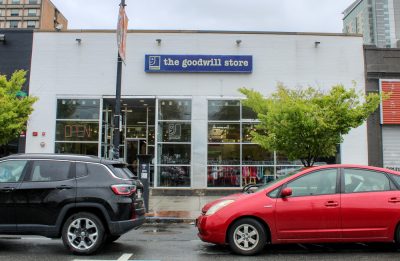 Clothes, shoes, housewares, décor, kitchenware, small appliances, bedding and towels will be accepted. Food, plants, toiletries and refrigerators will not, according to BU Sustainability's website.
Lisa Tornatore, director of BU Sustainability, said the program started in 2009 and collected seven tons of donated goods in its first year. In 2019, the program reached a cumulative total of 754 tons collected.
"(These are) perfectly good items that are now able to be diverted from waste streams," Tornatore said. "Students have a good outlet and they feel good about being able to donate their items, rather than throwing them away."
Tornatore said BU Sustainability collaborates with Goodwill Industries in Boston to ensure that the material collected is in good condition so they can pick items up from residence halls to sell in stores.
"In Morgan Memorial Goodwill Industries, right here in Boston, the items are sold in their stores for development of their programs which helps a lot of underprivileged people in the greater Boston area," she said.
Tornatore said Goodwill Industries was founded by BU alumni Edgar Helms in the early 1900s and maintaining the connection where the concept was first conceived is crucial.
She added that this year they are working to develop a pilot program to facilitate the move-out cleaning for upperclassmen, who have to stay on campus longer for commencement, and to make the process faster and easier for staff.
"We're going to be using a Goodwill trailer to help corral much of those items on those last couple of days so that we create a safer environment for all the students involved as well as our staff because we expect such huge volumes," she said.
Wendy Heiger-Bernays, clinical professor of environmental health in the School of Public Health, said she thinks the project is fantastic because items are typically "chucked in a bin," causing the waste to end up in a landfill or an incinerator, which is harmful to health.
"I'm very hopeful that this effort which brings the ability to deposit in a Goodwill bin versus a landfill bin is made so easy for students, that this should be a no brainer," Heiger-Bernays said.
She said consumerism is a societal problem because there is a push to make purchasing easy and inexpensive, especially for college students who are away from home.
"I think what BU Sustainability has done is they have identified a need," Heiger-Bernays said. "They have identified a problem that many students may not even realize is a problem."
Rick Reibstein, a lecturer of environmental law and policy in the College of Arts and Sciences, said "throw-away living" creates a lot of waste and is not sustainable.
"What you really need is something that is circular," Reibstein said. "So that our living is like a natural metabolism, where materials are used and then are taken up and used by another organism and then everything becomes useful in a cycle."
Enva Shima, a sophomore in CAS, said more people should donate to second-hand apparel stores because used clothing can still be in good condition and be worn by someone else.
"A lot of people, especially with fast fashion and everything, tend to just buy a lot of clothing and then use it once and throw it away because it's cheaper and more accessible," Shima said. "So I do think that is an issue."
Maya Santow, a sophomore in the College of Communication, said she intends to donate her clothes because she gathers a lot of clothing throughout the year and finds it helpful to have this option available.
"I end up finding a lot of junk that I've accumulated in my room throughout the semester that sometimes I want to throw out," Santow said. "I think that having the Goodwill bin right there in your building makes it a lot easier and more approachable to donate, rather than just take it to the trash room."
Sneha Jos, a sophomore in CAS, said she plans to donate to "Goodwill, Not Landfill" as she moves out and cleans her room.
"I have a lot of clothes I don't wear," Jos said. "It takes up a lot of space for me and also, I would like for someone else to use it instead of me just throwing it away."