The following reports were taken from the Boston University Police Department's crime logs from April 26-May 1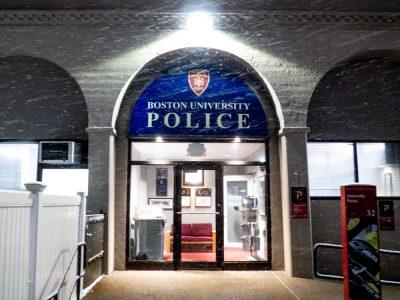 Larceny at 277 Babcock St.
A reporting party stated at 5:10 p.m. on April 26 that there was a male with a tool near the bike rack outside the building. BUPD officers located the party.
Larceny at 745 Commonwealth Ave.
At 11:47 a.m. on April 26, a student reported that he believed that his laptop had just been stolen.
At 10:13 a.m. on April 27, a caller reported a party possibly matching the suspect description. BUPD took one person into custody.
Fight at 270 Babcock St.
At 2:05 p.m. on April 28, two parties were fighting while 15 bystanders watched in the rear of the address above. Boston PD arrived and handled the situation. Boston PD was talking with Match Charter Public High School administrators as well.
Group Disturbance at Nickerson Field
A BUPD detail unit reported at 8:42 p.m. on April 28 that there was a group disturbance between spectators at a lacrosse game. The group dispersed without further issues.
Suspicious Vehicle at 730 Commonwealth Ave.
At 7:47 p.m. on April 28, a caller reported about 50 cars on the rooftop of the parking garage revving their engines. A BUPD unit spoke to the group with the vehicles, who were members of the BU car club. They weren't causing any issues, and the BUPD unit cleared out from the site.
Fight at 575 Commonwealth Ave.
A caller at 12:12 a.m. on April 29 reported a fight was taking place in the middle of the street at the location above. Two parties that were believed to be involved were spoken to but denied any fighting and refused medical attention.
Person with Weapon at Babcock Street. & Commonwealth Avenue.
Brookline PD at 6:58 p.m. on April 29 reported a possible party with a firearm in the area. Brookline PD advised that the party may have been a high schooler playing a game using toy weapons.
Well-Being Check at 1 Buswell St.
A caller reported a male yelling and throwing things in the rear of the above address at 3:27 a.m on April 30. The caller reported that the individual seemed to be moving along, heading towards Park Street. BUPD units checked the area, but the party was gone.
Domestic Disturbance at Kenmore Square
At 1:42 p.m. on April 30, an anonymous caller reported that a domestic argument had taken place five minutes prior inside of the Dunkin' Donuts. A white male and female were arguing, and the caller heard the female say that the male was hurting her finger. The male was wearing a dark blue hoodie with orange facial hair, and the female was wearing a light blue hoodie with light-colored sweats with orange/red hair. Both were possibly homeless.
BUPD units searched the area but were unable to locate either of the parties. Boston PD also responded.
Noise Complaint at 46 Mountfort St.
At 2:50 a.m. on May 1, BUPD received an anonymous 411 tip regarding a car alarm that had been going off in the area. The tipper was concerned that it could possibly be a car theft. A BUPD officer was sent to check the area for any suspicious activity. The officer checked the area with no findings of any specific activity.
Suspicious Person at 48 Buswell St.
A calling party at 4:32 p.m. on May 1 stated that a suspicious male was in the doorway and when he was confronted, he fled the scene. BUPD units searched the area but were unable to find the party.