In 2018, the Boston University men's lacrosse team won just three in-conference games. It was a setback after a promising 2017 season, and despite a bounce-back performance in 2019, the COVID-19 pandemic derailed any nascent momentum.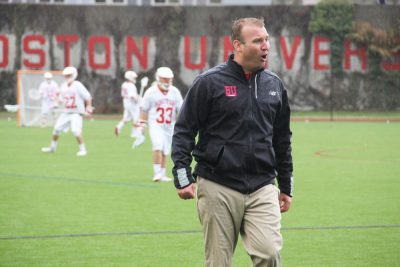 Last season, they won the Patriot League Championship and are aiming to go back-to-back this year. 
The coach behind this incredible turnaround is Ryan Polley. In February, he signed a multi-year contract extension. Less than a month later, he reached his 100th career win as a coach — 72 of which came during his BU tenure, a position he's held since the program formed in 2012. 
"I had pretty high expectations because of all the things that were [put] in place by the administration," Polley said. "In year three, I thought with the university behind us and the great academic profile that we had, that we'd be able to attract top-level student-athletes."
Polley has improved the program each year since its inaugural season in 2014. Not only did he lead the team to their first Patriot League title, but he also led the Terriers to their first appearance in the NCAA tournament. Polley is also a three-time New England Division I Coach of the Year and two-time Patriot League Coach of the Year.
Under his guidance, the Terriers have accumulated seven All-American accolades as well as 26 All-Patriot League selections. He has also helped 11 players go on to play professional lacrosse, from Major League Lacrosse to the Premier Lacrosse League and the National Lacrosse League. 
Polley opened up about some challenges he has faced as a coach while here — playing in the Patriot League and "tough" recruiting battles against top programs.
"One of the biggest challenges is that we're in one of the top lacrosse conferences in the country," Polley said. "Army and Navy have great history and, certainly, the Lehighs and the Bucknells have had a lot of success."
Polley also credits the success of the program to his coaching staff, especially associate head coach Mike Silipo, who has been his "right-hand man" for the last few years. 
Polley said his favorite memory from his time at BU is winning the Patriot League Championship at home last season with a lot of alums in attendance because "it really felt like everyone had built the foundation." 
Senior attack Vince D'Alto remembered it as an "amazing feeling," not only for the team but also for Polley — who received a traditional post-championship Gatorade shower.
"Finally accomplishing something with my best friends, my family, my teammates, it was a fantastic feeling," D'Alto said. "We know how much [Polley] wanted that trophy … so that felt really good."
D'Alto recalls the first time he met Polley — his recruitment days. Polley invited D'Alto up to BU and went to a diner with him and his father. 
"[Polley] asked me a bunch of questions. He was very friendly, he was kind," D'Alto said. "He made me feel like I was wanted at Boston University."
With regard to this season, Polley has been satisfied with the team's performance so far. However, he emphasized his message that "'we have to go and take it'" as the postseason nears. 
"No one is gonna give it to us," Polley said. "Just because we have talent, and just because we were able to achieve what we achieved last year, it's not just going to be handed to us."