Starbucks workers went on a one-day strike, forming a picket line outside 874 Commonwealth Ave. on Monday to protest their employer's unfair labor practices and to celebrate International Workers' Day.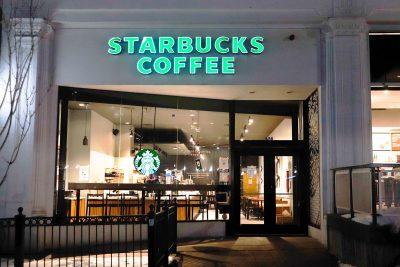 International Workers' Day is a holiday celebrated on May 1 in over 160 countries around the world. The holiday was created by 19th-century socialists to celebrate the labor movement and the working class. 
"In spirit of that, we decided today was the perfect day to go on strike, especially with the history of Starbucks' union-busting tactics," said Sky Violet, a striking barista.
874 Commonwealth Ave. was staffed during the strike by managers brought in from other stores in the area and was closed early at around 4:30 p.m. It has re-opened today with normal staff and hours.
Last July, workers at 874 Commonwealth Ave. voted unanimously to join the Starbucks Workers United union. Since 2021, over 6,500 workers at 250 Starbucks have voted to unionize with Workers United, yet the company has refused to negotiate a single contract. 
Since Fall 2021, the National Labor Relations Board has found Starbucks guilty of breaking labor law 130 times, and over 500 charges have been filed against the company. Violations include aggressive union-busting, such as the retaliatory firing of 12 union organizers.
Shortly after voting to unionize last summer, Tomi Chorlian was appointed as the temporary store manager of 874 Commonwealth Ave.
According to Spencer Costigan, a leader of the Starbucks strike last fall, Chorlian allegedly cut working hours, and made racist and transphobic comments toward workers. 
"We had no recourse. We could go to the district manager  — and we did a bunch of times — saying, 'hey, make her stop this.' Nothing happened, ever," Costigan said.
In response, the workers went on strike on July 18, forming a picket line and 24-hour stakeout outside of the store. The stakeout lasted until Sept. 21, for 64 days, making it the longest Starbucks strike in history. 
According to an email from a Starbucks spokesperson, the company has proposed over 400 bargaining sessions and has physically appeared at over 90 sets of negotiations.
"Our policies exist to maintain a safe and welcoming environment for our partners and customers — and strictly prohibit any retaliatory behavior directed toward partners who are interested in a union," wrote a Starbucks spokesperson in an email. 
Though, Costigan said the company is not negotiating with the store to discuss a contract.
"One of the most consistent issues that basically every single union store has experienced is that they are refusing to negotiate in good faith," Costigan said. "It's illegal, what they're doing. They're just refusing to bargain with us, but it's happening in so many stores that it's really tough  to get an unfair labor practice case going for every single one."
Costigan said the union was offered a bargaining date in January, but the date was revoked.
"We haven't heard back from them since then," Costigan said. "The company has been refusing to negotiate with anybody who wants to have a Zoom call open so that it could be more open to partners who can't make the commute to wherever the negotiations are happening."
Negotiations have been halted across the country since the beginning of this year by Starbucks' refusal to engage in hybrid negotiations, a tactic deemed illegal by the NLRB.
"In the end, this company doesn't exist without us," Costigan said. "We need to make sure that they know that, and then, there's no way we don't win."