Kabran Clark can tell you exactly when he fell in love with lacrosse.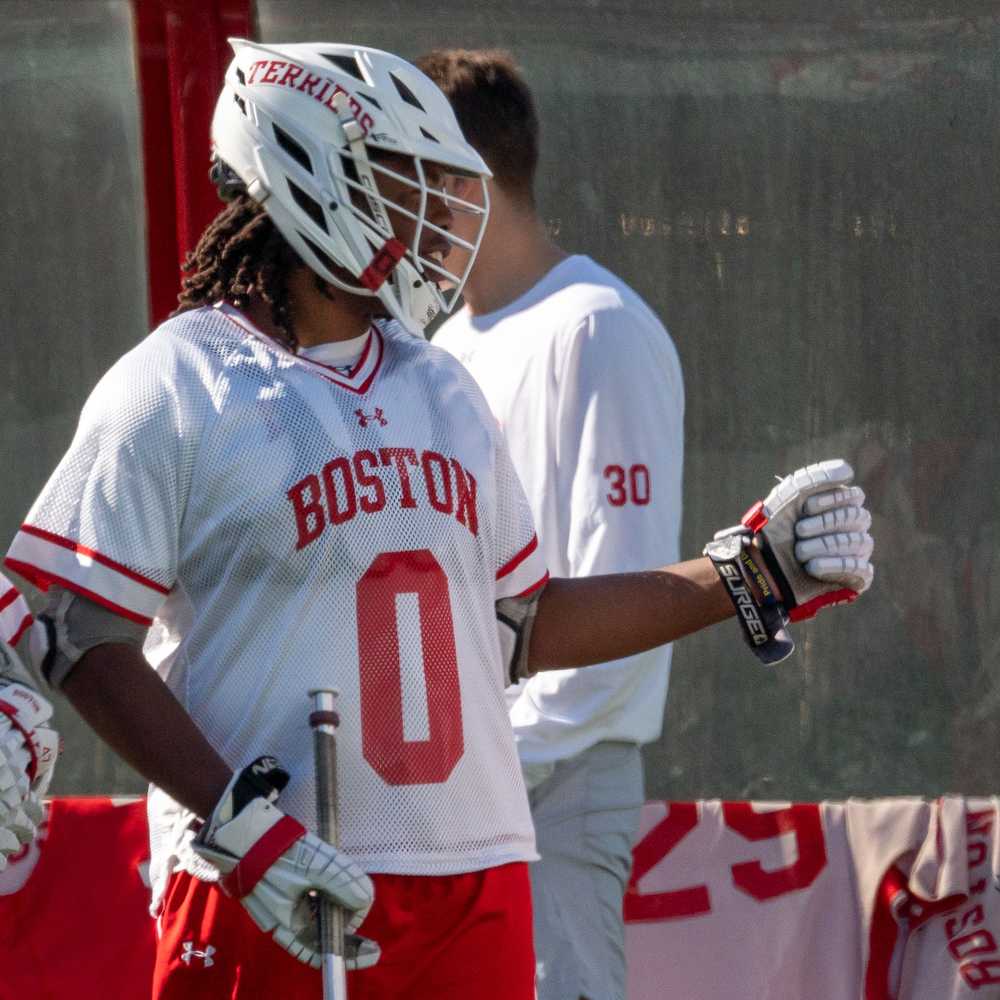 "My first time going to this camp called FCA, it's a Fellowship of Christian Athletes, in fourth or fifth grade," Clark said. "It was the best two weeks of my life. I was begging like, 'please, I want to go back.'"
But Clark, a Black freshman on the Boston University men's lacrosse team, remembers something else about those two weeks at FCA.
"It was hundreds of kids, but it was probably like six [that were Black]," Clark said. 
Now, almost a decade later, Clark is one of very few Black lacrosse players in the Patriot League. Widen the scope to the entire NCAA, and Clark is part of a staggering minority.
According to a 2022 survey conducted by the NCAA, Black players made up less than four percent of all Division I male lacrosse players.
But Clark wasn't always an overwhelming minority in lacrosse. He started his career in the Baltimore Youth Lacrosse League (BYLL), where he "didn't feel like a minority" at all.
"The [BYLL] was mostly Black kids that played, which was really cool because my first time playing was seeing other kids that were Black play the sport," Clark said. "I knew it wasn't considered a 'Black sport' to begin with, but it was nice to see that there's already a sense of community."
Only a couple years later, there Clark was — at FCA, now playing with only a few other Black kids. Reflecting on it now, he attributes the rapid dwindling of Black participation around him to a lack of opportunities available to minorities.
"As you keep going up in status playing lacrosse, it weeds out the amount of diversity because there's opportunities and funds that come with it," Clark said.
This is Clark's journey through the 'weeding' of lacrosse — from the BYLL to FCA to Boston University and everything in between.
The BYLL was free to play for all that wanted to, Clark said. The recreational organization provided free gear for players that needed it — sticks, helmets and pads. The cost of this gear is a common roadblock for underprivileged families. But at the BYLL, "if you want to play, then you got it."
But the BYLL was only a recreational organization. Most participate simply because they're able to. Those more serious about lacrosse, like Clark, found that the BYLL was its own isolated silo — not a gateway to more opportunities in the sport.
For its players, making it out of the BYLL and into organized competitive teams was not a natural next step.
When Clark joined Towsontowne, his first organized team, he said he was the only Black kid playing. He assumes that around a tenth of the players in the BYLL make it to organized teams like Towsontowne.
Taking the next steps after Towsontowne, Clark joined club teams, clinics and sleepaway camps like FCA, which meant more and more weeding. Many of those opportunities were hidden from minorities in lacrosse.
"When we inquired about club, it was kinda secretive," Clark's father, Derrick, said. "[Lacrosse] is very network driven, there's teams where you can't even figure out how to get on the team. There's no website, you don't know where to go. It's really closed off."
With no connections in the lacrosse community, Derrick was unsure where to send his son after the BYLL.
As they faced a prohibitive lack of knowledge, Donnie Brown, a legendary local coach in Baltimore, assisted the Clarks. "Uncle Donnie," as Clark calls him, is a "Morgan State Ten Bear," a member of the 1971 Morgan State lacrosse team that became the first to play NCAA Division I lacrosse at an HBCU.
"[Brown] has all these connections around Baltimore," Derrick said. "I would get advice from him on what [Kabran] should do … We're like family."
Brown's wealth of knowledge was a critical resource for the Clarks. Without it, they wouldn't have known about opportunities like FCA, where Clark so vividly remembers falling in love with lacrosse. And without Brown, they wouldn't have been able to pay for them, either.
"[Brown] works the camps, and in exchange for him working the camps, they'll allow him to get discounts for the kids or even scholarships to the camps," Derrick said.
Brown was part of a critical support system as Clark moved up the ladder in lacrosse. 
"I was surrounded with a good group of people that helped me go to certain things that I probably wouldn't have gone to without them," Clark said. "Not everyone has that."
Clark was defeating the odds simply making it to camps. But staying there, and thriving there, was a challenge beyond legendary local mentors.
"There's a saying that 'as a Black lacrosse player, you gotta be twice as good to get half as much,' [and] you got to outwork every kid on your team and the opposing team to get the smallest amount of recognition," Clark said. "You gotta earn your stripes by dominating."
Dominating enough to "earn your stripes" only led to more challenges. The stripes themselves were often crooked with racial undertones.
"There's definitely slights, like 'Oh, he's athletic.' The word 'athletic' is used to take away your skill," Clark said. "It shows how far someone will go to not give a Black athlete the respect they deserve. Just say that they're good. Why can't you say that?"
However, Clark was raised to defeat a system rooting against him. Derrick was aware of the inevitable imposter syndrome his son would face and instilled in Kabran the unwavering self-belief needed to counter it.
"[People] have a mythology about the place that they're going, like 'I'm not good enough', or 'I'm too different,'" Derrick said. "We instilled [in Kabran] you're fine how you are … you just be Kabran, and you're gonna fit in anywhere."
Clark took his father's advice and ran with it — all the way to BU's men's lacrosse team. Lacrosse isn't a discomforting place for Clark. The unjust obstacles Clark faced throughout his journey are only another source of fulfillment as he continues to play the game he fell in love with all those years ago.
"We don't feel sorry for ourselves, no one feels sorry for us … all we want to do is play and get on the field," Clark said. "It's rare to see a Black lacrosse player excel. I'm so proud that I'm a part of that rare breed of people who are excelling at the sport."
Clark has earned that pride and then some. He's made it farther in lacrosse than the sport itself wanted to allow. Now, he's got three more years to enjoy.
"It's cool to be rare, bro," Clark said with a smile. "It's fire."