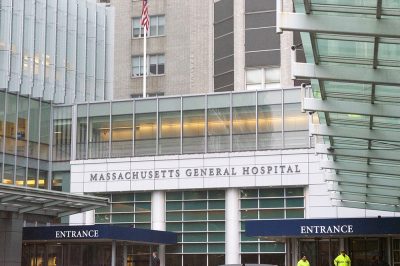 A new Massachusetts law requires hospitals to improve accessibility by the end of the year, following the 2016 death of Laura Levis, who could not find her way inside the emergency room whilst suffering from an asthma attack. 
Levis died outside of Somerville Hospital after struggling with locked doors and unlit signs. When her husband, Peter DeMarco, advocated for responsive action, "Laura's Law" was created in her name.  
Rep. Christine Barber helped pass the law, which requires clear signage, intercoms at main entrances and round-the-clock surveillance at hospitals. 
"Hopefully for the next person, it'll be easy to get in and get the care they need, and that this can actually save lives," Barber said. 
Barber first contacted DeMarco after reading DeMarco's "heartbreaking" 2018 Boston Globe article about Levis' death. DeMarco described how his wife called 911 and even looked into the hospital's glass doors before succumbing to her asthma alone on a bench. 
Working with DeMarco, Barber and other legislators filed "Laura's Law" as a bill in 2019. 
DeMarco's article drew the attention of the Allergy and Asthma Foundation of America. 
"We just immediately wanted to help amplify Peter's call to action," said Jenna Riemenschneider, senior director of advocacy and policy at AAFA. "He's an incredible advocate for his late wife." 
The AAFA helped "Laura's Law" survive a legislative backlog in 2020 when it seemed the bill would die in committee. The foundation supported a last-minute campaign that included over 500 calls and 1,700 emails from supporters to Massachusetts lawmakers. 
Hours before the Jan. 5, 2021 deadline, "Laura's Law" passed, making Massachusetts the first state to enact emergency room legislation of this kind.
Sen. Patricia Jehlen, who worked closely with Barber and DeMarco on the law, said it was "remarkable" that "Laura's Law" went through so quickly. 
"Legislation is hard," Jehlen said. "But I think, again, everybody that heard the story didn't want it to happen to them or somebody that they cared about, and hospitals were astounded."
Gov. Charlie Baker signed the law on Jan. 13, 2021. The Massachusetts Department of Public Health then created a workgroup which, for the next two years, created specific hospital guidelines.
The workgroup finalized the guidelines in early April. Last Thursday, DeMarco announced the changes coming to hospitals at a state house press conference.
Dr. Assaad Sayah, senior vice president and chief medical officer of Cambridge Health Alliance, took part in the MDPH's workgroup.
Sayah said the group was "very inclusive," and said there was "a lot of learning" required to produce effective guidelines. Sayah said committee members retraced Levis' path around Somerville Hospital at 4 a.m. to see what she experienced and consulted engineers, healthcare professionals and consumers.
"It's important that whatever regulations we put together, they are flexible and adaptable to the evolution of technology and the patient's expectations and the needs of the facilities," Sayah said. "So we have to be thoughtful."
Sturdy Memorial Hospital in Attleboro has already begun implementing the new guidelines. There are emergency intercoms that go to the hospital switchboard, and Google Maps leads straight to the hospital's entrance, according to Kathi Hague, manager for public relations and community benefits at Sturdy.
"I think it's a good thing," Hague said of the law. "As always, Sturdy takes the safety and well-being of those seeking care at our facilities seriously."
Sayah said the law addresses gaps that arise between patients and healthcare providers caught up in the chaos of the emergency room and that it is a "clear opportunity" for further collaboration between regulators and industry leaders.
"This law will help the level of awareness to bridge that communication between the hospital and the patients," Sayah said. "I think this is a good example of how we can get together to make things better. We could do that in a lot of places, and I hope this is not the last time we do this."