The Daily Free Press, Boston University's independent student-run newspaper, is relaunching an investigative team in the Fall to provide transparent reporting about issues affecting the BU community.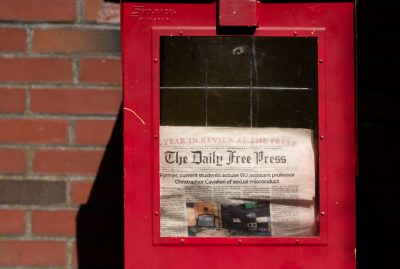 The campus section publishes investigative articles that can require months of in-depth reporting and interviews with students, professors and other BU faculty.
The new team will gather material from sources and tips about concerns regarding clubs, classes, policies and many more issues in an effort to uncover campus injustices.
In the past, writers and editors conducted several investigations, especially during the 2021–2022 academic year. Many of the investigative pieces sparked debate and prompted BU to seek change to uphold the University's values.
Last spring, the FreeP published a story about program assistants for BU's My Summer high school program who said they were underpaid, overworked and forced to live without air conditioning in Warren Towers after several students needed medical attention for heat-related illnesses. 
Administrators of the summer program have responded to those criticisms by increasing pay, reducing the hours worked, creating more cooling stations in Warren and rescheduling to avoid heat waves for Summer 2023.
A second article highlighted a petition to rename Myles Standish Hall, named after the Plymouth colony military leader, to Wituwamat Memorial Hall to honor the indigenous warrior Standish killed and beheaded.
The petition was delivered to President Robert Brown and the Board of Trustees with more than 900 signatures. Brown rejected the request on the grounds that Standish had historical significance.
A third article reported about Professor Rodrigo Lopes de Barros — a Black, Brazilian assistant professor of Romance Studies and current interim director of the Cinema and Media Studies Department — who is suing the university for discrimination after Provost Jean Morrison and President Robert Brown turned down his application for tenure without explanation.
Professors and students questioned BU's decision by expressing concerns about the tenure process and the lack of faculty of color at BU. 
A fourth article uncovered the workplace practices of former Orientation Director Shiney James, as told by BU student employees. They detailed how James created a "toxic" work environment while they worked as Orientation leaders, bearing long-term impacts. 
After the article's publication, BU launched a six-month external investigation into James' harassment of student employees, leading to her resignation.
A fifth article reported allegations of sexual misconduct from former and current students against Christophor Cavalieri, assistant professor and faculty advisor for BU's student-run television station, butv10.
Cavalieri has since departed, and Lecturer Adam Boyajy and Associate Professor of Practice Tina McDuffie have been appointed as butv10's new faculty advisors.
Maintaining administrative accountability will be a top priority after the recent election of the new president and provost. Students should anticipate that the campus news section will be following the search for new leadership and be candid with the BU community.
University administration actions become more apparent as a result of campus investigations, and the campus section aims to uncover the rationale behind their decisions.
The FreeP has provided news to the BU community for over 50 years. The campus section produces investigative stories and focuses on events occurring daily around campus to keep students informed about what is happening in real time.
Editors and writers collaborate to produce the most relevant and integral research that members of the BU community can read when they are sitting in class or simply scrolling on their phones.
Current events and public opinion are covered in the campus section, including challenges with the housing lottery, President Brown's retirement, complaints about smoking outside of Questrom, the protest of BU's commencement speaker, student government meetings and weekly campus crime logs, to name a few.
Instead of just reporting information as it is made public in a shorter time span — the typical hard news format — the new investigative unit will allow the FreeP to explore all aspects of an incident with the team's own research over extended periods.
Students and staff have the opportunity to share their truth and allow the FreeP to report on it with supporting facts and evidence to improve BU and hold power accountable.
Any tips for campus news can be sent to news@dailyfreepress.com.