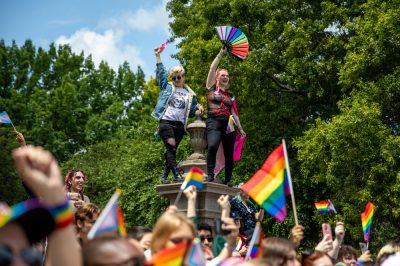 Boston erupted in a celebration of pride on Saturday as thousands flocked to the streets for the city's first Pride parade and festival since 2019.
The three-year hiatus of the parade was a result of cancellations in 2020 and 2021, and the subsequent dissolution of the organization that had planned the event for decades, leaving no organization to plan the parade in 2022.
This year, a new volunteer-led organization — Boston Pride for the People — formed to plan one of the largest pride celebrations in New England.
Event organizers said around 10,000 people were registered to participate in the parade, with the post-parade festivities ending at Boston Common and City Hall Plaza. 
The parade began at 11 a.m. at Copley Square in front of Trinity Church and followed the route along Clarendon Street into the South End, before heading back up Berkeley Street and then to Boylston Street where it took one final turn to end between the Boston Public Gardens and Boston Common. 
There waited hundreds of tents with organizations, live music, games and food, as well as thousands more people waving pride flags in celebration.
Massachusetts Governor Maura Healey, the state's first openly-lesbian governor, was joined by Mayor Michelle Wu, Senator Ed Markey and U.S. Congresswomen Ayanna Pressley and event organizers Adrianna Boulin and Jo Trigilio in a ribbon cutting ceremony before the parade began. 
"I was feeling very, very grateful to live in the state of Massachusetts," said Caren Block from Arlington. 
Block marched in the parade with Third Rock Ventures, a biotech venture capital company based in Boston and said she had chills "several times" throughout the parade.
"To be yourself, there's nothing like it in the world," Block said. "It is the most empowering, freeing feeling you could ever have."
After the parade, from 12 p.m. to 6 p.m., there were two consecutive festivals — one, open to everyone in the Boston Common, included tents with give-aways, local vendors and food trucks, as well as a main stage with a number of performers, headlined by Madison Rose. The second festival, at City Hall Plaza, was open to those 21 and over since alcohol was being served, also with a stage and performers throughout the afternoon.
"I think it's great that after three years of being shut inside, everybody is happy to be out here, be together and accept everybody for what they are," said Angela Vail from Boston.
Vail said the festival and parade was a lot of fun and she hopes people will stop viewing the LGBTQ+ community as a threat.
"There's just a lot of people in the world who want to put others down for what they look like, for what they believe, for what they present themselves as and if they would just open up their eyes, they'd realize it's not a threat to them or theirs and it's just people wanting to love and be loved," Vail said.
YMCA of Greater Boston was among the hundreds of organizations that participated in the parade, and Executive Director Dru Belli said it was great to be a part of the event.
"There was definitely love in the air — so many people sharing smiles and waving and it was just great to see, great to be a part of," Belli said after the parade. "Especially right now … just [with] what's going on in our whole country … for everyone to come together where love is just being celebrated, it's amazing."
Kathryn Saunders, a senior director of the YMCA of Greater Boston who walked alongside Belli, said she was "glad to support it."
North Shore resident Shane Mahoney was a spectator of the parade and attendee of the festival, and he said this year's event was his first pride.

"I think it's fun … I'm excited to be here," Mahoney said.
As for what pride means, Mahoney said "visibility, for every generation, [so] people know that they're not alone," and to support each other whether it's Pride Month or not. 
Block said she hopes Boston's celebration will impact far beyond the city and the region, especially to areas of the country where there is not as much LGBTQ+ visibility and equality.
"I think a sense of graciousness, and hope that eventually, what we feel in Massachusetts will have some sort of contagious impact," Block said. 
Despite rain hampering some of the crowds later in the afternoon, just before sunset a rainbow appeared in the skies over Boston — a display of Boston's vibrant and celebratory spirit on a day where much pride was shared throughout the city.