As the fall semester approaches, the roughly 3,100 new faces that will make up the Class of 2027 at Boston University are preparing for life on Commonwealth Avenue. These students come from a variety of backgrounds and each has a variety of goals they hope to achieve at BU.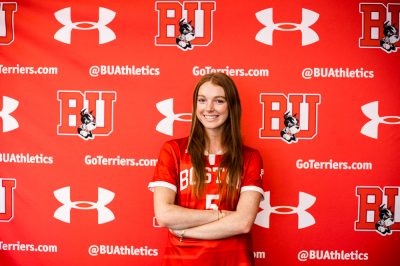 One of those students is incoming first-year Ciara Kennedy, an incoming freshman from Huntington Beach, California. She may just be one of countless recent high school graduates as of right now, but come fall, she will be playing soccer for a Terrier squad that finished third in the Patriot League last season. 
Kennedy was a strong student during her time at Mater Dei High School; she was a member of Model UN and took multiple AP classes. Not only that, but she was also a great soccer player with a "caring and generous spirit," according to Larry Draluck, one of her former coaches.
When asked what her teammates might have to say about her, Draluck said, "that's she's stubborn" with a laugh.
"She wants to win," he continued. "She's very success driven, and for that reason, she does the work. She's an extremely hard worker on the soccer field and off."
Even before she started playing at the age of 4, Kennedy's life was always engulfed by soccer. Her mother hails from England and grew up watching the sport and her father played it in his youth.  
"It was around 10 [years old that] I decided [soccer] was something I really wanted to do in college. I was super obsessed with the U.S. National team," Kennedy said. 
Kennedy's skillset expanded as she grew older, which gave her plenty of opportunities to play soccer around the world. To this day, she says her favorite sports memory is winning a tournament in Spain when she was 12.
"It was just so fun meeting people from a different country and interacting with them," Kennedy said. "Spain's really big on soccer, so the competition was so good, and being in the game, it was so intense and I learned a lot."
Kennedy also played at the University of Limerick for the U-17 Irish National Team camp, which made her grandfather — a native of Ireland — more than proud. 
"He could not believe it when I told him," she said. "He was so happy, I've never seen him smile that big."
Now, Kennedy faces a new adventure in traveling across the country to attend BU. While she is excited, she faces a problem common among incoming freshmen: adjusting to the significant changes that come with going away to school. 
"It's one of those things that's bittersweet," Kennedy said. "Knowing that I'm leaving all these people, it's sad, but it's also a change that's really exciting and is going to put me on the right path for my future." 
Looking for the "perfect" recruit can be a difficult process for coaches, but women's soccer head coach Casey Brown was impressed by Kennedy even before she joined the staff at BU. Brown became familiar with the California native's game during her time as the head coach of the women's soccer team at the University of Pennsylvania.
"We try to bring in players that we feel are obviously top students and obviously are great soccer players, but [also] outstanding people," Brown said.  "[Kennedy] just does a terrific job. She's a possession-oriented player, she's very technical, has a lot of those great skill-sets to be able to distribute the ball."
While coaches do not always know how each player will fit into the puzzle of the team, Brown stated that "ultimately, everyone, including Ciara, will play a role in helping us on our quest to win a championship." 
Once Kennedy arrives on BU's campus, her transition to college life on the East Coast will be assisted by the BU Athletic Department, which provides multiple avenues of support to help first-year students adjust. 
"We're really big on getting to know our student-athletes as people, first and foremost," Brown said. "[We] continue to help them maximize their opportunities and truly help them become their best self."
Kennedy will study in the College of Arts and Sciences in hopes of becoming a dermatologist. While her studies and the pursuit of a Patriot League championship will undoubtedly keep her busy, she is excited to see what else she can involve herself in at BU and what life in a city has to offer.
"I've heard a lot of good things, and everybody loves being in Boston and being in the city," Kennedy said. "That's a cool change that I'm excited for, being able to go out and explore a whole different place."