This story was written by a high school student in collaboration with Boston University's Summer Journalism Institute. It has been edited by a BUSJI instructor, and fact checked and edited by Daily Free Press editors.
By Ava Heaton
Barbies are a lasting symbol of many people's childhood. The first doll made its way onto shelves in 1959, and has now expanded to much more than a stereotypical skinny blonde. Barbie is now truly a brand for everyone as the so-called "Barbieverse" has grown.
The new "Barbie" film is directed by Greta Gerwig and was released on July 21. It has spiked Barbie's popularity in ways we haven't seen in a decade.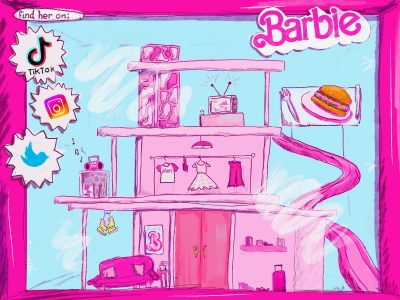 Unless you have been off the grid for the past few months, it's hard to ignore the constant buzz swarming everything that is Barbie. Whether it be a trailer, a brand collaboration or a trend, the iconic doll brand has resurfaced everywhere.
Perhaps you were uploading your picture into a "This Barbie is…" frame. Maybe you were participating in the Barbie vs. Oppenheimer showdown. Regardless, the social media takeover this film has had is truly impressive.
Boston-based PR consultant and COM adjunct New Media and PR professor Julie Dennehy discusses what the marketing team has done right, leading up to the film's release.
"They're integrating all of the traditional advertising and public relations tools in their tool belt," Dennehy said. "Using the Barbie name on really unique products, products you wouldn't really normally think of as Barbie."
From makeup and hair tools to toothbrushes and pink lemonade, the marketing team truly covered all bases.
According to Gabriela Barkho via a release from Mattel, more than 100 brands had participated in the ramp-up to the movie's July 21 release.
The type of collaboration that is being done is the best way to extend their reach to a variety of audiences. There's something for everyone, while still promoting the movie.
Michelle Sullivan, Boston University Mass Communications professor, echoes Dennehy when stating that the variety of brand collaborations has not only benefited paid media, but earned media as well.
"They've also had some interesting out-of-the-box collaborators as well, which I think has not only been great for paid media … but it's been getting them so much earned media as well," she said.
All of these collaborations must be working because the film raked in $162 million at the box office opening weekend, according to Box Office Mojo.
This film has reached audiences beyond the obvious children demographic. Anything related to the iconic doll will naturally bring in younger audiences, but what is it that makes this project so appealing to the older crowd?
Barbie's first clothing designer Charlotte Johnson posing with 1965 Barbie doll model; 13 May 1964; Nelson Tiffany, Los Angeles Times
Aside from the nostalgia that the brand brings to so many, COM lecturer Ginna Hall has an answer relating to the star-studded cast, like leads Margot Robbie and Ryan Gosling.
"They're huge. Their followers, their fan base, their track record, they're really well known," Hall said. "They're not breaking in new stars or unknown talent."
A famous cast will always draw a crowd, especially when made of stars like Simu Liu, Will Ferrell and Dua Lipa. This team made sure there was something for everyone, not just in the marketing aspect, but the cast as a whole.
The diversity in the Barbie cast is also something of note. In 2015, Barbie unveiled the first "Fashionistas" Collection, which focused on the increased availability of skin tones, hair colors, and body shapes in an effort to be more inclusive.
"It isn't just the old image of unrealistic blondes, it's really people from all walks of life with all colors of skin and colors of hair and jobs and sizes," Sullivan said.
With a higher emphasis on inclusivity and proper representation for the physical dolls, it is no surprise that the Barbie team had that translated over into the film.
Simu Liu is a Chinese-Canadian actor who played one of the Kens in this picture. Issa Rae, a Senegalese-American actress, took on the role of President Barbie. Liu and Rae are only where it begins with a cast consisting of others such as America Ferrera, Ncuti Gatwa and Kingsley Ben-Adir.
From product promotion to its diverse cast of characters, the Barbie movie has shown itself to be more than just a walk down memory lane for young and not-so-young people. It has brought added attention to the iconic doll, meshing what so many loved about her from the past, with the reality of a changing society that's more diverse and inclusive — even in the "Barbieverse."