After watching their 2022 season come to an end in the Patriot League Tournament Semifinals following a 10-round penalty shootout, the Boston University men's soccer team looks to build on the momentum of the 2022 campaign and aim high in 2023.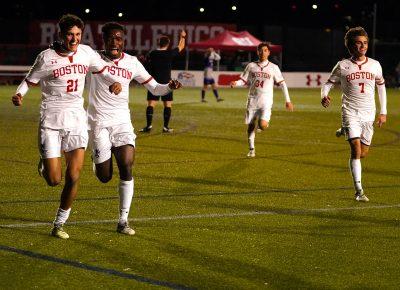 "Obviously, [last season] didn't end how we would have liked it," head coach Kevin Nylen said. "But it was something that our group needed to experience."
An encouraging 2022 season
Despite the disappointing ending, the Terriers had one of their better seasons in recent history, finishing 6-5-7 overall and 4-2-3 in the Patriot League.
The Terriers opened their first four games of 2022 undefeated before securing points through crucial draws and wins over PL opponents, placing themselves second in league standings going into the postseason. 
Their success was propelled by strong defensive performances, which kept them afloat despite a lackluster offense. BU conceded 0.89 goals per game — the second fewest in the PL — but only scored just over a goal per game themselves. 
"We didn't score a ton of goals last year, but at the same time, we didn't give away a lot of goals," Nylen said.
Nylen was not overly concerned about goal scoring, but understood the importance of his team imposing themselves on the scoreboard. The Terriers competed in the spring with a successful run of performances, which is a positive sign for the future, Nylen said.
"This spring, I think we scored 16 goals in six games," Nylen said. "We found continued rhythm, and I think that's all part of how we play and how we train and what we're asking our guys to do."
BU returns an experienced group
In 2023, the Terriers will be grounded by plenty of veteran talent as nearly half the players on the roster are seniors or graduate students.
This group includes 2022 Patriot League Goalkeeper of the Year Francesco Montali and 2022 Patriot League Defensive Player of the Year Griffin Roach. The two fifth-year seniors also received individual recognition in this year's PL preseason awards. 
"Without all 26 guys on our team, I don't think any individual award is possible," Montali, six-time PL Goalkeeper of the Week, said.
His individual excellence in combination with a strong backline — including Roach — in front of him resulted in eight shutouts last season.
"[Montali is] a product of a good group in front of him who limits chances," Nylen said. "He's been around the game for a long time, and to have him coming back this season for another year gives the team confidence."
Nine players who started at least half of the games in 2022 remain on the roster for this upcoming season. Among the nine are last season's joint top scorers in graduate student midfielders Colin Innes and Quinn Matulis.
"We returned 22 guys from our team in the fall and 24 guys from our team in the spring," said Nylen. "Whether or not that pays dividends in wins, it helps establish our culture, our expectations, [and] goals that we're looking at within the season."
Underclassmen to make an impact
For all the fanfare about the team's veteran leaders, there's also plenty to be excited about with the younger players in the squad.
Chief among them is sophomore defender Ryan Lau, who played the fourth-most minutes of any Terrier last season — underclassman or otherwise — and was listed as one of TopDrawerSoccer's Top-100 Freshman.
Despite fielding a more senior team last season, Nylen was not afraid to get playing time for younger players, and he has more in his arsenal this fall.
"It's needed for them to get on the field … because they're going to be called on," said Nylen. "Last year, we had six freshmen and all of them played. So we believe that you need depth in every position, and we have that and we'll continue to have that model."
One new player Nylen can call on includes freshman midfielder Jason Zacarias, a two-time Major League Soccer Next Cup champion. He most recently captained the New England Revolution Academy's U19 team and was named the MLS Next Cup's Most Valuable Player.
Another addition to the squad is Alex Bonnington. Like they did with Matulis, Innes and Montali in previous years, BU acquired the sophomore forward through the transfer portal. He brings with him a considerable goal-scoring reputation, having led his various youth teams in the Sheffield Wednesday F.C. system in goals multiple times.
"Coach Nylen does a great job of bringing in players that can have an impact right away," Montali said. "Three freshmen have been added and they've fit right in."
With a deep roster mixing fresh blood and grizzled veterans, Nylen hopes to use the team's talent and experience to continue to produce quality results.
"I'm excited with having our group back and the numbers that we have, from a depth perspective, from a character perspective and in the expectations that the guys have set forth," Nylen said.
Looking forward and looking up
The Terriers have already begun to make their intentions clear: they have unfinished business.
"Last year left a sour taste in our mouth," Innes said. "Our goal is set to win the league this year."
The Terriers received three first-place votes and were ranked second in the PL preseason poll, just four points behind Navy. This jump comes after BU was ranked eighth in last preseason's poll.
"Now, we might have an 'X' on our back. We're going to be targeted, and that's a new challenge that we're really looking forward to this season," Innes said. 
The Terriers are aware of their new reputation and have used it to fuel their ambitions for the season.
"The Patriot League knows what we're about now and knows what we are capable of," Montali said. "Obviously, there are expectations to be met. As a team, we have a goal, and that's to win the Patriot League." 
While BU hasn't won a regular-season title since 2014, the achievement seems well within reach this fall.
"We believe in the guys that we have, we believe in what we're doing and the system we play," Nylen said. "We've seen that since we've been here."
For the Terriers, there are plenty of positives to build on from 2022 while still acknowledging room for improvement.
"You always want to be better than in your last game," Nylen said. "At the end of the day, we have a group that wants to go do it again, and we have the opportunity to play longer this year than last year."
The months ahead
Three local non-conference matches come later in the season. The Terriers will make short trips to play Boston College and Harvard University on their home grounds, then play host to Northeastern University in October.
"Those ones specifically mean a lot," said Innes.
Nickerson Field will see its first in-conference game Sept. 16 against Lehigh University. That will kick off a run of six PL games over four weeks, including a rematch of the Patriot League Tournament Semifinals against Navy, who also happen to be the reigning league champions.
Despite the lofty ambitions and heavy anticipation, Nylen and the team aren't getting too ahead of themselves as they look forward to the upcoming season.
"We have to take in every single day right now and try to improve and build upon what we're doing," Nylen said.
Now entering his fourth season at the helm and having recently signed a contract extension, Nylen looks to maintain the program's positive momentum in the coming season, and the team is prepared to do so too.
"Our guys are hungry. Our guys are excited. Our guys are ready for the challenge. Our guys are determined," Nylen said. "Our guys are ready to learn and are up for every opportunity that we have in front of us every day."