The Boston University cross country teams are back on Commonwealth Avenue gearing up for the 2023 season. Both the men's and women's squads placed third at last year's Patriot League Championship and are eager to get back on the grass.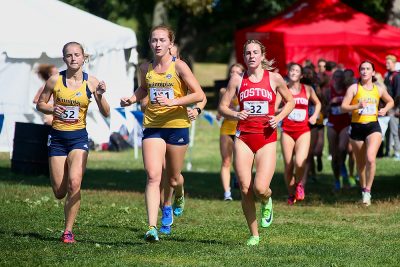 Men's team looks to build on experience
The men's team had a young group last season after welcoming eight first-years to the squad, but a successful spring track season means this group is well-equipped to position itself at the top of the podium this fall. 
"Now that group has a little more experience under their belt," said Jordan Carpenter, associate head coach of cross country. "They're going in a very different setting, now knowing what it's like to compete at a conference championship." 
BU has finished top three in the PL Championships for the past eight seasons but has never clinched the conference crown. 
In order to reach that goal, the work begins before the athletes step foot on campus. The team's in-season success starts with summer training. 
Carpenter emphasized the importance of increasing his runners' mileage over the break. During the track season, runners are competing at higher intensities over shorter distances, making these transition months crucial for the longer races of the cross country season. 
Graduate student Foster Malleck understands this principle and has been prepping all summer. The Ontario native wants to win the PL "above all." 
"I've had the best summer training I've ever had," Malleck said. "I think I'm putting myself in a good spot for the season."
Malleck will serve as team co-captain alongside fellow graduate students Mike Hagen and Kevin Murphy. 
"Both of them are very responsible leaders and great role models for our young team to look up to," Malleck said. "We'll definitely be able to set a good example and lead our team on the right path."
All three captains will be essential in guiding the underclassmen, especially because two of BU's key returners were part of last season's large freshman class. 
Sophomores Freddy Collins and Parker Schneider scored for BU in all five races they competed in 2022. 
"Last year they were freshmen, and they stepped up for us in a big way," Malleck said. "This year, they just seem like they're that much stronger."
Outside of the young talent, the Terriers have a well-rounded group. Malleck highlighted seniors Alex Brown and Robert Hannon as two runners particularly poised to be successful this season. 
"They put in probably the most mileage on the team and don't always get recognized for it," Malleck said. "I think all the hard work will pay off for them this season."
Women's team believes in young talent
As for the women's squad, the youth of their roster heading into the fall is similar to that of the men's last season. 
With the addition of ten first-years, the roster now boasts 20 underclassmen runners. Carpenter described the learning process the young group will go through as "scary but exciting."  
Sophomore Samantha Seabury is part of the young core, serving as one of the team's three co-captains — the only underclassmen to hold the honor.
"What's important to me is making everyone feel welcome and to be a friendly face," Seabury said. "I hope to be someone that can bring everyone together." 
Despite their lack of experience at the collegiate level, Seabury said the freshmen have "completely blown [her] away" during the first week of practice. 
Alongside Seabury, juniors Sarah Hanifin and Daisy Liljegren were also named co-captains. 
Liljegren will be a key returner for BU amid their youth movement, as will sophomore Vera Sjöberg. 
Sjöberg used her freshman cross country season to ease her way back into running, according to Carpenter. The Stockholm native made her debut at the season-opening Suffolk Short Classic and did not look back, scoring for BU in all five meets she competed in. 
"She's such a great example for everyone on the team, and she's so humble," Seabury said. "I hope that I can be even half of what she is."
The team's dynamic of veterans and newcomers will serve as incentive for the more experienced runners to not be complacent. 
Carpenter projects at least four freshmen to be running in the top-seven by the end of the season. 
"I wouldn't say it's competition in practice," Seabury said. "It's really exciting and encouraging to see other people come in to train with."
Schedule Overview 
Looking at the season schedule, BU has six races on their quest to qualify for the NCAA Championships. The biggest difference compared to recent seasons is the Terriers will not be competing at Boston College's Battle in Beantown. 
Although they have participated in the meet each year it was held since 2017, the coaching staff scrapped the contest to avoid interfering with the larger Paul Short Invite on Sept. 30. 
Hosted by fellow PL member Lehigh University, this invite featured approximately 5,000 runners and over 450 collegiate and high school teams last season.
The Terriers will now have a week off in between every race in preparation for the next, a decision Malleck approved. 
"Cross country is tough because each race takes a lot out of you," Malleck said. "Focusing largely on training leading up to Patriot League and Regionals is very important … when we get towards the end of our season, we'll be much stronger and ready to compete."
Both teams' 2022 seasons came to a close in this competition, but the Terriers will have another chance to compete at the same course this fall.  
"Last year, we definitely underperformed," Malleck said. "It's a course that is pretty similar to some of the terrain that we train on, so I think this year we'll be far more ready."
The Terriers opened their season on Sept. 1 at the Rothenberg XC Invitational, where both the men's and women's teams finished third. They will return to action on the 16th at the University of Massachusetts Dartmouth Invitational.