Boston University Dining Services implemented a new way to scan into the dining hall using "advanced biometric authentication," according to an email from BU Dining Services. The process involves students swiping their hands across electronic scanners, which are located at the entrances of each dining hall.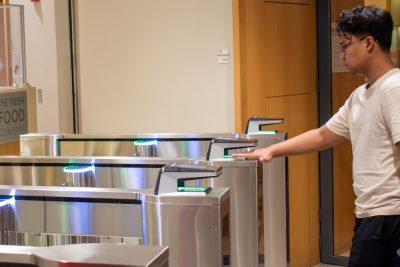 The school partnered with identity technology company IDEMIA's MorphoWave for the new scanners, which is the same technology used in the TSA PreCheck enrollment process, according to the dining services website.  
Students can register their hands either in the Warren Towers, West Campus or Marciano Commons dining halls or at the Terrier Card Office. 
BU's Data Classification Policy categorizes "an individual's biometric data (e.g., fingerprints, face scans, etc.) stored for authentication purposes" as Restricted Use data, which the University has a "contractual, legal, or regulatory obligation to safeguard in the most stringent manner."
"No fingerprints are stored after the initial scan," BU spokesperson Colin Riley said. "The unique number of the initial scan cannot be reverse engineered in any way to create fingerprints or facial features."
The University installed the new machines to reduce lines rather than waiting for a cashier, Riley said. Potential future plans include expanding the technology to faculty and staff. 
This type of technology is being used by other schools and colleges, Riley said, including Syracuse University, University of Rhode Island and University of New Hampshire.
Maria Cabral, a cashier in the dining hall since 2018, felt the scanning tools had a greater impact on the students' experience than on hers as a cashier. 
"The way I see it is easier, I think it's convenient for the student because if you forget your ID, you don't have to wait for the cashier," Cabral said. 
Sam Herzlinger, a junior in Sargent College of Health and Rehabilitation Sciences, has not yet registered for the scanning technology. He said he is open to the process if he learns more about the scanners, although he would prefer card swiping.
"I think as long as it's being used in a confidential way, and the school doesn't have access to use it for other purposes… it should be fine," Herzlinger said.
Leora Zatlin, a sophomore in the College of Arts and Sciences, registered for the technology when picking up a new student ID.
"I'm glad I did it… because usually I have to look in my bag and wallet to find it," Zatlin said.
In addition to the scanning booths, BU also changed the meal plans this year. The new plans are meant to accommodate students living both on and off campus, according to the BU dining services website. 
Anup De, a sophomore in the Faculty of Computing and Data Sciences, has an unlimited meal plan for this school year and plans to continue using the card swiping method over the hand scanning. 
"I think it's a shame that they got rid of the old plans, because I did use that last year, but I think unlimited is good enough for me," De said. 
Herzlinger, on the other hand, is satisfied with his Open Access+ plan. 
"I think it's 100% worth it," he said. "I am a student athlete, so I eat a ton. I think without the unlimited plan, I would be screwed."
Riley said BU dining services is encouraging feedback from students about the new dining plans and scanners. 
"They're very responsive," Riley said. "They run surveys every year, but you don't have to wait for the survey to provide some feedback."