For Boston University women's soccer, it was one that got away.
Head coach Casey Brown's team led by a goal at the break, disappointed it wasn't two, over the undefeated Maine Black Bears (5-0-3), before conceding the equalizer 45 seconds into the second half.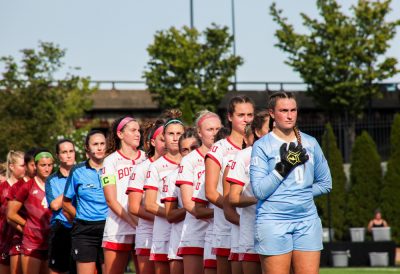 Then, 40 minutes later, the Terriers' game-winner was called offside. Three minutes after that, Maine's junior forward Abby Kraemer tapped in a junior midfielder Lara Kirkby cross to defeat BU (3-3-2) 2-1 at Nickerson Field.
"It's two moments," Brown said. "I just think those are final moments, and final moment defending is really difficult." 
In an open, even game without a yellow card and one shot on goal separating the teams, it was those two moments — two Black Bear goals, both on crosses in from the far flank.
"I don't think [defending crosses] is an area that showed to be a deficiency," Brown said. "There's a lot of dynamism that you're dealing with. It's the hardest part of soccer to defend, and I think we can have a higher standard for it… but yeah, it's challenging."
Maine's winner was a pass through BU lines that found Kirkby with the ball at the edge of the box, with Kraemer already goal side and in perfect position. It was all too sudden for BU junior midfielder Eileen Solomon to challenge.
The quality of Maine's attack, which scored five goals in two of its first four games, shined through to send the Black Bears home victorious. 
"I don't think they had a ton of huge opportunities at goal," Brown said. "I think they definitely probed… but we did a good job. I thought we were organized." 
Organization in defense failed to progress into cohesion in attack. BU's midfielders struggled to connect with the forwards in front of them. Runs were made into one channel; passes were played into another.
"We looked a little bit more impatient," Brown said. "We hope to have a little bit more composure and a little bit more quality."
Even the Terriers' lone goal was not pretty — a defensive lapse from Maine on a free kick allowed sophomore forward Cam O'Connor a free header, which was saved and then turned in by sophomore midfielder Shayla Brown for her first career goal.
In her own defensive third, sophomore midfielder Giulianna Gianino kickstarted an impressive move that finished with a precise lobbed finish. After her first career goal, Brown thought she had her second with five minutes left to play, but she was offside, and the Terriers' two brightest moments passed without a profit.
"We made good adjustments at halftime, and I thought we had some better patterns of play in the attack," Brown said. "But we certainly want a bit more from them."
41 players saw the pitch. 22 of them were Terriers. Brown cited the volume of substitutions to the identity of her team.
"We have a lot of depth in this team, and we're still using non-conference opportunity to try different personalities and see different things and get a lot of players experience," Brown said. "We'll continue to… get people valuable minutes so we're prepared come Patriot League play."
The Terriers will begin Patriot League play against Loyola Maryland on Sept. 16 at 1 p.m.