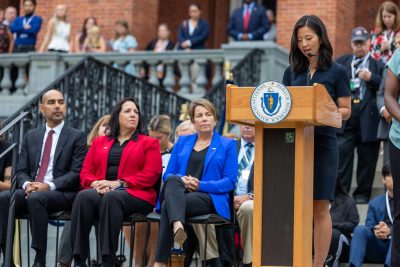 After 22 years, city and state officials, residents and tourists gathered at the Massachusetts State House today in remembrance of those who lost their lives during the 9/11 tragedy.
Governor Maura Healey and Mayor Michelle Wu attended the annual ceremony. On the steps of the State House, Healey, Wu and family members of victims read the names of people from Massachusetts who died on 9/11. The ceremony began with a moment of silence, followed by a reading of the poem, "We Remember Them," before the Reading of the Names. 
"I am here and sad, but also thankful to honor the victims that were lost," said Danielle Mangano, a Long Island resident in attendance who lost a neighbor she grew up with on 9/11. "Just paying respects to those that were lost and reflecting on all of the life that they haven't lived."
Many Boston residents who had not lost loved ones during the tragedy also came to remember and respect all the lives lost and affected. 
"The minimum that I can do is to pay my respects and to hear and listen to the families of the victims sharing their stories and mentioning the names of the beloved ones," said Eli Levin, an attaché to the Consulate General of Israel in New England, after attending the ceremony. "It's very important to everybody to mention those people who gave their life for the liberty of all other people and citizens in the U.S."
Following the Reading of the Names, the Madeline "Amy" Sweeney Award for Civilian Bravery was presented to four residents from Berlin, Massachusetts who saved a woman from a gas explosion. The award is named after the flight attendant aboard American Airlines Flight 11 who provided information to ground control in the last moments before the hijacked plane crashed into the North Tower.
"I'm really thankful for our country and first responders and everyone who showed up," Mangano said. "In a really powerful way, [we] gathered together as Americans to help pick up the pieces that were left."