Anthony Edwards is really good at basketball. He earned his first All-Star nod of his career last season and showed enough to suggest that it's only the beginning for him. He's currently lighting the world on fire, putting his country on his back while dominating entire nations at the 2023 FIBA World Cup. His versatile scoring prowess, unique athleticism and steadily-improving defensive acumen have been turning heads, and those heads might look up to see Edwards hoist an MVP trophy in the near future.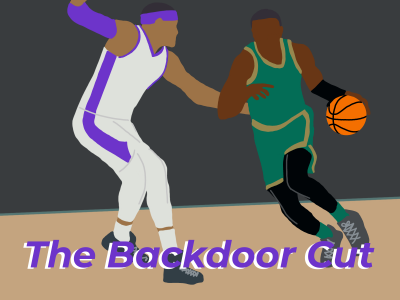 But for all of his talent and all of his accomplishments, Edwards does have a fatal flaw. It's a flaw so massive that it will ultimately prevent him from becoming a superstar.
What is this flaw, you might ask?
He plays basketball in…*gulp*… Minnesota.
I'm sorry to remind you of that terrible fact. I can smell the vomit on your screen from here. But I have to bring up M*nnesota because it's the clear elephant in Edwards' ceiling-less room. Edwards has all the potential in the world to be a super-duper star. But, there are only 15 people who attend Target Center games on any given night. Who will be there to watch him, let alone sell or buy his jerseys?
It's a tough question to ask, but some have already come up with a solution. Patrick Beverley, Edwards' former teammate, prophesied that the young star will one day leave the land of 10,000 lakes for a bigger, spacious ocean. The Athletic NBA joined in by tweeting that it might be time to consider the possibility that Edwards will depart Minnesota and move to a more marketable team.
This, of course, is the only solution. Edwards' talents are currently stuck in Minnesota, glued to the floor of Target Center like he's protesting for animal rights. It doesn't matter whether the Timberwolves are good or not. He is wasting his talents by staying there, and the only way to put his God-given ability to good use is if he joins a high-profile basketball team.
But why stop at Minnesota? The Timberwolves are just one of the many mid-to-small market basketball teams that think they're qualified to earn the spotlight that ESPN and other popular sports publications shine onto the real teams. Don't they know that the only reason they're even allowed to have a basketball team is so they can draft, pay and develop players for the Los Angeles Lakers and New York Knicks? Apparently not, because M*nnesota is just the latest example of one of those teams who believe they have a right to keep star talent.
So, in an attempt to rectify those teams' sins, I've crafted a list of four other poor, innocent stars wasting their lives in smaller cities. I ranked them based on how important it is that we force them to leave their current clubs and join superstar Austin Reaves in Los Angeles.
4. Lauri Markkanen, Utah Jazz
Markkanen broke out in a big way last season, having a career year that earned him his first All-
Star game appearance and the 2023 Most Improved Player award. The former seventh overall pick was always considered little more than a stretch-four, but upon arriving to Utah, he exploded into a legitimate scoring option who uses his size and shooting to make defenses panic. A player this unique has to be on a big stage. "The Finnisher" should not finish his career in Utah, a state where I thought basketball was declared illegal and/or impure. We can't allow ANY player to play in Utah, let alone an NBA All-Star. 
If it's so important that Markkanen leaves Utah, why is he not ranked any higher? Well, to put it nicely, Markkanen is only a one-time All-Star. If you were tasked with kidnapping a single All-Star for the Lakers, and you came back with Markkanen, Adam Silver would be more eager to show you his piece than Ja Morant. The Lakers only have so many roster spots. There just isn't enough room for Markkanen on this team.
3. Paolo Banchero, Orlando Magic
The NBA's reigning Rookie of the Year has years of stardom ahead of him. He's shown legitimate three-level scoring potential in his short time in the league, a rare skill set for a player of his size. It's only a matter of time before he becomes one of the game's leading bucket-getters. But he's not just a scorer, he's an awesome passer too. Banchero is able to set up teammates with easy looks just as efficiently as he can score. He's a great playmaker for his size, and it's no coincidence that "playmaker" rhymes with "Laker." It's fate that Banchero will one day head to Los Angeles.
I'm not joking about that last line. Banchero made my list not because a move to Los Angeles should happen — Banchero currently plays near Disney World, which will inevitably attract tourists — but because the basketball gods have already decided that it will. 
Since the mid-90s, the Orlando Magic have made a name for themselves as a really strong Triple-A affiliate for the Lakers. Throughout their career, they've developed a myriad of excellent prospects for the Lakers. Some worked out, such as Shaquille O'Neal, and others did not, like Dwight Howard. Where will Banchero fall? We'll know within due time, whenever Banchero gets promoted to Los Angeles.
2. Tyrese Haliburton, Indiana Pacers
Haliburton has been in the NBA for three short years, but he's already made a name for himself as one of its best players. He's one of the most complete offensive players in basketball at his age. He's an outstanding passer. He's an excellent shooter. He gets to his spots well. He reads defenses like a book. He can set up teammates. He can do just about everything on offense, from leading it to merely contributing to it. A player with that much mastery over an NBA offense would sell tickets, jerseys and souls in sunny Los Angeles.
Haliburton in a Lakers jersey would be an absolute dream that will — and should — come true. Given his offensive versatility, he can orchestrate this potentially-dynamic offense that needs a better playmaker than D'Angelo Russell. I can envision it right now, kicking it out to Reaves in the corner, throwing it to a cutting LeBron James and running an unstoppable pick-and-roll with Anthony Davis. It will give Lakers fans the offense they deserve and haven't seen since the Showtime era. But until we pry him away from Nowheresville, Indiana, none of that will come to fruition.
1. Giannis Antetokounmpo, Milwaukee Bucks
In late August, Antetokounmpo told The New York Times that he is undecided as to whether or not he wants to stay in Milwaukee when his contract expires. And, as everyone knows, "undecided" is code for "I've already made up my mind to leave this putrid city and go to a real team (The Lakers)." ESPN's Richard Jefferson seems to believe that the Bucks have two years left to retain the two-time MVP. If they can't do that, he's gone.
It is so unbelievably important that we get Antetokounmpo to Los Angeles as fast as we can. If we don't do it soon enough, he will be forced to play in Milwaukee, and that would make him very sad. Per NBA policy, future Lakers are not allowed to be sad. But most importantly, can you imagine how cool it is to see Antetokounmpo wear purple and gold? The former Defensive Player of the Year would be such an amazing fit next to James, Reaves and Russell. According to Fox Sports' Richard Sherman, the Lakers already have the perfect trade piece: Anthony Davis, who used to be one of these players but is not as fun to play with anymore, according to Lakers fans.
All of these players need to leave their teams and join the Lakers. You know what has to be done, NBA, and luckily for you, it's the outcome that you, and the people who cover you, want.