Boston's North End has remained a lively district for decades — especially with the car and foot traffic that seems to only rise in extremity as time passes. But at the crossroads between international culture and American history, this eclectic neighborhood provides visitors with a more immersive experience.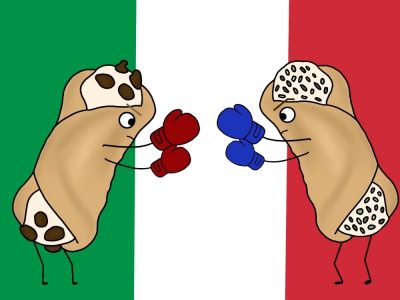 And it starts with love at first bite: the cannoli.
This fried, tube-shaped pastry is filled with ricotta for a sweet ending to a traditional Italian dinner. However, situated under this innocent dessert is some friendly competition.
Now here's the famous question: Which bakery do I choose? Mike's, Modern, or Bova's? This cannoli dilemma has been heated since the 1950s and social media has launched this conundrum from local fame to national frenzy and I'm here to review each of my experiences.
Mike's Pastry
Mike's Pastry brands themselves as a North End tradition since 1946 — and rightfully so. With locations in the North End, Cambridge, Somerville and TD Garden, it's nearly impossible to walk the sidewalks in Boston without passing by someone sporting an iconic white and blue Mike's pastry box. With an illustrious reputation and historic presence in the community, I had to declare Mike's as the first stop on my cannoli tour.
The most notable element of Mike's Pastry was the size of their pastries, which exemplified the philosophy that bigger is in fact better. Never have I paid five dollars for such a full stomach afterwards. I was also thoroughly impressed with the layers of chocolate chips on each end of the cannoli, almost leaving no space for any cream to seep through.
Due to its high praise, Mike's is a hot tourist spot, which led to long gazes at the menu and customers clogging lines to get a picture in front of the counter. Naturally, employees get impatient, so I advise knowing what you'd like to order ahead of time to save them the stress.
Mike's is still a cash-only establishment and is standing room only. Ultimately, it's more than possible to enjoy their exceptional cannolis at great value as long as you leave a little preparation and patience in your wallet.
Modern Pastry Shop
Located across Hanover Street from Mike's, and on Salem St. in Medford, Modern Pastry Shop is no stranger to friendly competition. Established in 1930, the Picariello family immigrated from Italy to spread their culinary culture. After visiting Mike's and Bova's, there was no other option but to finish off the North End's pastry trifecta.
Modern has found a balance between decorating with old heirlooms and contemporary tech — especially their quintessential neon sign that illuminates Hanover Street past sunset. Hitting a home run in the atmosphere category, Modern offers inside seating and even the Modern Underground Bar & Grill underneath.
On the downside, Modern is a cash-only establishment. Additionally, with only fewer registers and higher customer demand, lines can quickly spill out of the store. Make sure to bundle up in December!
Bova's Bakery
Family-owned and operated since 1926, Bova's Bakery is the longest running bakery on this list. Occupying the corner of Prince and Salem streets, Bova's is located a little farther off the beaten path than our other stops, making room for a less chaotic atmosphere. With its 100th anniversary approaching in the next decade, I had to see what gave this confectionary hot spot its seniority.
What separates Bova's from other bakeries in the area are its hours and payment options. Open 24 hours a day and seven days a week, Bova's electric bill may set a Boston record, but with their giant selections ranging from pizza to pastries, they'll be able to pay it off.
Accepting both cash and credit card payments, check-out efficiency is a guarantee and always served with a smile.
What brings Bova's down a notch is the fact that they have the smallest cannolis on this list, but depending on the size of your stomach, that may not be a bad thing. The store is also the most compact on the list, and like Mike's, offers no indoor seating.
My advice? Order their mouth-watering crème brûlée cannoli. Your sense of taste will block out any other sense the cannoli-ordering process could overstimulate.
What I've Gathered
So, which is the best? The answer truly depends. What I learned throughout my journey is that this rivalry is not about the cannoli, but the experience that each bakery elicits. If you cherish great value, Mike's gives you the most bang for your buck. If you want to answer your craving any time of day in an efficient time, Bova's will have your heart. If you're quality-driven, Modern is a no brainer.
Personally, Modern is my choice, but I urge all of you to try all three bakeries and decide for yourselves.
Even if you can't choose, you'll find they have one thing in common: they top off their cannolis with a little splash of powdered sugar, and a sprinkle of perfection.